Governing body puts the brakes on
19/05/2020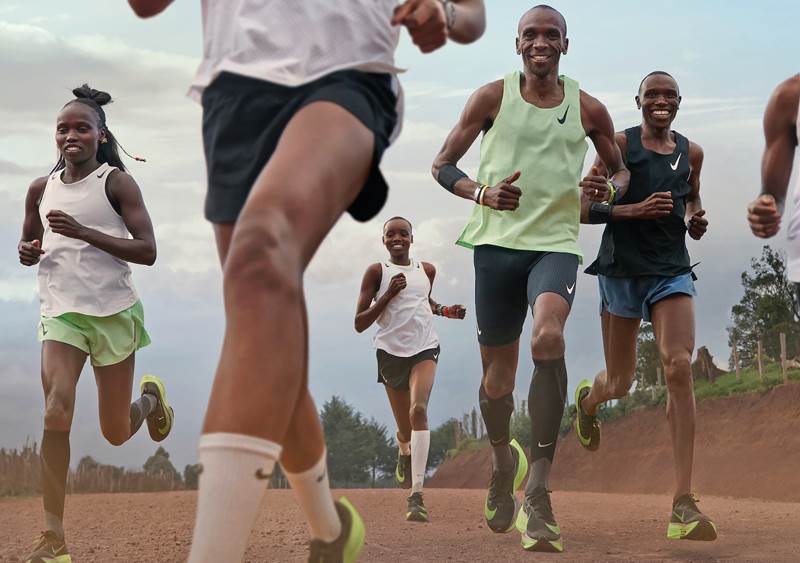 World Athletics has set new rules on footwear advancements in an attempt to try to level the playing field.
Over recent months, Kenya's Brigid Kosgei broke Paula Radcliffe's women's marathon world record, Nike's golden boy Eliud Kipchoge shaved more than a minute off the marathon record when he crossed the finish line just short of two hours (although it was not an official record) and more recently, Ababel Yeshaneh set a women's half-marathon world record. And it is not just the long-distance records that have dissolved; the women's 1,500m and 10,000m times have also been shortened. There, however, is a common denominator for the athletes: having access to Nike's full gamut of footwear, innovation, materials and strategy specialists, and on their feet, the Vaporfly, or versions of. These shoes, containing a carbon blade in the sole, are said to improve 'running economy' between 4% and 7% and have now been upgraded.
But at what point does footwear, clothing or gear cease to be an inevitable and admirable improvement and instead offer an unfair advantage? Like the Speedo 'sharkskin' swimsuits that were banned in 2010 following 25 new world records at the Beijing Olympics, World Athletics has decided to level the playing field. At the end of this January, it published new rules that would exclude some shoes, and which put the brakes on the high-level innovation offered to – and secrecy surrounding – elite athletes.
"From 30 April 2020, any shoe must have been available for purchase by any athlete on the open retail market for four months before it can be used in competition," athletics' governing body has stated. "If a shoe is not openly available to all then it will be deemed a prototype and use of it in competition will not be permitted."
Customisation of shoes "for medical reasons" or to fit a person's foot shape will be allowed. The new rules also state that shoes cannot contain more than one "rigid embedded plate or blade" (and Kipchoge's prototypes were thought to contain three) except where spikes are attached, and soles cannot be more than 40mm thick.
World Athletics president Sebastian Coe said: "It is not our job to regulate the entire sports shoe market but it is our duty to preserve the integrity of elite competition by ensuring that the shoes worn by elite athletes in competition do not offer any unfair assistance or advantage. As we enter the Olympic year, we don't believe we can rule out shoes that have been generally available for a considerable period of time, but we can draw a line by prohibiting the use of shoes that go further than what is currently on the market while we investigate further."
Spring loaded
Days after the ruling was announced, Nike launched the awaited Nike Alphafly NEXT%, which only just conformed to the rules with a sole measuring 39.5mm, leading some commentators to ponder how much notice the big sports companies had taken of the rule change. The Alphafly features two new Nike Zoom Air pods, more ZoomX foam and a single carbon fibre plate (all updates from its predecessor, the Nike ZoomX Vaporfly NEXT%), and an ultra-breathable, lightweight Flyknit upper. The shoe is part of a suite of products being released this summer, including the Nike Air Zoom Tempo NEXT% and Nike Air Zoom Tempo NEXT% FlyEase.
"The groundbreaking research that led to the original Vaporfly unlocked an entirely new way of thinking about marathon shoes," explains Carrie Dimoff, part of Nike's advanced innovation team. "Once we understood the plate and foam as a system, we started thinking about ways to make the system even more effective. That's when we struck upon the idea of adding Nike Air to store and return even more of a runner's energy and provide even more cushioning."
The latest version is said to increase 'running economy' (energy, in simple terms) by between 7% to 8%. It does this by using the carbon plate in the sole as a type of spring.
Nike also launched two running spikes at the start of February: the Nike Air Zoom Victory, for between 800m and 10km, and Nike Air Zoom Viperfly for the 100m sprint. Inspired by the Nike Alphafly NEXT%, the Victory is built with Nike ZoomX foam and a carbon fibre plate. The spike's upper is formed from Nike Atomknit, a new version of Nike Flyknit. The Viperfly also uses a new type of carbon plate that allows for varying flexibility within the plate. Its composition was designed to provide responsiveness and energy.
Nike said: "We respect the spirit of the rules and we do not create any running shoes that return more energy than the runner expends."
Hot on Nike's heels, sports brands including Saucony, Hoka One One and New Balance were racing to refine their own versions of the carbon plate before the planned Olympics in Tokyo for this summer. New versions were expected to be on the shelves before the end of this March, to meet the four-month deadline.
Next year in Tokyo
There is no doubt that the Covid-19 epidemic has played havoc with the plans of many athletes and companies. The 80,000 volunteers that were expecting to assist visitors to the Games must be sorely disappointed. Now that the Olympics have been postponed, it will be a double blow for global sportswear companies that have already temporarily closed hundreds of stores in China and have warned about the impact that the virus will have on revenues.
On announcing Nike's new designs in February, Tony Bignell, vice-president of footwear innovation, said: "Like athletes, when a barrier is in front of us, we are challenged to think differently and push game-changing progress in footwear design." With Mr Coe warning that the governing body might tighten rules further, let's hope the only barriers at the Olympics remain in the form of rules and human capability, rather than anything more sinister.