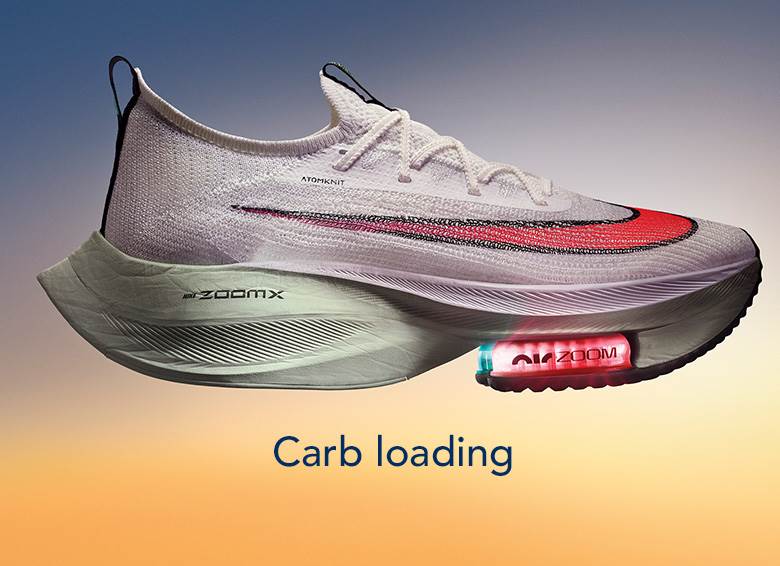 This year's most publicised releases from major running shoe brands have one thing in common: carbon plates. Footwear designers who aren't yet using the technology might want to take note.
Much of what this year will be remembered for includes the phrase "social distancing" or involves a face mask, but in the sports footwear world there is a more positive ubiquitous term that stands out: carbon plates.
The deployment of carbon technology varies from shoe to shoe, but generally stiff carbon fibre plates within the midsole help the surrounding foam to compress and expand more quickly, which provides more energy-return to the runner and propels him or her forward — the plates are often likened to springs. They also help to stabilise a runner's ankles and keep toes straight, both of which preserve energy. The technology can come in forms other than plates. In June, for example, adidas introduced EnergyRods, which are five carbon-infused rods, designed to mimic the foot's metatarsal bones. By optimising running economy and minimising physical impact, the company says, a runner is able to maintain speed for longer.
It is rare that a new footwear technology warrants an update to the Olympics rule book, but that's what happened not long after Kenyan athlete Eliud Kipchoge broke the two-hour barrier for a marathon last October running in carbon-enhanced shoes. In a non-competitive attempt to break the two-hour barrier, he finished the 26.2 miles in one hour, 59 minutes and 40 seconds wearing what was then called "a future edition" of a Nike Next% marathon shoe, which included cushioning, air pods and a full-length carbon plate.
Debate ensued in athletics circles: what's fair, and at what point does high-tech become too-much tech? Ultimately, governing body World Athletics issued new guidelines for what shoes would be allowed for Olympic competition.
The new rules state shoes may have no more than one carbon plate and a sole no thicker than 44mm. The sole thickness parameter, which was proposed last December by biomechanists Geoffrey Burns and Nicolas Tam in the British Journal of Sports Medicine, addresses two issues: the benefits of a midsole and a carbon plate are inextricably linked, and a maximum height is a simple way to minimise the inclusion of additional plates or other potential technology. While the ruling makes for interesting philosophical discussion surrounding the use of technology in competitive sports, more than anything it reinforces that carbon plates are demonstrably effective at helping runners run faster. In fact, in March, Running World reported that they had counted every pair of shoes worn at the Olympic Marathon Trials and found 94% of finishers were wearing shoes that had carbon-fibre plates. This is why 2020 has seen an explosion in running shoes featuring the technology from a range of major brands — and why footwear designers that have not started incorporating carbon plates might want to start thinking about doing so.
This year's models
Carbon plates in shoes is not a completely new concept, though brands such as Nike, New Balance, Hoka One One and adidas are continuously tweaking their employment of the technology.

On September 15, New Balance is releasing the FuelCell RC Elite, a marathon racer that the company said builds on lessons learned from the FuelCell 5280 it debuted in 2019. "Working on the 5280 taught us a great deal about how we can leverage data, material testing and athlete perception to build better performing footwear," Rebekah Broe, senior product manager for performance running at New Balance, tells WSA. "In the case of the 5280, we combined a high-rebound foam compound, a full-length carbon fibre plate and a lightweight Dynaride outsole in a package designed specifically for a forefoot striker moving at faster rates of speed."

For the Elite, she said, the company elevated overall stack heights, refined the plate shape, upgraded the midsole compound and expanded the footprint of the shoe. This latest racing shoe comes as a companion to a training shoe (the TC) launched in February. The TC was described as having a soft but energetic midsole compound paired with a full-length carbon fibre plate. The RC is lighter weight and has improved energy return. Train in the former, the idea goes, then get your personal best on racing day in the latter. Last month, adidas introduced Carbitex Speedframe, a dynamic carbon plate, via the new X Ghosted football boot. The technology, the company says, "harnesses the extreme power and performance of carbon fibre but in a flexible form". The shoe came in response to players demanding shoes that helped them go faster. According to adidas, the X Ghosted is the first football boot available at scale that integrates a dynamic carbon plate.

In June, Hoka One One introduced a tongue-free trainer called the Carbon X SPE. Produced in a limited run, the brand said the shoe used Profly X foam sitting atop a carbon fibre plate with rubberised foam sitting below so that the carbon fibre plate "curls under the lateral toes to prevent re-supination". The shoe, according to the company, gives an "up-tempo and propulsive ride".
Making carbon technology more accessible
Each of these brands has a story — and a big R&D department — behind the development of their respective carbon technology. Nike's team spent countless hours in Kenya, working with Mr Kipchoge on prototypes for the Alphafly NEXT%. In a podcast about the development of the X Ghosted, adidas' Philipp Hagel, senior global product manager, and Luke Lowrey, senior footwear designer, talked about the extensive group of experts and perspectives that came together to develop the technology. For New Balance's FuelCell RC, the technology builds on work that began in 2017.
There are options for shoe designers who don not have the resources and time to develop to scale their own carbon plate technology. Aerolite Carbon, for example, is a hybrid material said to allow designers to achieve the performance of carbon fibre in a relatively economical way. Carbon fibre typically involves expensive raw materials and difficult-to-scale manufacturing processes, but textile technologies company Environmental Composites and specialist manufacturer Westlake Plastics Company brought together their resources in a product they say combines advanced composites performance with thermoformable plastics economics. A number of companies are already developing patents related to how Aerolite is being used in their applications, Jim Gleason, technical director for Environmental Composites, tells WSA. Sport footwear producers face a challenge in using carbon fibre materials in large-volume commercial applications, so this new material technology offers a solution, he says. It is shipped to customers as a solid sheet ready to be processed into final components. In addition to being affordable and accessible, Mr Gleason says Aerolite has design advantages over what's already being seen in the sport shoe world.
"Typical carbon fibre materials do not stretch and therefore are very restricted in geometry — hence the 'plate' design," he says. With this hybrid material, however, "the carbon sheet can stretch and form complex shapes allowing for contours in the heel to improve comfort while also allowing for tailoring of strength along the axis of the foot." Sustainability is also a distinction, Mr Gleason says. A version of the sheets is made with recycled carbon fibre from the aerospace industry (others with virgin carbon fibre), they are manufactured in a zero-waste production process, and the company accepts trimmings back from manufacturers for recycling.
More carbon to come
For now, carbon technology will be a stand-out feature of sport shoes. As this issue of WSA was going to print, Nike was promising a new run of the Air Zoom Alphafly NEXT% — based on the shoe Eliud Kipchoge wore when he ran that famous 1:59:40 marathon. The shoe includes two Zoom Air pods in the forefoot and, of course, a full-length carbon-fibre plate.
Nike says that the thickness of the plate is proportionate to the size of each shoe, with more flexibility in smaller sizes and more stiffness as shoes get bigger, for a consistent propulsive sensation regardless of the runner's size. New Balance is looking to extend the use of carbon within more categories. "We're looking forward to bringing the benefits of carbon fibre plates to daily training through a more training focused model that will launch in early 2021," Ms Broe tells WSA. The company's fibre portfolio will also expand into the area of track with several FuelCell spike models next year. This is because on road and track, as she says — and as most running shoe brands would echo — "we are continuing to see outstanding performances from our athletes in carbon plated shoes".