Coffee-membrane and other eco-friendly products at TITAS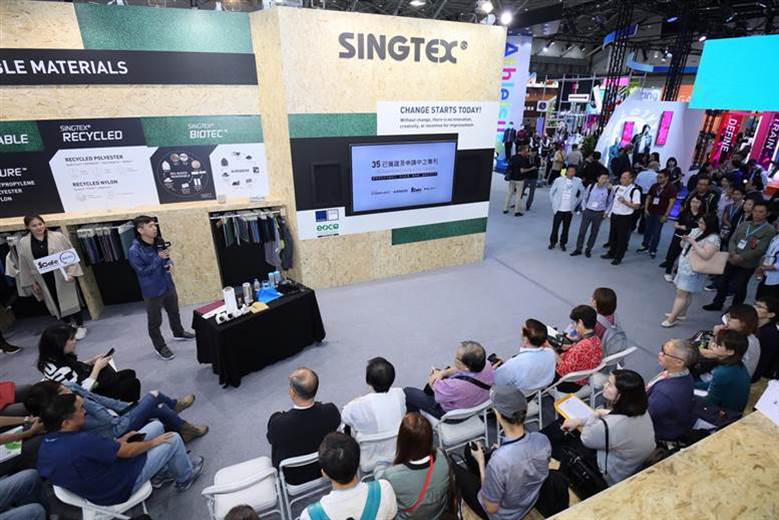 Singtex highlighted its environmentally-friendly products at this year's Taipei Innovative Textile Application Show (TITAS). The Singtex exhibition focused on Airmem coffee oil membrane, Stormfleece single-layer woven fleece fabric, and the collaboration between Itochu S.Cafe and Renu garment recycling.
"Drink it, Wear it." remains the motto for the membrane containing 25% of coffee oil extracted from spent coffee grounds. According to Singtex, because Airmem uses coffee oil as the bio-based material, it doesn't rely on import and replaces 26% of petroleum used. Airmem was an ISPO 2015 Textrends Selection, and at 2019 TITAS has been released in a wider selection of colours.
Singtex also highlighted the company's efforts in reducing chemical production processes, as seen in the development of Stormfleece. The single layer woven fabric combines the traditional 2 layer soft-shell and fleece into one without the need for a laminated membrane, reducing chemical use and energy consumption at the production phase.
The company also collaborated with Itochu Renu at TITAS to show Renu's latest technology for decomposing and reconstituting 100% polyester fibre recycled garments using S.Café (S.Cafe is Singtex's arm of coffee fabrics) technology.
Photo: Singtex at 2019 TITAS Credit: Singtex