Remo Ruffini: Energy supply
06/09/2019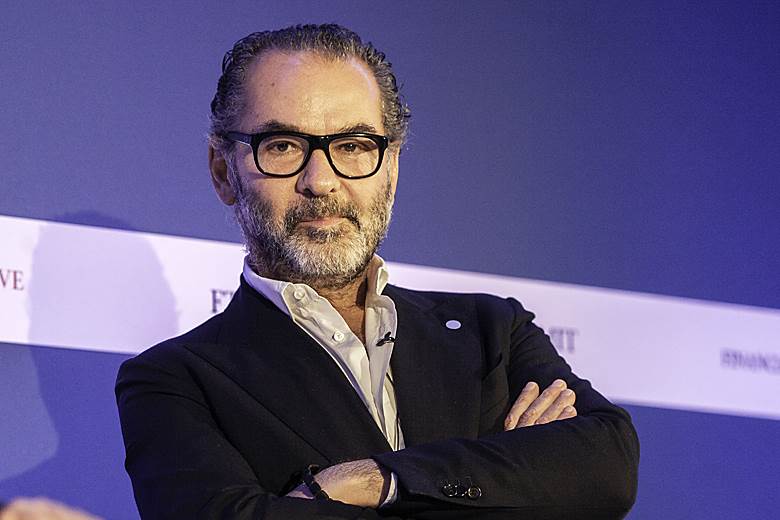 Game Changers: Remo Ruffini, Moncler
High-end winter clothing brand Moncler was 50 years old when Italian entrepreneur Remo Ruffini acquired it in 2003. No one would deny that he has made his mark on the company, taking the classic down jacket that Moncler's French founders invented and developed to protect their own workers from the cold, and propelling it into the world of luxury goods and high fashion.
In what ways has the brand changed since you took it over?
When I bought the company, the down jacket was huge, but for hiking and wearing in the mountains. I said to myself that if I wanted to move the jackets from the mountains to the city I would have to make them lighter and easier to use. Luxury brands in general have changed. Luxury used to be quite boring. Now it is attracting young people much more than it used to and if you attract young people you have new energy.
What is Moncler Genius?
Like everyone else, we were doing two collections a year when, a couple of years ago, I realised it was important to talk to our customers in a totally different way. My feeling was that they needed content from us every day, on or offline, with product or creative acts. We decided to move from being a seasonal business to being what you might call a monthly business. Moncler Genius, which happened for the first time in Milan in February 2018, was the start of this new way of working. We worked with eight different designers, telling them they could do what they wanted as long as it was based on our rules and on our products. This has allowed us to find new energy and to build up different content. Since Moncler Genius, it has been like being a start-up again.
What was wrong with the old way of doing business?
The six-month cycle had dominated for 30 years. I don't know about the rest of the industry but, at least for Moncler, that strategy had become old. People had become bored by it. Travelling around the world, I would go into one of our stores and I didn't feel the energy I wanted. So I pushed for this idea of monthly collections. I can't speak for other companies but for Moncler, runway shows every six months are over.
What happened to bring about this change?
I started work 35 years ago and for the first 30 years everything was the same. In the last five years, everything has changed and the world is still changing fast. If the world changes, you have to follow your customer. The old school was having a five-year plan and sticking to it. We need to learn from the new school. We still have a plan, but it's a three-year plan and every Wednesday we have a meeting to discuss what is happening in the world to see if the plan needs to change, and we change it frequently. You never know what's going to happen and you have to be flexible.
Which customer group or groups are you aiming at?
The launch event for Moncler Genius attracted 50,000 people and had a big impact on social networks, which we thought was very interesting. Our products are for 18-year-olds who like skateboarding or snowboarding and they are also for elegant ladies who want to wear our jackets to La Scala in Milan for a special evening. We are building communities that span all generations.
How is the trade dispute between China and the US affecting you?
China and the US are 50% or 60% of luxury revenues. They are both very important markets and we are constantly watching what is happening in both of them. We watch how people dress and move in New York, Los Angeles and so on, but we also watch and talk to people in Harbin, an important place for us because it's so cold there. But if there is a trade war between them, what can you do? Some companies might look at moving production but I try always to have our production in Europe to have the quality we need and to build up a strong culture and strong manufacturing expertise.
Which other production locations are attractive?
My dream is to have some production in Japan one day because Japan is amazing in terms of quality, technical expertise and in terms of fabrics. I don't think there is enough industry culture for our sector in the US. Nearly all the companies who used to make outerwear there have moved their production to China.
What place does sustainability have in your company's strategy?
We started to work on this not very long ago, to be honest. Until four or five years ago, I would say sustainability was something of an accessory for us. Now I think it is part of our core business. If you want to attract the young generation, sustainability must be one of the bases of your strategy. My dream is to make a 100% sustainable jacket. We have the recycled material and we can now trace all the feathers we use, which is quite a delicate issue. Goose feathers are a by-product, but the problem, of course, is animal welfare. You have to be able to be proud of your products. It costs money to be sustainable, but if you then have young people in the street saying Moncler is a sustainable brand, the value of the brand will go up. I think we have reached a good level now, but sustainability is never finished. I am very keen to have a strong sustainability project as part of our next three-year plan.
What do you do outside of work?
It's important not to work too much. I think you should try to be fresh when you go to the office in the morning. You have to be fresh to understand fully what's going on. I also try to make sure I have a proper weekend; I very rarely work at the weekend. You should go skiing in the winter, as long as you have the right jacket. And anyway, I can learn a lot from one day's skiing, for example by asking people why they prefer one type of jacket to another.