Andy Dong: Fabric is about detail for Dry-Tex founder
24/10/2018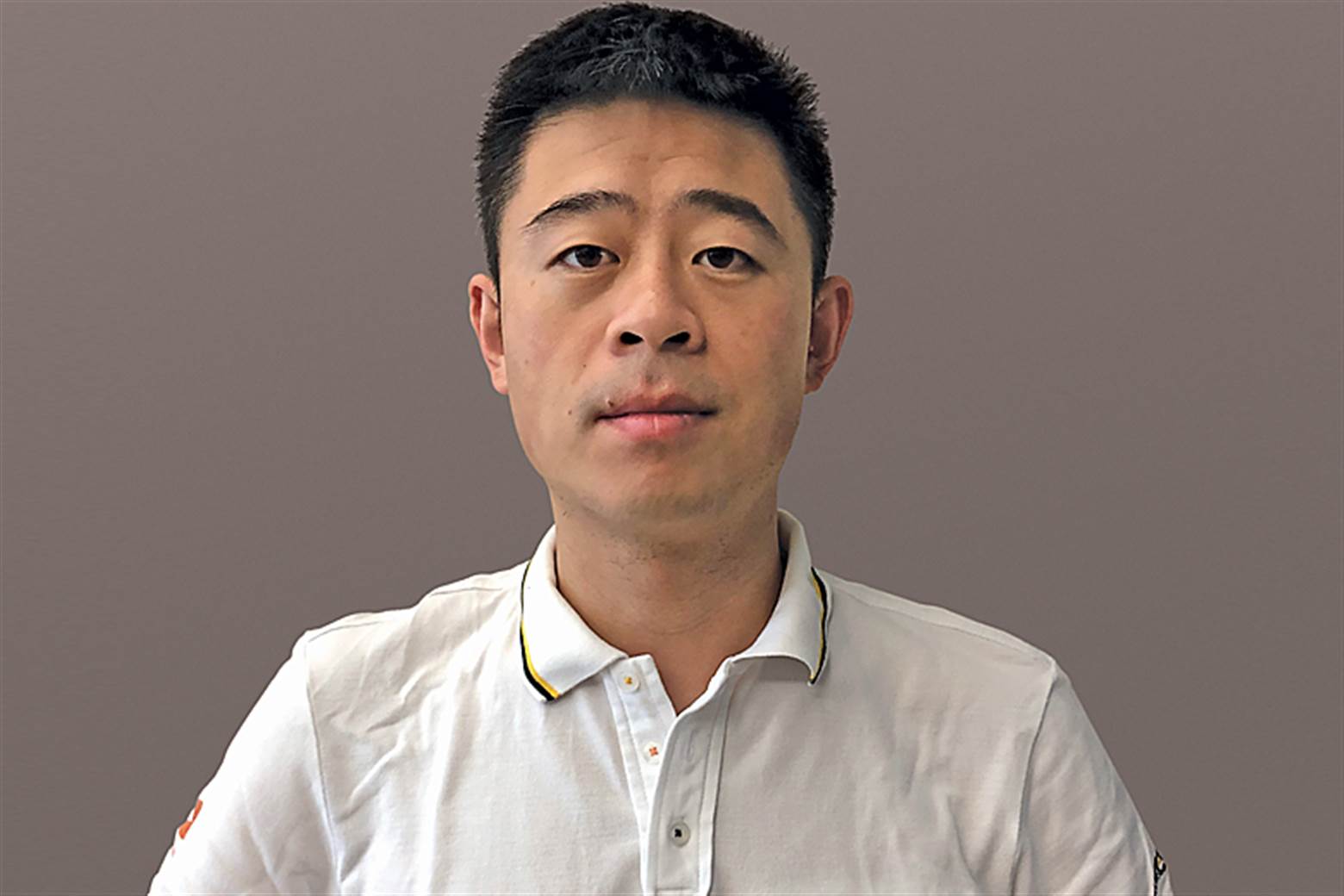 The founder of Dry-Tex says he sees a clear path ahead for his company to continue to do things many in the industry believed no Chinese company would ever do.
GAME CHANGERS: Andy Dong
The founder and managing director of performance fabric manufacturer Dry-Tex, Andy Dong, believes that the clear vision he has of the path his company has taken and will continue to take makes him "a lucky man". He thinks he should smile more.
How did Dry-Tex begin?
The story starts when I went to university, the Zhejiang University of Science and Technology in Hangzhou. I majored in dyeing and textile finishing. The college used to be called the Silk College because this part of China has a very old textiles tradition and produced a lot of silk. Personally, I have no family ties to the textile industry and it wasn't clear to me at the start that this was going to be the focus of the course. I thought it was going to be about industrial chemistry. But I remember what our professor told us on the first day. He said: "You should know that China is not as strong in textile chemistry as Europe and the US. China seems strong in textiles, but it is not. You must work to give China's textile industry a stronger scientific foundation. You should do this for China." I graduated in 2005 and have stayed in the industry since then. I founded Dry-Tex just one year later, in 2006. And we have changed China because we are doing laminated fabrics here, face, back and membrane, with Bluesign accreditation from face to back. That's a big change, a first for China.
What made you decide to establish your own company so quickly?
My first job was at a company in Shanghai making a very basic PTFE membrane, with no coating. I made some laminated fabrics and tried to sell them. I got my first customer at the North West Materials Show in Portland, Oregon. He wanted soft-shell fabrics to make jackets for Costco. I went to work for him. We bought a second-hand laminating machine, I hired two of my classmates and we were all set to go. And just at that moment, my US partner called to say we had lost the Costco business. He said we had to scale back and that one of my classmates would have to go. I said that if he went, I would go too. So the US partner suggested we buy the laminating machine from him and allow him to retire. That's what we did and that was the start of Dry-Tex. In 2007, we took a small booth at the Intertextile Shanghai event and managed to win Costco back. The first order was for 400,000 yards of fabric.
What were the most challenging aspects of that early success?
Well, we made the order but by the end we had nearly run out of money. It felt like we had won the battle with our very last bullet. But then we got a break. A company called Sanjin Textile asked us to join it. Its owner, Mr Chen, is my boss. He started a few years before us, in 2003, but he was making only greige fabrics. They were of good quality but he wanted to add value to his business and realised he could do that with Dry-Tex. Mr Chen has helped me a lot. He has given me a platform to grow Dry-Tex. He has supported and trusted me and made important investments in machinery and so on. One of the machines I persuaded him to buy cost us €1 million.
How did you move on from there to become a supplier to prominent sports and outdoor brands?
I went to ISPO in 2009. We had a small booth in quite a remote part of the exhibition and not many buyers came past. After the first day, I spent most of my time walking round the other halls looking at the fabrics the big brands had on display, asking myself which ones we could make. When I got home, I redesigned our whole production. For example, we had made only three-layer laminated fabrics until that time, but after the visit to ISPO we began to make two-layer fabrics for ski apparel and many other applications. With the help of [specialist activewear fabric developer] Concept III, we have grown from there. I met David Parkes, the founder of Concept III, through a real coincidence. On a trip to the US after we completed that first Costco order I had a meeting with an agent in New York City for Chinese textile companies. He suggested putting me in touch with David, so he called David's number. David is normally based in New Jersey but not only was he in New York that day, he was practically outside the building we were in and he came up to look at the fabric samples I had brought. Our relationship built up from there. In time, we secured together quite a big order from Under Armour for ceramic soft-shell fabrics, which Under Armour had not done before. We did a nice job and Mr Chen and I took confidence from that and decided to build a new Dry-Tex factory. We started it in 2012 and moved in at the end of 2013.
What reaction do you receive these days from the wider market as one of few Chinese companies making fabrics of this kind?
People used to find it funny when I said my dream was to become a supplier of fabric to The North Face. TNF suppliers in Korea were buying our greige fabrics to carry out the dyeing and the laminating in Korea. I could see no reason why we couldn't do the dyeing and laminating ourselves and supply important brands directly. It was clear to me that this was the direction we had to go in, to make those finished fabrics entirely in China and I must say there were times when I felt lonely. There is a generation of business leaders in China that can't speak to customers from outside China and don't really want to because the demands are so high. Helly Hansen, for example, requires fabric from us that has high colour fastness, with the colour remaining the same after long exposure to light, after washing and so on. Everything needs to be Bluesign-certified, the colour must not bleed and the fabric must come from a factory in which the workers are treated well. The old textile business is much easier because you don't face demands like these, but I don't think there is any money to be made in junk fabric any more. I saw that we had a chance to work at a higher level, that we had a future. We rush around making big and small decisions every day and sometimes it's easy to lose your focus, but I never have. I feel like I am at the top of a high mountain and I can see the path ahead really clearly. I'm a lucky man. I should smile more.
What is the perception of Dry-Tex today among other textile companies in China?
There are many things that are getting people to change their mindset. Things are becoming stricter here, too, so companies are having to improve just to stay in business, just to keep making money. I don't feel as lonely any more. Now you see signs much more often saying companies are Bluesign members. We will keep improving, too. I don't want to reveal the details yet, but we will move closer to vertical integration, still following the path, still chasing the dream. We will try to do even more things for ourselves. I believe the toughest areas of the business are where the best opportunities are.
Without naming names, what are the characteristics that sum up the brands that are good to work with?
I think the most important thing is that they think about their customers and also about their suppliers. These brands figure out for consumers what baselayer they need, what stretch pants and what outer layer for, say, skiing, taking into account that the fabrics must present no threat to health or be harmful to the environment. They will think it all through for you and all the consumer has to do is pay a little more money. It's like going to a five-star hotel: you know you won't have to worry about the cups being clean. For suppliers, the best thing is that these brands communicate clearly what it is you need to do.
What are the big changes you expect to see in performance textiles in the next five years? What innovations are brands demanding and what innovations do you think Dry-Tex will be able to deliver?
Product wise, recycled nylon and polyester are very popular. People are more serious about recycling now and are willing to pay extra for those fibres. For functional fabrics, people are still looking for lamination that is compatible with air permeability. For this, nanofibres will be next-generation. Dry-Tex is focusing on both, recycling and nanofibres. In the past 20 or even 50 years, new fabrics were always developed in Europe or the US, but in China we have come up with a tricot fabric that functions like woven and these fabrics are going into running pants and other products. We made a high-density tricot fabric for medal-ceremony jackets at the 2018 Asian Games in Jakarta. Anta used it for the Chinese team and Mizuno used it for the Japanese team. It looks like woven, feels like a knit and has good stretch. Fabric is about detail.