Laura Colnaghi: Growth out of adversity for Carvico Group
03/08/2018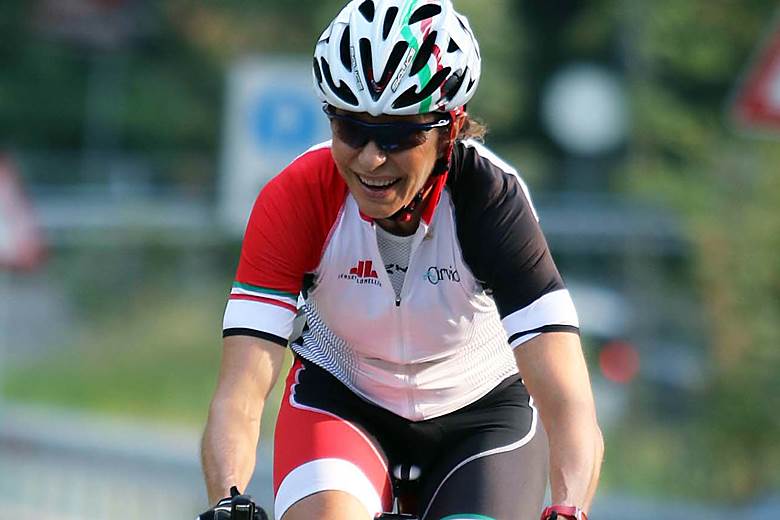 The unexpected death of her husband, Giuseppe, in 2005 and her decision to assume the leadership of the textile group that comprises Carvico, Jersey Lomellina and Eurojersey, did not prevent Laura Colnaghi Calissoni from continuing to compete at a high level in skiing and cycling.
GAME CHANGERS: Laura Colnaghi
Established in 1962, Carvico was the first textile company in Italy to specialise in the production, dyeing and finishing of woven fabrics. It later moved into stretch, warp-knitted fabrics and, in 1997, founded stretch, circular-knitted jersey producer Jersey Lomellina. In 1989, it brought specialist warp-knit producer Eurojersey into the group. When, in 2005, founder, Giuseppe Colnaghi, died suddenly, his widow, Laura Colnaghi Calissoni, could have walked away, but after a lifetime of taking part in competitive sport, she decided instead to take the business forward herself.
What is the best way to explain the group's set-up?
It's one family of fabrics. The good thing is that the three companies make fabrics that are part of the same idea, but are meant for different uses. Carvico is more for commodities, while Jersey Lomellina makes 11 million metres per year of circular knit fabrics, with a very pleasant touch, mostly for underwear. Eurojersey is our most fashionable component. My husband wanted to extend his area of interest and brought Eurojersey into the group in 1989, but the important thing for him was that Giorgio Crespi, [the father of current Eurojersey managing director, Andrea Crespi] was part of the package. And Mr Crespi senior was keen because he knew my husband would create a good future for Eurojersey.
Did that come true?
Yes. Eurojersey secured a patent for its Sensitive Fabrics, which are warp-knit fabrics made using a proprietary method, just as it was becoming part of the group and, by 1993 Sensitive Fabrics were making a big impression in swimwear. Innovation in the Sensitive Fabrics range has continued, notably with the launch in 2008 of the SensitivEcoSystem programme, to promote the sustainability of the products. Eurojersey now sells half of its products to companies making urban sportswear. That's a great plus because companies want to invest in that and people want to wear easy things, comfortable things. François Girbaud has interpreted that perfectly; Girbaud is a genius. I travel the world wearing Girbaud clothes.
The Italian identity of the group is clearly very important, so why did it take the decision at the end of 2008 to set up a production plant in Vietnam?
When we talked about it in the years leading up to that decision, my husband and Giorgio Crespi didn't think it was a good idea, but it has been a success. In 2017, the factory in Hanoi produced more than 15 million metres of fabric and generated sales of €40 million. It has allowed us to reach clients we otherwise never would have reached, mostly North American brands with Asian supply chains and, unless you are there and understand that market, that supply chain, these companies will never be your customers. Around 70% of all the fabric being produced in Vietnam these days ends up in the US.
Has this detracted in any way from the Carvico Group's prestige?
No. We have not gone offshore; we have expanded. Our business in Italy is growing, too. When my husband died the group was producing 40 million metres of fabric per year and generating sales revenues of €180 million. Twelve or 13 years later, we are producing more than 60 million metres of fabric per year and have sales of €260 million. That's good growth; we have become stronger, and we have further expansion plans, this time in Ethiopia. We hope a new plant at Kombolcha in Ethiopia will be in operation before the end of this year.
What level of importance is sports apparel likely to have for the group in the years ahead?
More and more people are involved in sports now and that gives us great opportunities. One of the most obvious things is how much easier it is now for women to take part. Until the early 1970s, women were still not allowed to take part in marathons, for example. The first woman who tried [Kathrine Switzer in Boston in 1967], had to make them think she was a man. It was 1984 before there was a women's marathon at the Olympics. Two years after that, I ran the New York marathon. And now women run ultra-marathons. This gives companies like ours a great chance to produce for all kinds of sports and for more and more customers.
What role does sport continue to have in your life?
I still take part in competitive cycling but cross-country skiing is my favourite sport now. I take part in 'Masters' competitions, most recently at the Masters World Cup in Minnesota in January and won two silvers and a bronze, wearing Eurojersey clothing, of course.