Daniele Grasso: Both sides of the argument
14/05/2020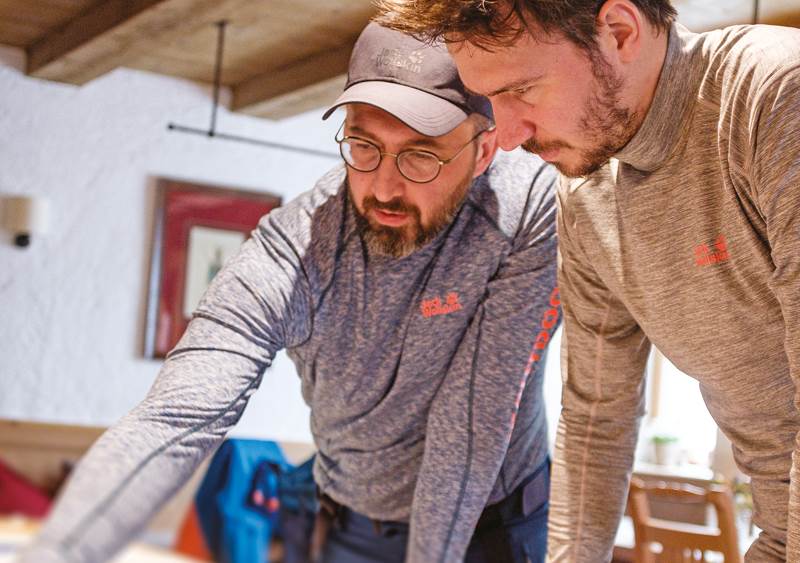 Dialogue: Daniele Grasso, vice-president for product and apparel, Jack Wolfskin
After almost eight years at Jack Wolfskin, Daniele Grasso became the outdoor brand's vice-president for product and apparel in March. In-depth knowledge of technical fabrics for performance apparel, which he had built up during long career spells at Ploucquet, Sympatex and Toray, has helped him shape the company's product offering.


What is the characteristic of Jack Wolfskin that you like the best, and why?
Jack Wolfskin is the epitome of the outdoors. The core of the brand is activity. We love hiking and sports. Jack Wolfskin products feature a high degree of functionality and innovation. At the same time, sustainability is at the centre of everything we do. This makes working here so exciting and challenges me every day. I started in 2012 after a long time on the supplier side. By coincidence, I met two members of the management team.
Something that struck me right away and is still a characteristic of Jack Wolfskin is that it is a democratic brand, an inclusive brand. It's for family and friends. When you go out to enjoy the outdoors, it's not that you need to be the fastest or go highest. It's more the joy of being outdoors with family and friends. The DNA of Jack Wolfskin is that we come from the outdoor world, the active world. With my boss, chief executive, Melody Harris-Jensbach, we are proud to translate modern design and function into our products. We love innovation, technology, sustainability and can invest in these topics because we are a strong brand with a very strong development team. This was the reason why, eight years back, I was totally convinced that I had to start with Jack Wolfskin and still love to innovate with my team every day.
For someone in charge of apparel at an outdoor brand, what are the advantages of having spent a large proportion of your career working for advanced material developers such as Ploucquet, Toray and Sympatex?
For Jack Wolfskin, product is king. We love products. A key element of an outdoor product is the advanced, functional material. The key to mastering all weathers is the material technology in the product. We possess a lot of know-how of functional and really advanced material and in the last few years, we were able to bring the technology level of Jack Wolfskin to the next level. Our most important project is our Texapore Ecosphere membrane. My supplier experience helped me a lot to drive the team to develop such a membrane. Another important project is our mosquito-proof fabric. For reasons of sustainability, we had stopped using mosquito -proof fabrics. But the market is there and every season people would ask us to bring back mosquito-proof, so we said, 'Let's bring it back, but without any chemistry'. With my experience with Ploucquet and Toray, I was able to drive this. At Ploucquet, I started by spending several months in the production facility, on the lamination machine. I gained a technical background at that time.
Are there disadvantages? For example, how difficult is it to choose fabrics and finishes that provide the functionality you know exists and would like to have if money were no object, while remaining within budget restrictions?
I would not regard it as a disadvantage, but it's definitely difficult for suppliers to surprise me with innovation and good ideas because I've had more than 20 years' experience of the other side. I solved this by hiring a great innovations manager a couple of months ago, Chad Leeder. He is now responsible for surprising me with innovations and he is capable of doing so.
If you could invent, develop, find, buy or conjure up a particular innovation in fabric that you think would take the market by storm, what would you focus on?
We are currently running a lot of long-term innovations, but at this point in time I cannot share them with you. We definitely have some game-changer projects. Two days ago I received a prototype for a fantastic topic we are working on. We have a lot of projects in fabrics and also in garment construction.
Many of the innovations in recent Jack Wolfskin collections emphasise sustainability. Can you sum up how much time, thought, research, deve­lop­­­ment and hard work go into ideas such as Ecosphere or Microguard Woolblend?
Texapore Ecosphere, for example, had its pre-launch in 2017, but we started it in 2014. It took three years to have it ready for the market, so it took some time. We think about innovation 24-7 and sustainability is always part of the process. It is part of our DNA and we constantly consider it. Chad's job is to think about technology, innovation and new developments. We're really investing a lot in this field. Apart from Chad and the team we have product designers and fabric developers with great know-know, we are very excited. We have a co-operation with the former alpine ski racer Felix Neureuther. We work with him and the Alpine School Innsbruck to gain insights and find new ideas to finally create new or improved products. We put a lot of effort into these co-operations.
There has been speculation for at least a couple of years that the trend linking urban clothing to technical apparel for sport and the outdoors could end soon. What gives you the confidence that this segment is still worth focusing on and investing in?
Going out every day and seeing people and what they are wearing gives us confidence. We also gain insights from our social channels, what feedback and comments come in. This is not only a trend for a limited amount of time. I think combining the function from outdoor and active in lifestyle and urban is an ongoing topic in which we are investing a lot. Everything has a function: waterproof, breathability, water- repellency, sun protection and the mosquito topic. Function always needs to be there. We are definitely not a fast fashion brand, so our products need to last and, if needed, we also have a repair service in-house. Above everything, for us it's the combination of sustainability and performance. We launched some seasons ago a category called the 365 Collection, bringing our active, outdoor know-how into urban lifestyle products and the feed- back is amazingly good. We definitely feel confident that this is an ongoing topic.