Anna Maria Rugarli: Actions speak more loudly
09/04/2020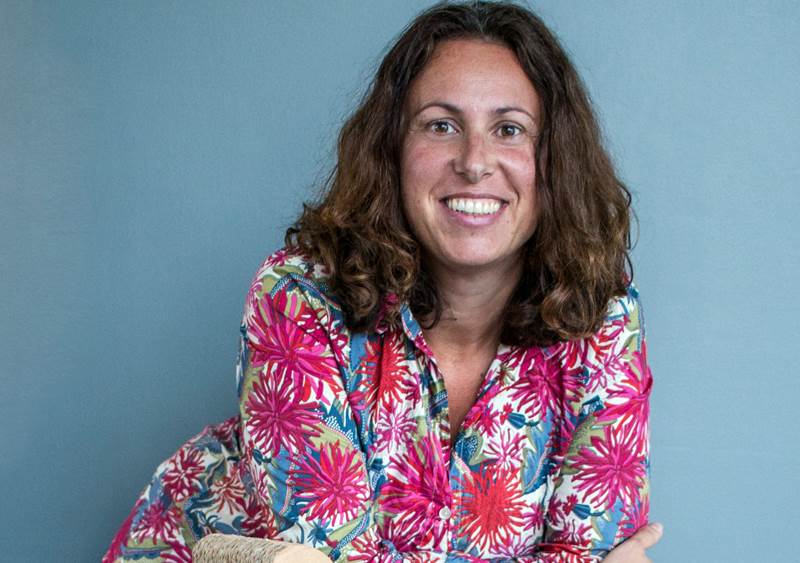 It is ten years since Anna Maria Rugarli joined VF Corporation where she is now the group's senior director for sustainability and responsibility in Europe, the Middle East and Africa. She says that, as one of the biggest sellers of apparel in the world, the group must be bold in its commitments to moving the clothing industry towards a more circular model.
Greta Thunberg said at the United Nations Climate Change Conference in Madrid in December that what the discussion requires now, at the start of the 2020s, is a balance between outrage and optimism. What makes you outraged and what makes you optimistic?
The climate challenge is not new; it's something that scientists, researchers and academics have been reporting on for decades. We are frustrated that so much effort is spent debating the science of climate change instead of aligning behind solutions. With that said, I am excited to see consumers changing. They increasingly desire more sustainable products and want to know the origin of the products they purchase. Increased demand is an important component of changing business. And, we are seeing a number of brands respond to the demand in bold, creative ways. There is also a lot of cross-industry work being done to move our industry in a more sustainable direction. When our industry collaborates, we have the combined size and influence to make a meaningful, positive impact.
The global climate crisis is the biggest issue facing our world today. We have an opportunity and responsibility to leverage the scale of our business and our workforce to create systematic change in our industry and beyond. For example, we recently partnered with the Carbon Trust and set some ambitious, yet achievable, new science-based targets. This includes an absolute reduction of scope 1 [fuel combustion] and scope 2 [purchased electricity, heat and steam] greenhouse gas emissions by 55% by 2030. There will be a further 30% absolute reduction of scope 3 greenhouse gas emissions [purchased goods and services, business travel, employee commuting, waste disposal and so on]. We were one of the first fashion businesses to sign the UN Fashion Industry Charter for Climate Change and we've also committed to 100% renewable energy in owned-and-operated facilities by 2025, with 16 VF Corporation buildings announced as LEED [green building] certified in 2019.
VF Corporation recently published a new Made for Change Sustainability & Respon­sibility Report, placing emphasis on science-based targets for reducing greenhouse gas emissions. Greta Thunberg also said in Madrid that she does not think the world is paying attention to the science and that she is unsure how to communicate about climate change without risking accusations of "scaremongering". What, in your opinion, is the best way to deliver a strong message without frightening listeners away?
The best way to speak is through action. From a business perspective, we recognise our responsibility to provide products and solutions that contribute to a more sustainable lifestyle. Our customers are increasingly seeking sustainable solutions that do not compromise style, function or performance. Making sustainable choices attainable to our consumer base is one of the ways VF will lead through action. Since launching our Made for Change strategy in 2017 we've provided more opportunities for customers and communities to become more sustainable. Innovation is key and we've seen a positive reception to this transition. For example, customers are able to recycle their unwanted clothing and footwear by bringing them to one of our The North Face and Timberland retail stores. These products will be recycled whenever possible through The North Face's 'Clothes the Loop' and Timberland's 'Second Chance' initiatives. In Europe we have collected more than 13 tonnes of unwanted products so far. The North Face continues to increase its use of recycled materials in products, and the appointment of Christopher Raeburn as Timberland's creative director [in October 2018] has revolutionised our approach to sustainable design across the wider business.
The Napapijri Infinity jacket is one of our latest products to have elevated sustainable design; it's our first 100% recyclable jacket made to be reimagined infinitely due to its mono-material composition. Three years in the making, its filling and trims are made of nylon 6, while the outer fabric is made from Econyl regenerated nylon, a high-performance nylon 6 yarn recycled from discarded fishing nets and other waste materials. This jacket is one of our most exciting brand-led innovations. Separately, we've made great strides in the cotton used in products, with Timberland striving to source 100% sustainably sourced cotton by the end of 2020. We also continue to work closely with Better Cotton Initiative as we continue to advance our value chain sustainability. And we've also ensured our virgin down is all in line with the Responsible Down Standard (RDS).
The Made for Change Sustainability & Responsibility Report says that VF's new vision for sustainable materials is a commitment that by 2030, all of your top nine materials, which account for approximately 90% of VF's materials-related carbon emissions, will come from regenerative, responsibly sourced renew­able, or recycled sources. For which of the nine will this be the biggest challenge and how do you plan to overcome it?
While achieving our goals against our top nine materials will be a challenge, there are a number of infrastructure-related changes that will need to take place for us to be success. For example, many replacement materials needed for us to meet our vision simply do not exist today. In this respect, we work collaboratively at industry level to look for solutions that will enable brands to use materials and processes that are less impactful. Alternatively, achieving a number of our goals will require changes in other industries for us to be successful. Therefore, we must create new partnerships that cross various industries. This is why Timberland partnered with Other Half Processing to build a responsible leather supply chain, sourced from ranches that employ regenerative practices. Regenerative ranching systems have the potential to build soil health, reduce carbon emissions (by capturing more carbon in the soil than they emit), enhance biodiversity, improve water management, and give farmers and ranchers better livelihoods. Through this pilot, Timberland will source traceable hides from regeneratively grazed cattle in the US for select footwear and accessory collections set to hit the market in fall 2020.
You said last year that you saw the increasing emphasis on the circular economy as the evolution of the sustainability movement and that this will change how businesses operate. How will corpor­ations benefit from adopting a circular economy approach?
In the most recent Circularity Gap Report [published in 2019 by Amsterdam-based Circle Economy], it was suggested that less than 10% of the 92.8 billion tonnes of material extracted for use is reused annually, and that just 9% of the global economy is considered circular. The amount of raw material that is going to waste is staggering, and the amount of resource and cost that could be saved would make businesses more efficient on an operational level.
As one of the largest apparel retailers in the world, we're bold about our commitment: to be a leader of the large-scale commercialisation of circular business models by 2030. Today, we're pioneering progress in three key areas: circular business models, second life and circular design. Our focus on circularity drives creativity, sparks innovation and fuels future growth. For VF, it's a win-win approach. Our team is empowered to reimagine and reinvent just about everything – from business and design to commerce. Yet, we never lose sight of the key principles of good business – creating value for consumers and stakeholders while mitigating risks and unlocking new revenue streams. In 2018, The North Face launched VF's first re-commerce platform, The North Face Renewed, that provides products of the same great quality and performance consumers expect from The North Face, even though they are lightly worn. Since its launch, The North Face Renewed has enabled 17.1 tonnes of apparel in the US to be used again by consumers. Timberland and The North Face take-back programmes in Europe have enabled our consumers to prevent more than 13 tonnes of unwanted items from going to landfill.
Finally, to enable this transition from linear to circular, we have committed publicly to the Global Fashion Agenda to train all our European-based designers on circular economy principles by 2020. As of now, the Timberland team has already benefited from the deep-dive sessions on circular design. We are setting up additional workshops and training to reach 100% of the design team in the next few months.