Smart textiles power up
16/01/2020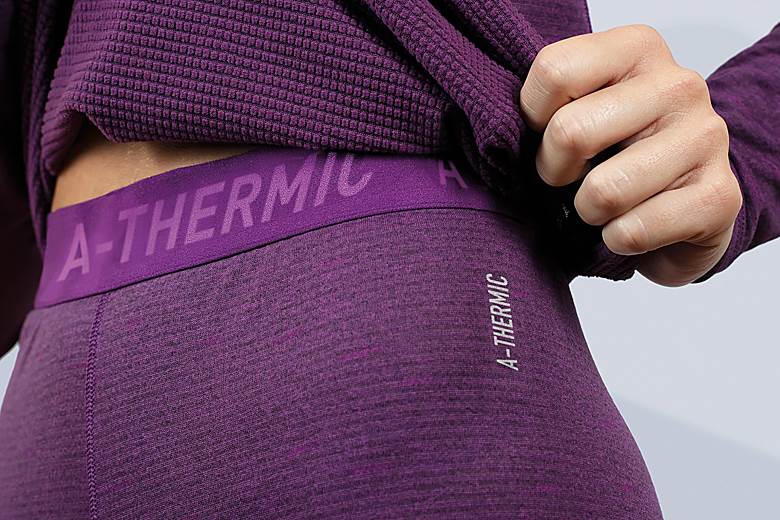 An evolution in consumer acceptance and the development of kit that makes it easier to integrate electronics into textiles suggest the market for smart clothing may be reaching a tipping point.
The market for smart clothing is heating up, literally. A search for heated jackets on Amazon leads to dozens of jackets, vests and hoodies offered by countless brands in prices ranging roughly from $60 to $140. These jackets are easy to spot in real life, thanks to a shining LED on the chest boldly signalling the presence of a smart function in action. Product descriptions indicate that most of the heating elements are made in "carbon fibre". A deeper dive into customer reviews shows that buyers are generally happy with their performance; the number of complaints is low, criticisms include the brightness of the LED but also the quality of the plugs. Some do not function at all and provide no customer service, as experienced by French techno-designer Elisabeth de Senneville. Florence Bost, a smart textile designer based in Paris, warns that if the components are of low quality, there is a real risk they could ignite. A single unfortunate accident would be bad news for a budding market segment.
"Heating elements are relatively easy to integrate, and they offer a straightforward function that is easy to understand and to explain. It is a logical starting point for smart textiles," says Dutch fashion-tech designer Marina Toeters. She also points out that warmth is "less geeky" than biometrics and that there is a real need for this function in workwear and motorcycle clothing.
Confirming the trend, Florian Miguet, CEO of Clim8, a maker of smart thermoregulating elements for apparel, says sales of heated clothing are growing by 18% per year on average. This young company supplies several premium brands, including Swiss sportswear brand Odlo and, from this winter, French motorcycle glove maker Ixon. The system developed by Clim8 extends beyond the on-off and three-mode options of basic heating jackets. It relies on sophisticated software and algorithms to adjust the delivery of heat to a user's preferences, activity and weather conditions, as well as battery use, the company claims. "A cyclist's needs will be different from those of a hunter," says Mr Miguet. This is the company's "technology brick", the "science behind the concept" along with its user interface expertise. "Software is as important as the textile technology," he says.
In a similar line of thinking, Myant calls itself a textile computing company. The Toronto-based smart textile specialist has recently formed a joint venture with Osmotex, a Swiss start-up that developed the Hydro_Bot smart membrane. Its electronic moisture management system will now be paired with heating on demand. "Our wire-free textile-based heating panels connect to an app to control heat levels. In combination with Hydro_Bot's moisture management system, the clothing will be all the more effective," says Myant's marketing director, Brian Fung. Based in Canada, the company has naturally, one could say, developed a full line of heating solutions from baselayer to outer layer and from socks to balaclavas.
On-demand warmth is far from the only function Myant can offer. Skiin, a 'connected health and wellness system' will be launched this year. This range of smart innerwear is said to track biometric data, including continuous ECG, activity, stress, posture, and also calls on machine learning algorithms to provide "useful insight" to wearers and their close ones, as the company seeks to integrate a social element to its technologies. These smart clothes can be washed 50 times, the company claims (Clim8 also guarantees 50 laundry cycles). "If these clothes can't be worn and treated like regular garments, consumers won't buy them," says Mr Fung. "Our philosophy is that technology should adapt to the user, not the other way around." Other performance-oriented solutions will be launched later in 2020.
Integrated solutions
Smart apparel applications are attracting new suppliers, companies with expertise in trimmings or electronics that are looking to expand their markets. This is the case with German lighting specialist Osram and French trimming maker Satab, which have both created new platforms for these types of applications.
Munich-based Osram began investigating the possibility of transposing its know-how in lighting, semi-conductors and sensors to textiles in 2016, when it created a Smart Textile Illumination division that is headed by Stefan Hofmann. Though slow at first, he tells WSA, this new venture has turned into a real business for the company. German brands Vaude, Jack Wolfskin and Bogner are customers and Italian brand Geox will be presenting a smart jacket with Osram elements this February. The company is also working with Coats to develop smart zippers.
Osram has created an active illumination LED-based kit designed to offer brands a complete system and reduce complexity for the textile supply chain, says Mr Hofmann. It includes fibre-optic lighting, a micro-controller and firmwear to change modes and turn the system on or off, a USB plug and a power bank. The integration of the lighting components is designed to fit into conventional piping that serves as a light guide. "We chose this solution because clothing manufacturers are used to sewing piping. It is a semi-integrated system that allows us to enter the textile market without disrupting existing procedures," he says.
As Osram builds up its smart textile division, it is also expanding its offering. The company is working on many different projects, including offering a multicoloured LED with the possibility of changing colours in RGB mode. Bluetooth integration would allow communication with a smartphone app or a smart watch, and the light could be programmed to change colour if a certain ECG threshold were met. The addition of a brightness sensor could adapt lighting to conditions and turn on and off automatically, a humidity sensor could modulate brightness in conditions of rain or fog and an acceleration sensor could function as a breaking light for motorbikers and cyclists. "We are looking at all our options to see what makes the most sense," says Mr Hofmann.
In addition to these new functions, Osram also plans to optimise its system. The current light cord has a 3mm diameter, which could be brought down to 2.5 or 2mm, he says. The shift from a plastic cable to a textile one would be better for clothing applications.
Smart textile cables are exactly what Satab specialises in, as a maker of narrow fabrics. The Saint-Etienne-based company has developed an entire eco-system of smart narrow fabrics that can be customised to deliver a variety of functions. They can withstand common garment manufacturing stages, from sewing, printing and folding to washing. "We have focused specifically on developing solutions that make it easier to combine the hardware, electronics, power source and so on with soft materials. The kit presents our know-how from which we can then develop bespoke products for our customers, both in fashion and workwear," marketing director Franck Ferrua tells WSA. Satab made a connected zipper ribbon for Genius Object, a young French company that offers solutions for smart clothing and accessories.
Sable Chaud, an e-textile agency headed by Florence Bost, worked with Satab to develop the kit. It is made up of four patented elements: conductive e-ribbons to convey energy or information, tool e-ribbons to power, sense or actuate the conductive elements, various e-braids and non-conductive interface e-ribbons. "This kit is designed to help brands understand the workings of smart textiles. It is a complete system and Satab provides customer support services for companies that do not have the expertise in-house," she tells WSA. She also sees it as a work-in-progress: "In this field, technologies change fast, suppliers need to be able to update functions as new needs emerge or standards change."
Wireless communication
The integration of smart sensors relies on some type of cable, whether textile or plastic, and hardware plugs to connect the elements together and to a source of power. This has long been a barrier to the development of electro-textiles and, though progress is being made, it remains a weak point. Volt Smart Yarns, a division of Conover, NC-based Supreme Corporation, is working on a wireless technology developed by NASA. Known as SansEC (without electrical wiring), it is based on the radio-frequency resonance of conductive materials. Volt's smart yarn embedded with very fine copper wiring can thus become a sensor.
The company is currently exploring health-monitoring applications. "Our yarn can detect a tenth of a degree in temperature change and transmit the information to an app," says CEO, Matthew Kolmes. He sees this as particularly useful in bandages, where it could monitor healing without the need to remove the plaster, making life easier for medical staff. The concept the company is working on also includes data collection and machine learning to develop predictive health-monitoring models. Combined with textiles that release medicine, as Nufabrx is developing, textiles can become really smart, says Mr Kolmes. "I see that things are moving fast. Three years ago, I would not have imagined anything close to combining sensors and artificial intelligence in smart textiles."
Two of Volt Smart Yarns' products are near commercialisation: a smart bandage and a smart baby bed capable of monitoring body movement, moisture and temperature, and possibly avoid Sudden Infant Deaths (SIDs). "Wearables have not been widely adopted until now because they do not deliver a function that people really need, that improves life or health, and that is affordable," says Mr Kolmes. A smart bandage fits this definition: "It can be made with only 20 inches of yarn and it will keep people healthy and out of hospital." He also believes that smart baby cots and beds will be widely available in just a few years. "None of this would have been possible without the NASA scientists that developed the technology we are now close to marketing," says Mr Kolmes who insists on giving credit where it is due, to NASA engineers Stanley Woodard, who invented sansEC, copper specialist George Szatkowski and radiofrequency expert Ken Dudley.
Time for standards?
As more smart products come to market, it may be time for the development of recognised standards of efficiency and security. The combination of electricity and humidity may be a source of concern for buyers along with privacy issues related to the collection of biometric data. The only obligations e-clothes have today are related to batteries and correspond to standard EC or UL norms, a Bureau Veritas spokesperson informs WSA. The company's Laboratoire central des industries électriques (LCIE) division is working on the development of a testing protocol for smart textiles. In the United States, IPC (originally the Institute of Printed Circuits now, Association Connecting Electronics Industries) has announced the release of IPC-8921, which covers requirements for woven and knitted electronics textiles (e-textiles) integrated with conductive fibres, conductive yarns or wires. It is the result of an industry-wide consultation that is building up a framework to provide a standard definition of e-textiles, to set quality assurance provisions and testing frequency.
Companies interviewed seek to supply products that are safe to use and view the development of norms as a positive prospect. Many are participating in such programmes. Osram is part of a group working on an evolution of EN 247. Florence Bost is a member of both the IPC committee and European Committee for Electrotechnical Standardisation (CEN-CENELEC). Standard copper wire calibration is well-known and normalised, she says, but the specific range of finer wiring used in clothing is less so. "Heating clothes is based on electrical saturation; the device emits more electricity than necessary to generate warmth. If the wire is damaged or folded, it will create a hot spot and could burst into flames," she says.
To promote interoperability, more than safety, and address concerns regarding consumer acceptance, US technology companies Apple, Amazon and Google have announced the development of a standard communication system that will make their smart devices compatible.
Admittedly, this is not the biggest barrier smart textiles face, but consumer adoption could be boosted by clear frameworks for performance, data collection and customer support services. If heating proves to be the "killer app" this market needs, backing it with a recognised seal of safety would be a smart move.