Finnish textiles building a true circular economy
16/01/2020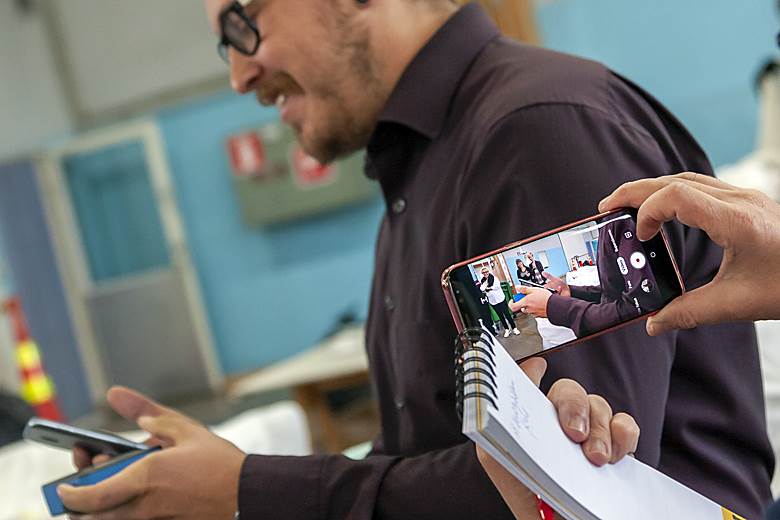 The sorting of waste textiles is set to become more accurate, the result of a collaboration between recycling firm LSJH, the Lahti University of Applied Sciences and equipment manufacturer Spectral Engines.
RISE TO THE CHALLENGE: Telaketju
Words like "sustainability" and "circular economy" in the textile industry have become so ubiquitous that it is easy to forget they are more than trendy marketing jargon. But they are more. They are urgent imperatives in an industry which — according to a 2017 report from Global Fashion Agenda and Boston Consulting Group — annually utilises some 79 billion cubic metres of water, produces 1,715 million tonnes of CO2 emissions and leaves behind 92 million tonnes of waste.
The European Union tends to be among those stakeholders willing to take bold steps in the face of such overwhelming statistics. For example, the EU's circular economy package, adopted in 2018, requires member states to ensure textiles are collected separately, and the EU's more recent Waste Directive requires schemes to be set up by no later than 2025.
Further, after December's UN Climate Change Conference (COP 25), UN Secretary-General António Guterres tweeted: "I am encouraged by the fact that the European Union decided to move ahead with its commitment to carbon neutrality by 2050. This example of #ClimateAction needs to be followed worldwide" — this, despite his clear frustration with inaction from the rest of the international community.
So it may be unsurprising that the first 15 out of 180 countries in the Environmental Performance Index 2018 rankings were from the EU. Finland was in the top ten, possibly because the country is doing the sort of ambitious and difficult solution-seeking that the textile crisis, as evidenced by the massive, complex and groundbreaking Telaketju.
Telaketju is a Finnish cooperative network devoted to promoting textile recycling. Divided into two key phases, the project includes develop­ing the collection, sorting and refining processes of end-of-life textiles, then helping to develop business models related to the circular economy.
The project — although project seems too small a word for what it is — is currently about half a year into Phase 2. As this second phase gets underway and insights from Phase 1 emerge, Telaketju may prove to be a model for how other member states and nations can build true circular economies.
Introducing Telaketju
'Telaketju' is a portmanteau word made from the Finnish words related to textile recycling, sorting and utilising.

Under the umbrella of Telaketju, research and development in the first phase were divided into two segments. The first was led by Finland's Ministry of Environment and the other by Tekes, a major Finnish funding agency for technology and innovation. (Tekes has since become Business Finland, and is known as such in Phase 2 of Telaketju.)

The Ministry of Environment project primarily worked with municipal waste management and recycling organisations, public participants and charities to establish routes for collecting, sorting and processing discarded textiles, as well as improving the utilisation rates for municipal waste. This side was coordinated by waste management company Lounais-Suomen Jätehuolto (LSJH).

The Tekes/Business Finland side, which was coordinated by VTT Technical Research Centre of Finland, focused on funding R&D organisations and supporting companies that were working to better align their businesses with the ideas of a circular economy. Primarily, the Tekes side, as it was generally referred to, explored material recycling via new processes, products and business models.

In total, 32 organisations were involved within these two projects as partners and/or by providing funding. They worked for nearly two years to help realise the project's stated goal: to build a new kind of multi-stakeholder business ecosystem around textile recycling, and to prepare this ecosystem and society for the circular economy transformation in the field of textiles.

Pirjo Heikkilä, a senior scientist from VTT and coordinator of Telaketju, tells WSA that so many people and organisations were willing to cooperate because they feel it is vital to their long-term success.

"Sustainability and the circular economy are seen as a necessity in the future of business, including in the textile industry," she says. Cooperation is essential to achieving this. "One organisation cannot be fully circular on their own, so circular systems need to be built together."

The European Environment Agency (EEA) agrees with Ms Heikkilä. In an EEA report published last November, Paving the way for a circular economy: insights on status and potentials, the authors wrote: "Transforming systems for sustainability is challenging, with many policies and incentives operating at different governance levels. It also requires experimentation and learning, based on interactions among multiple stakeholders, including businesses, users, scientific communities, policymakers, social movements and interest groups."
One major concept to take root during
Phase 1 of Telaketju is that of a processing plant for end-of-life textiles. LSJH was given funding for a sub-project that began in May 2018 and ran for one year, aimed at the development of a highly sophisticated sorting system by which materials could be processed to meet the needs of companies making use of end-of-life textiles for new products and purposes.
A report on the Tekes side of Telaketju, published last May, captured results, insights and feedback from participants in Phase 1 — including those involved in researching the sorting plant. (Titled Telaketju — Towards Circularity of Textiles, the report is available on the Research Output section of VTT's website; it is an invaluable resource for any entity seeking to progress the circular economy.)
In the "Feedback from companies" section, Sini Ilmonen of LSJH said that a key part of the value in the Telaketju project was simply bringing together a group of leading Finnish experts and entrepreneurs operating within both textiles and other sectors. The project, she wrote, allowed those involved "to review and harmonise the terms and propose them for general use and propose some reforms to the legislation concerning the textile recycling sector."
By modeling a system (and the costs) for the collection, storing and storing of end-of-life textiles in LSJH's operating area, which consists of 17 municipalities, they were able to "form the basis for the collection of end-of-life textiles at the national level". Further, she said, LSJH could begin planning, and apply for funding towards, a Finnish refinery plant for end-of-life textiles.
This type of work gives "LSJH and other waste management companies … better opportunities to get ready for the separate collection obligation for textile waste by the year 2025" and "LSJH will be a pioneer in the research and methodology of processing post-consumer end-of-life textiles in Finland in the future."
In September, WSA talked to Jaakko Zitting, a project engineer for LSJH, about how its plans were coming along. At the time, Mr Zitting said that sorting operations and a textile warehouse were being set up in facilities equipped with a textile recycling line (a mechanical process for converting textiles into recycled fibre) and other machinery. The plant was partially opened with limited operations and LSJH was negotiating with machinery suppliers. Full operation at the processing plant had been planned for summer 2020.
Mr Zitting's plant had made the news in September, in part because of the cutting-edge technology to be used in the sorting of textiles. Handheld infrared optical recognition technology developed in partnership with materials sensor equipment manufacturer Spectral Engines was to be deployed at the LSJH pilot processing plant, which would enable users to distinguish the most recyclable monomaterials from numerous fibre blends.
This technology could prove vital to the end goal of producing usable post-recycling fibres. For example, some fibres may be high enough quality for use in manufacturing yarn and even new clothing, while other fibres may be destined for a second life as composite products and insulation.
Mr Zitting has been responsible for developing the infrared scanner solution and sorting instructions, as well as drafting cooperation agreements between other municipal waste management companies and leading the procurement process for recycling equipment. He also acts as a materials specialist by evaluating potential recycling methods and consulting waste handlers on possible solutions for certain textile fractions. He is, in short, very busy.
But, as of December, all is still progressing, though they have recently had to tweak their plans.
"It seems we will not place both the recycling line and sorting operations under one roof," Mr Zitting tells WSA. "Although this would be beneficial in terms of logistics, we've been unable to find a location that fits both requirements. The pilot phase is therefore going to be conducted in two locations, the current locations being the primary sorting station and warehouse, and another to fit the material processing equipment." During the pilot phase, he adds, they will make plans for a larger, custom-made facility.
LSJH is not the only organisation exploring sorting and processing solutions. Mr Zitting points to other processing units associated with Telaketju, such as Infinited Fiber Company's pilot plant (exploring chemical recycling of cotton) and Pure Waste Textiles' yarn spinning pilot (for small scale machinery).
"There are also existing industries — construction, insulation, composites — which are doing R&D to take up recycled fibre in their production," he adds. "We are looking forward to cooperating with all industrial actors willing to utilise PCT materials for recycling."
The LSJH project is not directly part of Telaketju 2, though the team will work closely with the Telaketju network. It's an exciting example of the innovation spurred by research conducted in Telaketju 1.
"The need for a PCT processing solution arose from the initial Telaketju project," he says, "and our company began answering to that need as our own strategic goal."
Work that matters
Phase 2 of Telaketju started in May 2019 and will focus on building businesses that function within the circular economy of textiles. Ms Heikkilä is particularly excited about what this phase will deliver, as she feels she and fellow participants have become individually affected by the problems and promise of the circular textile industry.
"Most of the people working within Telaketju 2 have grown to have some personal focus or ambition in what they do," she says. "I myself have been doing textile and fibre related R&D work for more than 20 years now, but this circular economy field is the only one so far which has had a significant effect on me personally — affecting my values and behaviour."
Ms Heikkilä's favourite outcome of the first phase of Telaketju is the formation of Telaketju 2. "It has been nice to see that companies and organisations involved within Telaketju 1 are finding new opportunities in the circular economy, and that new partners were willing and eager to join the work as well," she says. "It shows that this, what we do, does matter."