Sciencing the bulk out of outerwear
16/01/2020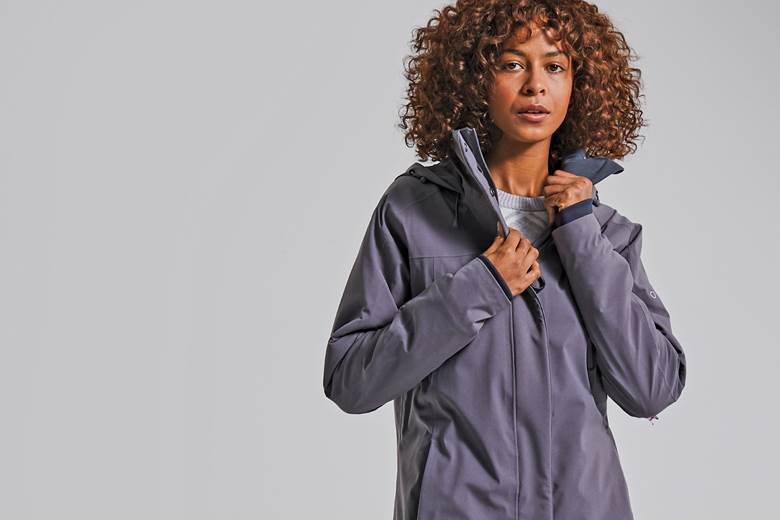 Fresh from finding the fabric with "the best thermal performance", Oros moves to the global technical apparel capital to pursue its quest for products that will change the world.
NEWCOMERS: OROS
It is all about the science. When anyone walks into the new Oros headquarters in Portland, Oregon, the first thing they see is the labs. The company's most popular commercial does not feature attractive skiers swishing down a snowy mountainside; it takes place in a warehouse and stars a canister of liquid nitrogen. Partnerships are not with celebrities, they're with institutions like the US Department of Defense (DOD) and NASA. When the Oros marketing team learned about a young girl's desire to be an astronaut, they didn't send her Oros swag, but arranged to send her to an astronaut convention.
Oros, the outerwear brand founded by self-professed science geeks Rithvik Venna and Michael Markesbery, is a company driven by R&D. In our recent conversation with Mr Markesbery, the language of discovery and innovation was pervasive, and one thing became very clear: the Oros vision is not about selling more coats. It is about using science to change consumers' relationships with outerwear.

Space tech in earthly outerwear
At the heart of Oros is aerogel. NASA likens aerogels to what would result if you put a gelatin dessert in the oven until all the water evaporated — and if the dessert didn't collapse into a pile of powder but instead maintained its shape.

In actuality, aerogels are a class of porous, solid materials created by combining a polymer with a solvent to form a gel, and then removing the liquid from the gel and replacing it with air. The resulting substance is among the lightest solid materials known to humanity (usually just 15 times heavier than air) and extremely porous, with pores measured in nanometres.

This is why aerogels are used in the -450°F environment of space. The nano-pores are so small, even air cannot travel through aerogel. It is a terrible conductor of heat, and therefore perhaps the universe's most effective known insulation.

The tricky part is this: extreme porosity and low density also mean fragility. Aerogels work well on the Mars Rover but do not transfer quite so easily to the apparel world.

Overcoming that fragility is where the Oros founders are experts, thanks to the collision of two events in Mr Markesbery's life back in 2013: climbing in the Swiss Alps and being awarded the Mercury 7 Astronaut Scholarship. In the mountains, he was frustrated by the sheer bulk of clothing required to cope with the frigid air. Three months later, through the NASA scholarship, he learned about aerogels.

It was not long before Mr Markesbery was taking his friend Rith aside, just before a chemistry exam, to posit the idea: "What if we just took this NASA space shuttle insulation and put it into apparel?"

Mr Venna was onboard immediately. For the next two years, they pursued that question, which was not easily answered. Remember that fragility? "What we learned when we got our first sample of aerogel is that it would never work in apparel," says Mr Markesbery. "The problem was that aerogel is super brittle. If you poke it, it shatters into a thousand little pieces."

But, they persevered and "eventually we found the answer," he says. "We could create a fabric out of aerogel that was stable, durable and had the best thermal performance of any fabric we'd ever tested."

They built a prototype jacket and presented it to the Kickstarter community for crowdfunding, wondering if there was actually an appetite for their technology. There was. The campaign asked for $100,000; it had $125,000 within 36 hours. The campaign closed with $360,000.

At that point, Mr Markesbery says, it was not about building a company or making an apparel brand. "I had this problem on top of this mountain and found this incredible solution," he says. "It was about making this solution happen."

This solution became Solarcore, a flexible aerogel composite that serves as the defining material of the Oros brand. Using ASTM C518 standards, the company has tested Solarcore against 250 other insulations and have yet to find anything warmer.

It is worth noting that aerogel is also found today in products of several leading outdoor brands but is generally being used as an "aerogel blanket" rather than in the fabric itself. Those aerogels are typically encapsulated in polyurethane, which works well in select use cases such as gloves, footbeds and insulated pockets, but can lack breathability for liberal integration into apparel.
Just 2mm thick, Solarcore is used in the company's signature Orion Parka, as well as a growing offering of jackets, mid-layers, bottoms and accessories.

The company's most popular commercial features a video of a man in an Orion Parka grinning away as his back is hosed down with liquid nitrogen. The scene offers little explanation other than a quick temperature read at the end: the back exterior of the jacket is -321°F, the inside is a toasty 89º.

Ironically, if Mr Markesbery achieves his definition of success, the Orion Parka may one day be obsolete. That's because his team is working on technology that enables consumers to stay warm in sub-freezing temperatures wearing nothing but a long sleeve shirt. But we will return to that later.
Constantly innovating
By just about any measure, 2019 was a monumental chapter in the Oros story. In the spring, Mr Markesbery and Mr Venna left Ohio and moved their business to Portland, the city which the former refers to as the "technical apparel capital of the world".
Access to the outdoors — an hour from the coast, thirty minutes from the mountains — makes Portland valuable for any outdoor brand, but the new location also gave Oros easier access to talented industry veterans. As of today, Jeff Nash, formerly of the North Face and Black Diamond Equipment, leads product innovation as chief technology officer and vice president of product. Alistair Hather, who was on the Futures team at adidas, is design director. Jessie Busse left Columbia Sportswear to manage the Oros collection for autumn 2020 and beyond.
And then there are the new labs, front and centre of the new 5,400-square-foot headquarters. With lab benches, microscopes, infrared cameras, liquid nitrogen and more, Mr Markesbery sees symbolism in the labs' physical prominence. "We are creating and pioneering new apparel and technology that changes the world. Using science to do that is fundamental to what makes Oros Oros," he says. "That the labs are the first thing you see, the centrepiece of the office, is a representation of that."
But, it is the new partnership with the DOD that should convince anyone that Oros is not the typical consumer brand. "We wanted a way to superjuice our R&D, so we partnered with the Department of Defense," he says. "They gave us a multimillion-dollar contract to pursue our vision of completely changing insulation in this industry."
The contract, which became effective in last October, is an "other transaction authority" prototype agreement from a division of the US Army and Northeastern University's Kostas Research Institute. Through the three-year partnership, Oros gets funding for their own R&D initiatives, while sharing the fruits of their research with the DOD.
"If anything manifests this idea that we're out to completely change how consumers view and wear apparel," says Mr Markesbery, "it's that we've got a grant to do hard-core R&D and science from the US Department of Defense."
How does a brand go from being a start-up soliciting crowdfunding, as Oros very successfully did in the early days, to being partners with the DOD? (Or partners with NASA, with whom Oros also has an ongoing relationship.)
The answer might lie in Oros' seven values, which begin with 'Constantly innovate' and 'Have grit'.
"When people think of innovation, they only see the positive side, they only see the outcome. No one sees what innovation actually takes," Mr Markesbery says. "Someone fails and they think it's a bad thing and they don't try it again. That's where 'have grit' comes in."
He describes the early days of his and Mr Venna's efforts to develop a flexible, durable aerogel as "two years of failure, two years of never getting it right". But, he adds, that's how it should be. "You're constantly innovating, constantly in beta."
Other Oros values are Be adaptable, Be conscious, Be transformative, Take ownership and Be collaborative.
"Be collaborative gets at how you work with other people on the team," he says. "There were over 50 thousand engineers that worked on the Apollo programme at NASA. That collaborative spirit is absolutely crucial."
One more: Take the moonshot. "Often that first step is the hardest," says Mr Markesbery. "I want everyone at Oros to constantly ask what if? Whoever thought two kids from the midwest with no money could take a NASA technology and turn it into the world's warmest apparel?"
He wants his consumers to take the moon shot, too. This includes Lily, a nine-year-old Australian girl who last year wrote a letter to a major department store chain to question why their NASA-themed pyjamas were only available in the boys' section. Lily's letter went viral online and caught Mr Markesbery's attention.
Impressed with Lily's initiative — and the way she signed her letter "from Lily, a girl who loves Space" — he set out to encourage her dream of being an astronaut and received permission from NASA to use their logo and custom made a t-shirt for Lily; he then arranged to fly her and a parent to attend the May 2020 US Astronaut Hall of Fame Induction at the Kennedy Space Center in Florida.
In a letter to Lily, Mr Markesbery shared his own passion for science. "I wanted you to know, everyone here at Oros believes in your Moonshot to become an astronaut," he wrote. He signed off with "From a guy who loves Space".
Changing consumers' perspective
For now, Mr Markesbery's moonshot is the long-sleeve shirt. The R&D side of developing a shirt to withstand sub-freezing temps is on track, and the company is targeting commercialisation in late 2021 or early 2022.
A separate challenge surrounds the mental shift required to see widespread consumer adoption of such a shirt. "We're battling this perception in the industry that more bulk equals more warmth," says Mr Markesbery.
"Every insulation since the beginning of time has worked the same way — it's trapped air. The more air that's trapped, the more insulation it's providing. The problem is, the more air you funnel into a garment, the puffier and puffier it's going to get." Such bulkiness is problematic in itself, but, more importantly, he points out, "if you compress that jacket, you lose the thermal performance and the ability to stay warm."
With aerogel, this is not the case. "Solarcore under compression at 15psi maintains 97% of its thermal performance," he says. "That means for the first time in history, you can have a thin amount of insulation, put it into a garment and actually get significant thermal value."
In a world where loft has always been synonymous with staying warm, Oros may have some convincing to do.
Consumer acceptance of Markesbery's moonshot shirt, he says, is going to be heavily based on how easily Oros can "convince the consumer that this thing that's been true in the industry since the beginning of time — that you need bulk to stay warm — is not true."