Why so few business leaders rock the boat on sustainability
16/01/2020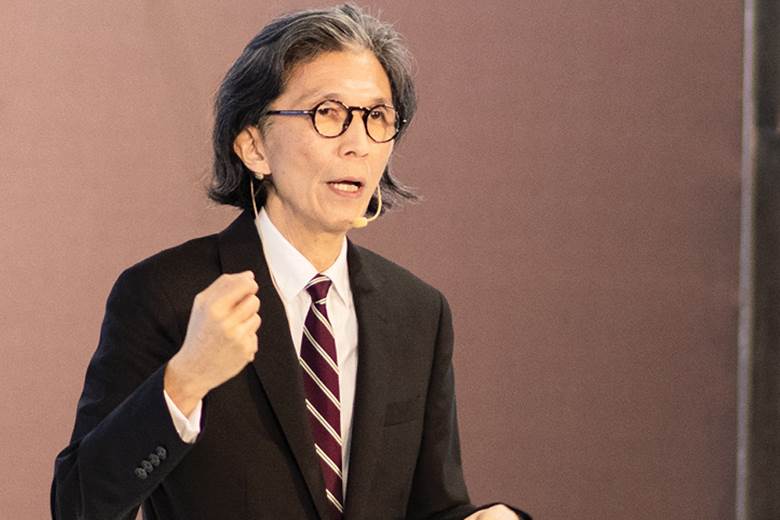 At the start of this new decade, there is no excuse for failing to face up to the harsh reality of the sustainability challenges that the textile and apparel industry faces. The chief executive of the Hong Kong Research Institute of Textiles and Apparel explains that "hiding in the middle" between the environmentally good and bad is no longer an option.
SUSTAINABILITY: HKRITA
HKRITA, the Hong Kong Research Institute of Textiles and Apparel has respect across the global industry for its research work in areas such as new materials and advanced production techniques. It is a forward-looking organisation and this description also applies to Edwin Keh, its chief executive since 2012. A former senior executive at Wal-Mart, Payless Shoesource and Donna Karan International, Mr Keh's expertise in sourcing and supply chains has also led to teaching roles at The Wharton School of the University of Pennsylvania and at The Hong Kong University of Science and Technology.
It is not always fun to look forward. Mr Keh's assessment of the eternal discussion in the textile and apparel industry about sustainability is that it has already moved through several phases. It began with a number of companies deciding for themselves that to become more sustainable was the right thing to do. Then, consumer-facing organisations started to put environmental pressure on suppliers, insisting that they had to become more sustainable if they wanted to keep the contracts they had won. "And today the suggestion is that we have to take action because it's a matter of life or death," he says. "It's a question of staying in business or not staying in business. That's the stark reality, and now, affecting this, there are macro issues that are outside our control."
There are three such issues that he has observed in the last year. One is that the United Nations has warned that we have no more than 11 years (very soon to be ten) left in which to prevent irreversible damage from climate change. This means having to figure out how to fix "this environmental situation that we helped create" before reaching the point of no return. Second, there is a steep price to pay for failing to "get good at data". Failing to adapt effectively to a change he describes as moving from the industrial age to the information age means "making product no one needs and sending it to places no one shops any more".
No change in the white T-shirt
The third macro issue he points to is the trade tension between China and the US that began in 2018. One effect of the dispute is an acceleration of supply chains moving away from China to other parts of south-east Asia, places in Africa and "parts unknown" in search of cheapness and easier access to lucrative markets. Mr Keh insists: "This has been happening for ten years already and it isn't going to work this time because we're running out of cheap countries. China doesn't want to make cheap product any longer; all the thinking there is about creating value and you can't create value or regenerate, reimagine and repurpose your business by making white T-shirts. Ten years ago, you could use your mobile phone to make calls; now it's the centre of your social life. Ten years ago, if you bought a white T-shirt, you got a white T-shirt. Today, if you buy a white T-shirt, you still get a white T-shirt."
He talks of the need to do business differently, of finding ways to leave the land, a country, its people better off, with crops that make the soil better, for example. "Profit should be a by-product of that," Mr Keh continues, "but for much too long this by-product has been the main focus." This comment brings to mind one of the messages of teenage climate activist Greta Thunberg. When she addressed a climate action summit at the United Nations in New York last September, she spoke of "fairy tales of eternal economic growth". What would happen to big corporations if they stopped pursuing the by-product, profit? Would a chief executive be able to keep her or his job for long if the quarterly bottom-line figures began to go down?
The melting middle
Edwin Keh says there is room for everybody in the drive towards a more sustainable future, for legislators, corporations and Swedish teenagers. He welcomes Ms Thunberg's disruptiveness. He explains: "If there is a characteristic that unites non-innovating companies, it's that they tend to be run by white men in their fifties. If those men have made it to the C Suite, it probably wasn't by rocking the boat and that's how they want things to continue until they hand over to someone else. When, on the other hand, you have businesses that are desperate for change, it's often because they have money difficulties."
He repeats that sustainability challenges are becoming more pressing than financial challenges. "There are good guys and bad guys and a lot of us hiding in the middle," he says. "But the middle is going away and the people who are hiding are going to have make a choice." For him, hiding in the middle is doing "just enough", appointing a corporate social responsibility team and including "a few pages" on that team's work in the company's annual report. "That's not enough," he concludes. "Fifty years from now, what will people remember about us, that we were the last generation that could do something about the environment and didn't do it, or that we were the generation that turned things around? It's time to decide if you are with the good guys or the bad guys."