Could thermosetting become obsolete?
16/01/2020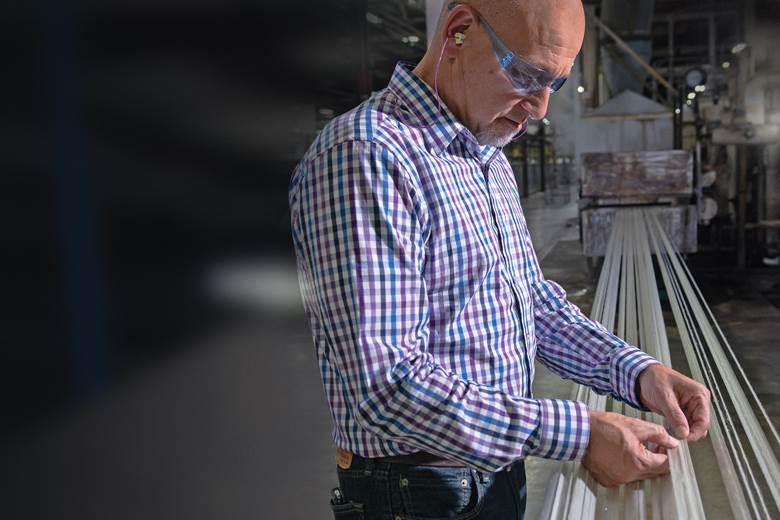 PrimaLoft put its manufacturing processes under the spotlight to gain vast carbon emissions savings with PrimaLoft PURE.
For CEO Mike Joyce, offering recycled products no longer makes a supplier stand apart – they are expected as standard – so the US company looks elsewhere for improvements. Through the lens of its ethos 'relentlessly improving', it launched its first biodegradable products at the end of 2018, which were subsequently proved to be chemically recyclable.
While the PrimaLoft Bio research was taking place, the company was working behind the scenes on another big change, one that starts with the manufacturing process rather than the material. It analysed the five main steps to look for potential savings: selection of fibres, forming the fibres into a framework, applying heat to bond the fibres, shipping and adding insulation into a garment.
"We looked at where we generate our largest carbon footprint, and it is when we thermoset our products," Mr Joyce tells WSA. "Ovens are heated by coal and natural gas, so we asked what we could do to improve that. We said, 'Why don't we shut off our energy and work our way back?"
Over three years, researchers developed the materials and processes that would enable the bonding and curing to occur through merely exposing it to air, not heat. "We started off saying we'd treat it as a research project: let's look at chemistries, materials and industries. Once we realised what we had, it became a focal point for the company," adds Mr Joyce.
It took another year to scale up the processes, so that the product would have the same performance criteria as a comparable product. The result is PrimaLoft PURE (Produced Using Reduced Emissions), which is available in its Gold Insulation (40-100gsm), and is currently being scaled into its Silver and Black categories.
Carbon savings
The results of the shut down of the ovens is impressive: the company estimates that using PURE to create its annual production of PrimaLoft Gold will result in a carbon emissions saving of 48%. Longer term, this might mean developing new machinery, but for now, the heat setting part is simply switched off.
"The cost is slightly more expensive, mainly due to the way we have to make the product. But we are diligently working on becoming more productive and reaching a cost balance," explains Mr Joyce. "We are well aware that for us to really make an impact we are going to have to be competitive on pricing across all the price points. Part of the scale up is also the efficiency."
For brands such as Patagonia, which will use PrimaLoft PURE in its autumn-winter 2020 collection, the carbon savings are worth investing in. "The average consumer understands carbon footprint and greenhouse gases; it's a conversation going on around the world," adds Mr Joyce. "We have had an enormous amount of interest, because it makes sense. It's very early and the phone is ringing."
Once the process has been refined and scaled up across its manufacturing locations, the aim is to share the technology with supply chain partners. The benefits of this could be "exponential", according to the company.
"We believe that for our industry to be successful around sustainability we are going to have to collaborate," adds Mr Joyce. "Collaboration is very important. No one company is going to solve the problem."
Ocean focus
At the end of October, PrimaLoft also announced an agreement with Parley for the Oceans, which supplies plastic waste collected from islands, beaches and coastal communities. Parley has worked with adidas and Taiwan's Far Eastern New Century for a number of years, with adidas releasing its first shoes using ocean plastic in 2015. FENC recently opened up about the initial challenges of the material and supply chain, saying it had to develop new processes and washes to clean the oil-soaked waste, set up a recycling system in the Maldives and developing a special process to strengthen the material, all within 12 months.
Primaloft is the first insulation maker in the textile industry to take on the challenge of this kind of waste and, alongside adidas, will present the first article – a jacket using the insulation – at Ispo in Munich in January.
"When you're dealing with Parley there's a particular complexity to it as the source of their material is random, it's an array," explains Mr Joyce. "So the technological challenge is to make the material that you need – a high performance product – because you might have different qualities of polyester within one bale. That's where the challenge comes in but we're making a lot of great process."
He adds that the company will have some announcements on this in the next few months, as well as further developments that have a focus on circularity and carbon management.