Smart thinking from Greek cotton collective
16/01/2020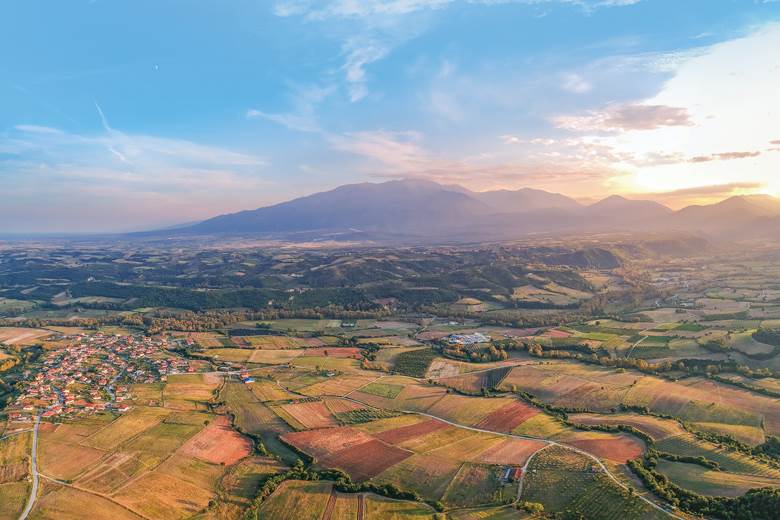 Supreme Green Cotton includes a growing collaboration in the foothills of Mount Olympus and a domestic ginning and spinning chain that could offer carbon footprint savings.
"If one way be better than another, that you may be sure is nature's way," said Greek philosopher Aristotle. It is also a guiding principle of a new cotton brand, Supreme Green Cotton, whose spokesperson, Giannis Tzortzis, happens to be a graduate of Greek literature and philology and wanted to incorporate the master's thinking into a textiles-focused project. As sales manager for spinning mill Varvaressos, Tzortzis and his colleagues hoped to build on the sustainable cotton story and develop a traceable, efficient and fair supply-chain-focused brand.
Although people might not associate Europe with cotton, Greece is the continent's main producer, accounting for around 80% of the total, with most of it exported to Turkey's textile companies. It has a long history of cotton farming but the removal of some EU subsidies at the start of this century and the country's subsequent recession hurt the industry, making it difficult for Greek farmers to compete, and weakening the links of the textiles supply chain.
"We help the farmers help themselves," explains Mr Tzortzis, "as we provide smart farming tools and pay them more money. This is really important because everybody is talking about sustainability in terms of the eco part but nobody is speaking about the financial viability. You can't ask the farmers to take on extra costs unless you reimburse them."
Spearheaded by Varvaressos, the Supreme Green Cotton project was introduced to local farmers five years ago and now encompasses around 60 family run operations. Rather than the traditional method of diverting water from rivers and lakes or spraying, the farmers installed a drip irrigation system that takes water and fertiliser directly to the root of the plant, which saves up to 40% of the water. "After initial investment, this cuts down the costs for the farmers and makes them more efficient," says Mr Tzortzis. A satellite-controlled system monitors weather and irrigation patterns and, by way of smart phones and apps, helps them determine a more efficient way of operating.
Carbon footprint
For European textile makers and brands, Supreme Green Cotton could also be a way of reducing carbon footprint – there are fewer than 200km between the fields, ginner and spinner. Like the other contributors, Varvaressos is also a family owned company – it is one of the biggest employers in its area (Naoussa in northern Greece), and exports to 25 countries.
One of the reasons this cotton could be a smart choice is that the quality is high, says Mr Tzortzis. "We gin the cotton in a specific, slower way, so it doesn't damage the fibre and maintains its unique characteristics. Unfortunately, some manufacturers use lower quality cotton. This is what we must address, because high quality is equal to sustainability."
He says the transparency extends to a supply chain adhering to EU laws, and Supreme Green has stricter protocols. At the consumer side, a hangtag will give the relevant information, down to the farmer that grew the cotton. As the project progresses, he would like it to 'give back' – paying for schooling in the farmers' regions, for example. "Our dream is to have a scholarship or sponsorship, so the daughter of a farmer might study textiles at college, and then transfer what she has learnt to stay inside the chain."
Margin call
As with many initiatives and sustainable options, questions come back to money. If the farmers are paid more, who will foot the bill?
"The truth is that the lower you go in the production chain, the more pressure you have," says Mr Tzortzis. "The farmers get pressured for half a cent and the spinning mills pushed for three or four cents when the article is on the shelves for a huge margin. But we don't want to steal from other people's margins, we want to help everyone get a fair share."
He believes that if the message is communicated properly, consumers will pay a little more, if they can see where the money is going and why it is worth paying. Brands will take the decisions for them, and help tell the supply chain story.
"It's all about being transparent, ethical and open," he adds. "We invite everyone to come and see the cotton fields, spinning and ginning. By being open to the brands, explaining all the steps, we are investing in many things. We are asking them to consider the long term: sustainability has an environmental aspect but also the ethical and financial side – people often forget that."
Supreme Green Cotton will be presented in February 2020 at Premiere Vision in Paris, when there will be fabric and garments to present to brands.