Two years' R&D go into machines to make cotton recycling easier
31/10/2019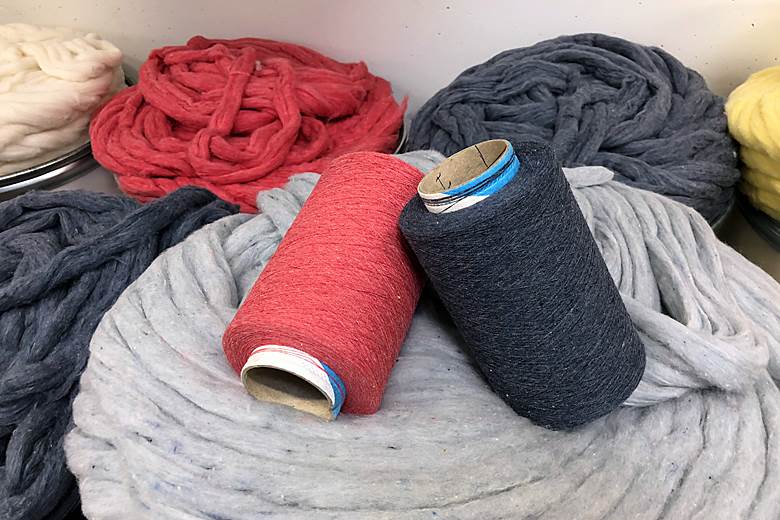 The European Centre for Innovation in Textiles (CETI) has developed a recycling platform demonstrator for the mechanical recycling of used cotton clothing into new yarns that can contain up to 70% recycled content.
It is one of the industry's toughest nuts to crack: taking clothing that has been worn (hopefully for years) and washed many times over to make new fibre that can be spun into yarn and woven again into fabric to begin a new cycle of long-term use and laundering. CETI, a technical research centre specialising in textiles for innovation and sustainability, claims to have made headway and presented a series of machines it has engineered to deliver yarns with a high proportion of recycled cotton content.
If successful, this apparatus would be an improvement on current mechanical recycling technologies, increasing the value of used cotton clothing and recycled cotton materials. Wearing and washing tends to degrade cotton fibres, making them unsuitable for reuse. Most recycled cotton yarns contain 30%, more rarely 50%, recycled cotton and need to be blended with other "sustainable" yarns such as recycled polyester or organic cotton. This is the case with the Recover yarns made by Spanish spinner Hilaturas Ferre. Retex, an EU-funded programme to develop textile recycling solutions in Belgium (Flanders and Wallonia) and the Hauts-de-France region in France, is actively working on solutions to increase the value of recycled textile waste, the only way to ensure that a circular economy will see the light of day.
The novelty of the demonstrator developed by CETI is that it combines two series of machines: one reverts fabric into fibre and another spins fibre into yarn. This requires that used clothes be sorted by composition and colour, and any non-textile elements (buttons, zippers, etc.) removed. These operations can be and have been partially automated, but they are not a part of CETI's recycling platform and rely on third parties. The sorting system recommended by the French research centre is Valvan's Fibersort machine (see article in WSA May/June 2018). "All hard points need to be removed and a high level of purity of composition be obtained as the secondary raw material needs to be homogenous," says CETI managing director, Pascal Denizart. As for the colour-sorting process, he says it calls on an algorithm which will eliminate the need for dyeing and will reduce cost.
Altered equipment
The CETI's mechanical recycling platform begins with a machine that cuts up clothing into small scraps, a process known as fraying. The equipment chosen, a Cadette machine made by French recycling equipment maker Laroche, is said to be able to treat one tonne per day. "The cylinders have been adapted to be less aggressive and preserve fibre length," says Mr Denizart.
After fraying, the "new" raw material goes through a carding process. CETI acquired a used Rosique machine for this purpose. It was specifically chosen because it integrates a pre-processing stage that modern machines no longer have, according to Mr Denizart. If an industrial scale recycling platform were to be launched, he suggests that Laroche could develop an appendage for modern carding machines that would optimise the processing of recycled fibres.
Once carded, the recycled material is mixed with organic or fair-trade virgin cotton (30%) to continue on to the spinning process. A bioactive substance is added to the sizing to guarantee hygiene. Open-end spinning machines were chosen, and have also been modified to treat recycled content. The machines on display are said to be able to spin 100kg a day. The yarns delivered can go down to Nm 50, a format suitable for making shirts and T-shirts. French vertical spinner and weaver TDV Industries provided its experience in recycled cotton spinning to develop the machines on show at CETI. "We specialise in short fibres, and were challenged by our clients to find a solution for recycled cotton. The demonstrator installed at CETI can be used by brands or retailers for testing and prototyping," says Christophe Lambert, CEO of TDV Industries.
Preserving fibre length is one of the main challenges in the mechanical recycling of used clothing. "Cotton is a short fibre, which makes it the most difficult to recycle," says Mr Denizart. Virgin cotton fibres are said to measure on average 22 to 25 mm in length, but the fibres retrieved from cut and frayed clothing measure generally 14 to 16 mm, too short for modern spinning machines.
The machines lined up to make the CETI Recycling platform are the result of two years of R&D and required an investment of €2 million. Designed as a pilot-scale installation that can be used by brands for pre-series, the project was closely followed by two industry partners, sports retailer Decathlon and children's wear manufacturer IDkids (the parent company of the Okaïdi brand).
Industry effort
"Cotton is a big part of our business, its production is one of the most polluting, and children's clothing has a relatively short life-span. This is why we are actively looking for a solution to upcycle cotton clothing," says Didier Soufflet, industrial director of Group IDKids.
The recycling platform on view at CETI is an evolution of Rewind, a research project into recycled cotton that included Decathlon, TDV Industries and CETI, with funding from ADEME, a French government agency dedicated to sustainability, and the city of Lille. In 2017, the consortium developed a pilot scale process to recycle cotton by cutting scraps into yarn, and these were used by Decathlon to make socks. "Our ultimate goal is to be able to recycle clothing, not only off-cuts," says Naghi Bensid, Decathlon's industrial director for natural fibres. "We want to be able to industrialise the process and to bring manufacturing back to France." The Decathlon manager points out that "it is logical to process used textiles in the region in which they are generated". Thanks to the new demonstrator, the retailer expects to commercialise hunting pants made from recycled cotton clothing in 2020.
"The recycling demonstrator we have developed makes it possible to upcycle, not downcycle, used clothes. It supports the development of a circular economy," says Mr Denizart. It admittedly provides a solution for several key stages in mechanical recycling, but it does not cover all of the many operations needed to turn used clothing into new yarn. Obtaining industrial-scale stocks of used apparel sorted by composition and colour and relieved of 'hard points' is arguably the toughest challenge. Colour itself is a tricky issue in the industry. Brands and retailers (and possibly consumers too) may need to lower their standards and accept more variation. Efforts may thus be required of all stakeholders to turn this pilot-scale platform into a real-life industrial installation.