Truly traceable down
31/10/2019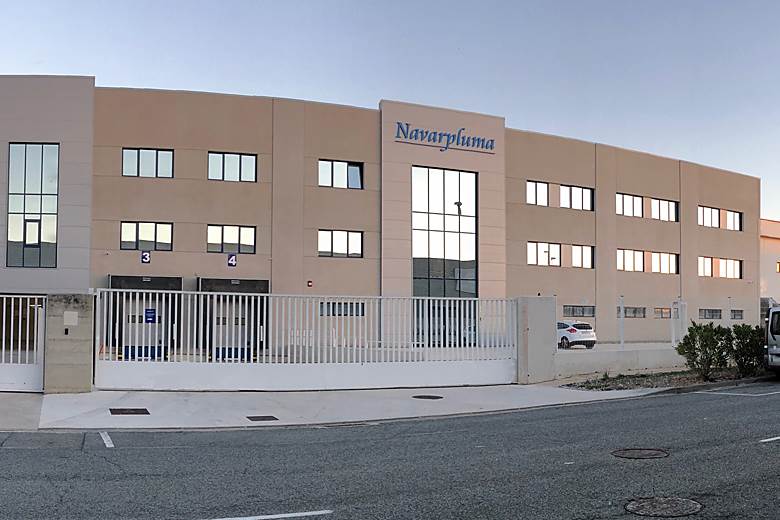 Down and feather traceability is the result of a partnership between Applied DNA and Navarpluma, offering supply chain security and peace of mind to outdoor companies opting to use nature's high-performance insulation material.
RISE TO THE CHALLENGE: Applied DNA and Navarpluma
A provider of molecular technologies, Applied DNA Sciences Inc, has announced a new partnership with Navarpluma, which will allow it to extend its business to the global down and feather supply chain and offer supply chain security to outdoor brands who still source and use natural down.
Based near Pamplona in the northern Spanish region of Navarre, Navarpluma processes around 5,000 tonnes of feathers and down material every year and markets them as Capdun natural down and as Neokdun recycled down. As a result of the new partnership, Applied DNA will use its SigNature system to enable traceability of materials in the down and feathers processes that Navarpluma undertakes.
This will give Navarpluma "a significant competitive advantage" says the company's export manager, Benjamin Dix. "We are very pleased to pioneer Applied DNA's SigNature DNA system in our industry to establish a new gold standard for traceability that can be relied on by our clients and their customers." SigNature DNA will apply what Applied DNA describes as "a forensic molecular tag" and this, used with the company's portable SigNify in-field testing equipment, will mean brands using those materials will have "full control of the origin of the down and feathers". The company has its own certified laboratory on site and calculates that it completes 25,000 quality control audits per year.
Impact of every purchase
This full traceability in brands' upstream supply chains is becoming more important in the market, Mr Dix explains. He feels other transparency programmes do not go far enough. "The paperwork, the audit process, the human control are all in place there," he observes, "and it fulfils animal welfare requirements, but there is no further detail and nothing about the environmental benefit of using a natural material." This question of environmental impact is one that will be key in the minds of consumers, he states: they want to know how every purchase affects the environment. "This technology can provide an improvement," Mr Dix insists. "The strongest benefit of all is increased knowledge of the origin of the product."
The clearest way in which Navarpluma envisages this working will be in offering brands and consumers reassurance that the down and feathers they source from the Navarrese company come from Europe as by-products of responsible food industry suppliers. New raw material is delivered to the north of Spain efficiently for immediate processing into Capdun before any deterioration can occur. SigNature DNA will also work with recycled down in the making of Neokdun. The material Navarpluma uses to make its recycled product also comes exclusively from Europe, principally from bedding and clothing. Benjamin Dix insists this option does not yet exist for companies sourcing in Asia because the recycling process is not yet in place there. "We want to stick to European material," he says, "and we are able to do that because our operation is small-scale, using mostly private contractors who go around collecting duvets, jackets and other products. Neokdun is recycled but it is still a premium product, offering a high fill power and a performance comparable to that of virgin down."
Explanations and justification
These questions of traceability and recycling have such prominence in the outdoor industry, largely because of the importance to brands of being able to tell a coherent sustainability story to the public. It is clear that, in the eyes of some, using a product that comes from geese and ducks that end up on the plates of carnivores, in keeping with centuries-old practices, is sensitive today; one of the tasks that Navarpluma and other suppliers of natural down face now is to explain or even justify its use of these by-products.
In October, Swedish outdoor brand Houdini announced its commitment to down-free filler material in its performance jackets. It said it began to question the ethics of using down ten years ago; the brand made this emotive comment: "We refused to believe that we had to steal birds' feathers in order to stay warm and dry during winter adventures."
More than the environment
In response, Mr Dix says suppliers of natural down should provide more information about their product and that brands that choose to use the natural material ought to help. Natural down will often be the highest-value component in one of these jackets, he points out, but in spite of this brands seem reluctant to talk about their use of it. "There is no information and it's our fault," he says. "It's only in the last three years that Navarpluma has been supplying down for use in garments, our sector is small and lacks unity, but there is no question that we need to provide better information about what we are doing. We are far from being understood and we have to invest in communication and marketing."
He explains that part of the down and feather industry's response is to have initiated lifecycle analysis to compare its products to synthetic material and Mr Dix is in no doubt whatsoever that the natural material will come out on top. "This is about more than the environment," he says. "It's about human health. Plastic microfibres, including from synthetic textiles, are everywhere, even in our drinking water! I believe that, step by step, plastic's use will be banned, at least in western countries. There are much better, natural alternatives available."