Taiwan's experts stay one step ahead
31/10/2019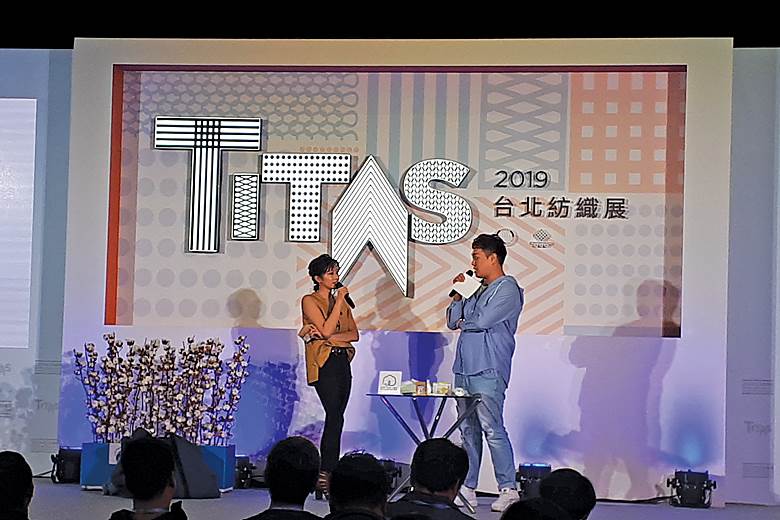 Once again Titas was awash with new ideas - biodegradability, novel recycled fibres and the circular economy among those on the agenda.
The 23rd Taiwan Taipei Innovative Textile Application Show (Titas) was the largest yet, welcoming 423 exhibitors from 12 countries in more than 1,000 booths. Over 100 global sports and outdoorwear brands travelled to the Taiwanese capital to meet suppliers and view the latest products.
Textiles is Taiwan's fourth-largest export revenue earner, and as such the show occupies an important place in officials' calendar. Deputy Minister of Economic Affairs Mei-Hua Wang and Deputy Minister of Culture Lien-Chuan Lee joined 150 delegates during the opening ceremony to celebrate the industry and its success.
Twenty trade organisations and associations representing the various segments in Taiwan's textile industry attended, demonstrating the spectrum of suppliers and manufacturers that Taiwan has. International vendors taking part in the event for the first time included HeiQ, Lycra and Cotton Council International. A team of buyers from the International Textile Manufacturers Federation (ITMF) and a delegation from the Vietnam Textile and Apparel Association (VITAS) also attended.
During the opening ceremony, the organisers highlighted four themes for Titas 2019: functional applications, sustainability, smart textiles and intelligent manufacturing. A series of seminars and one-on-one business meetings supported these topics.
The inclusion of more machinery companies, represented by Taiwan Sewing Machinery Association and Taipei Sewing Machines Association, showed visitors how Industry 4.0 is making its mark in manufacturing facilities. Special new zones called Solution Provider and Micro Factory demonstrated the labour and cost efficiencies that can be gained by investing in these latest technologies.
Seventeen presentations by overseas and local experts covered topics from smart textiles, finishing technologies, sustainable innovative technologies for merino wool to automatic inspection technologies.
Smart collaborations
One of the largest exhibitors was Formosa Taffeta, a key supplier to Nike and adidas. It teamed up with Swiss counterpart Schoeller to launch a collection of 'biodegradable' textiles under the brand name Proearth. The fabrics are made with virgin polyester that has been "optimised for biodegradation" and biodegrade at faster rates than competitive offerings, according to the companies. The first articles include jackets, pants and lining materials in various colours.
The group is also focusing on its products using plastic from the ocean, and showcased new materials, products and eco technologies.
A+ Smart Thermoregulation Clothing is the result of a cross-industry collaboration combining efforts from the textiles, telecommunication, electronic and garment industries. FTC A+ Smart thermoregulation clothing features thermal and light-emitting components and can be monitored through mobile devices.
Formosa also presented recycled polyesters, cationic dyeable and dope-dyed fabrics as well as waterless-dyed fabrics. Woven fabrics included water repellent and moisture-absorbing offerings with infrared camouflage features.
Following on from Titas, at the end of October Formosa Taffeta bought a 50% share of Schoeller for $40.6 million. The investment will deepen the companies' relationship and increase market share of high-end products.
Polyester manufacturer Far Eastern New Century (FENC) has been working on supercritical carbon dioxide for a water-free dyeing process for polyester and nylon since 2013, and launched the first water-free dyeing technology for nylon in 2018. At the show, FENC highlighted a post-consumer recycled hydrophilic polyester membrane under its Topgreen umbrella. Made from GRS certified eco-friendly material, the membrane is 100% recyclable. Its new TopCool Petal moisture management filament creates capillary action with its eight-channel cross-section. The filament can rapidly wick moisture from the skin and transmit it out to a wider area on the surface of a fabric for accelerated evaporation.
The company also expanded its r-TEX Process development project, with the aim of making textile-to-textile recycling and the circular economy a reality.
FENC released further details, too, of its involvement in the adidas/Parley for the Oceans shoe made from recycled ocean waste. The mammoth project involved adding new processes and washes to clean the oil-soaked waste, setting up a recycling system in the Maldives to optimise transportation and developing a special process to strengthen the material, all within 12 months.
Coffee updates
The Singtex booth focused on Airmem coffee oil membrane, Stormfleece single-layer woven fleece fabric and the collaboration between Itochu S.Cafe and Renu garment recycling.
"Drink it, Wear it" remains the motto for the membrane containing 25% of coffee oil extracted from spent coffee grounds. According to Singtex, because Airmem uses coffee oil as the bio-based material, it does not rely on imports and replaces 26% of petroleum used. Airmem was an ISPO 2015 Textrends Selection, and has been released in a wider selection of colours.
Singtex also highlighted the company's efforts in reducing chemical production processes, as seen in the development of Stormfleece. The single layer woven fabric combines the traditional two layer soft-shell and fleece into one without the need for a laminated membrane, reducing chemical use and energy consumption at the production phase.
The company collaborated with Itochu Renu at TITAS to show Renu's latest technology for decomposing and reconstituting 100% polyester fibre recycled garments using S.Café (S.Cafe is Singtex's arm of coffee fabrics) technology.
Biodegradable offerings
New Wide Group showed developments in a number of areas: water saving (dope dyeing, digital printing and recycled ocean plastic), breathable (mesh fabrics made with recycled polyester cooling yarn and xylitol cooling print), eco and biodegradable (biodegradable polyester fibre blended with natural fibres) and a thermoregulating knit, incorporating aerogel into yarns.
Kingwhale is a specialist in circular knitting functional fabrics and its new generation of performance fabrics include super-wicking, temperature control, cooling, medical use and heat absorbency. Its latest development, BioCore, blends natural fibres and biodegradable options, and is attracting the attention of brands including Patagonia and The North Face, it said.
On the quest for closed loop clothes-to-clothes manufacture, Kingwhale built a raw material manufacturing mill where recycled clothes can be turned into purified polymer. "This recycled synthetic fibre can be 100% biodegradable, and therefore accomplishes our target," it stated.
Libolon's key message was around cutting pollution and reducing reliance on new resources. It highlighted products such as RePET recycled polyester yarn and NylonPlus recycled nylon. It also presented ReEcoya, its latest dope dyed yarn made with 100% recycled materials and dyed using the Ecoya technique, which reduces water and energy consumption and increases colour fastness, according to the company. Libolon's services range from polymerisation, spinning, weaving and dyeing, all the way to post-finishing processes, and it is embarking on an overseas expansion.
Chia Her says its focus in recent times has been corporate social responsibility and sustainability. The group, which includes spinning, dyeing, weaving and finishing facilities, installed solar cells on its factory roof which now supply 13% of the company's energy. New dyeing machines cut water usage by 70% and thermal energy recovery equipment reduce CO2 emissions by 40%. A wool specialist, it works with Tencel, recycled polyester, recycled nylon, recycled cotton, recycled wool and DuPont's Apexa biodegradable material.
Manufacturing outlook
The manufacturing industry in Taiwan, as in other countries, has been affected by the ongoing US-China trade dispute, with global stock markets wobbling and orders easing on fears of a recession. While the country accepts there might be an economic slowdown, FENC chairman Douglas Hsu suggests textiles companies must mitigate this by focusing on innovation and offering brands what they require: eco textiles and smart technologies.
Some Taiwanese sportswear manufacturers have received rocketing orders from US brands as they seek to avoid potential tariff increases. Shinkong, which supplies Patagonia and Nike, reported a 25% increase in sales over the first six months of 2019 while De Licacy's sales grew 18% over the first eight months compared with the same period last year.
The increasing number of booths and an expanding offering at Titas proves that Taiwan intends to retain its place as a performance textiles powerhouse.