Recent changes in the performance textiles exhibition landscape
06/09/2019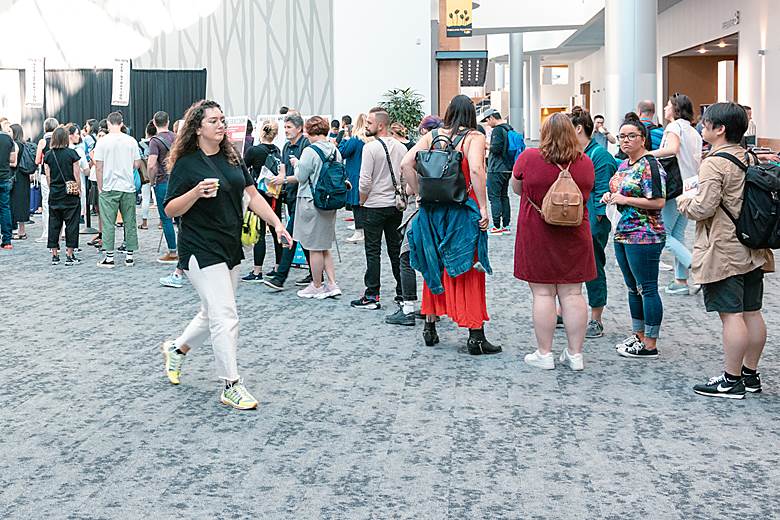 The inaugural edition of Première Vision Sport, held in conjunction with the 25th NW Materials Show, took place in Portland, OR in August, following hot on the heels of the second Functional Fabric Fair in New York in July. The performance textiles exhibition landscape continues to change.
Sourcing options for brands and manufacturers of sports clothing and footwear are in flux. Emerald Expositions has announced that it will not produce a Winter Market show in November and will merge the Winter Market show with the Snow Show in January 29-31 2020, overlapping one day with the Munich-based Ispo show (January 26-29). It is in this changing landscape, that new, specialised events seek to make their mark. Reed Exhibitions' Functional Fabric Fair, organised in partnership with Munich-based Performance Days, in New York City in July featured some 130 exhibitors and attracted 1,866 visitors. The brand-new Première Vision Sport show brought 50 companies under the same roof as the 170 exhibitors at American Events' North West Materials Show, also in Portland, where some 2,500 attendees walked the combined event's aisles.
The launch of a sports-specific fabric fair responds to a strong market trend, according to Première Vision general manager, Gilles Lasbordes. "The fashion and active sportswear markets are increasingly overlapping. Innovative fashion brands are looking for functional fabrics to develop products that offer everyday performance. Sports brands, conversely, are seeking materials that have a more urban feel," he says. "The Paris-based Première Vision will remain the main show for all apparel markets, and though we have expanded the Sport and Tech section at the Paris event, we believe a sports-specific show better addresses the needs of sports brands." The partnership with American Events was "natural" he further says as both events focus on materials and do not target retailers.
The addition of Première Vision to the NW Materials Show greatly expands the event's offerings for apparel end-uses. "Some of our vendors are already present in both the apparel and footwear markets but this edition featured some 100 apparel-specific suppliers. It is a big boost for us," says Hisham Muhareb, head of American Events. With his wife Kari Muhareb, he has vastly grown what began in the 1980s as a Nike vendor fair and now counts three separate events, in Portland, Boston and London.
There are some 800+ companies operating in the sports industry in Oregon, says Mr Muhareb. "Portland is an important hub that is expanding as new companies arrive," he adds, citing Under Armour among others. In addition to the exhibitors of Première Vision Sport, the NW Materials Show (NWMS) also showcased a new section dedicated to technological solutions, from software to e-textiles. "We want to attract more technical companies working in 3D printing and digital platforms," says Mr Muhareb, who sees potential for growth in those sectors.
Smart and sustainable technologies
Based in Beaverton, Oregon, Liquid Wire was one of the innovative companies on show in the new 'Tech Central' section of the NWMS. The company,
founded in 2016 as a spin-off of a flexible robotics programme at Portland State University, is preparing the commercial launch later this year of its electronic components embedded in flexible stretch materials known as Metal Gel. A patent-pending printable fluid-phase conductor, it can be integrated into textiles or other substrates to measure strain, collect biometric data, provide heating or power LEDs.
Lubrizol, based in Cleveland, Ohio, took advantage of the NWMS to present a monomaterial footwear design solution based on thermoplastic polyurethane (TPU), one of its core technologies. The material comes in a broad range of qualities, having varying levels of softness or hardness, high or low melting points and can be made water-repellent, anti-odour or anti-fungus. "It is a versatile material with many applications; TPU can even be made into yarns for shoe uppers," says Kenneth Kim, global market development manager for sports & recreation. The goal of this 'One Material' programme is to "provide a same chemistry-based ingredient for all components, uppers, soles and foams. These can furthermore be bonded without adhesives." This potentially "eliminates seven steps in the assembly of footwear," he says. The company is also preparing the launch of a new range of TPU products for 3D printing later this year. "It will be available in powder or filament form, and will be soft and flexible to make cushioning insoles, midsoles or outsoles, offering new design freedom to product developers." In the field of sustainable materials, Mississippi-based Algix presented its Bloom foams and a selection of products developed by its partners at the NWMS. The company says it is now supplying 37 brands with its algae-EVA foams. The innovative process it has developed turns algae blooms into raw materials and can be used to clean waterways or installed next to wastewater treatment facilities. "Our long-term strategy is to stop algae from forming in natural environments by keeping it under control at industrial plants where it can be turned into a resource," says Ryan Hunt, co-founder and chief technology officer of Algix. The company says it has already set up the system at two factories.
Innovation in textiles
New products on display at Première Vision Sport included a four-way stretch woven made with Dyneema, a high-tech polyethylene fibre, and recently developed by French weaver Payen. It is designed to be used to make speed skating suits, offering cut and abrasion resistance in a single layer, says Kevin Maldonado. The company also featured its Physiotex range of graduated compression fabrics. It is one of several textile manufacturers, such as JRC-Reflex, that made the trip to Portland for Première Vision and will be returning in October to exhibit at the Functional Fabric Fair.
Thailand-based Gemma Knits first started making knitted shoe uppers before expanding its range to knit fabrics for apparel. These include textiles with varying levels of compression and spacer knits. The company expects to develop its business with North American companies. "We can supply fabric to Vietnam and Cambodia, where many North American brands contract their manufacturing," says marketing director Sivy Srichawla, adding that the company also owns a dyeing facility in Sri Lanka.
Coming soon
Looking ahead, The Materials Show will be holding its European edition in London (at the Truman's site) on November 6 and 7, 2019. The North East Materials Show (February 5 and 6, 2020) will be held at a new venue in downtown Boston, offering easier access for visitors, says Mr Muhareb. Other plans include the launch of a smartphone app to help attendees navigate the shows, make appointments or follow up on meetings. The dates for the next NWMS have been moved up to February 12 and 13, 2020 to meet the industry's sourcing calendar, he says.
As for the Functional Fabric Fair, the October edition in Portland will be focusing on "the future of performance," Steve McCullough, show manager told WSA. This will differentiate between the two editions, with the New York event showcasing crossover materials suited to both fashion and sportswear applications.
These new events give added prominence to Portland as a destination for materials sourcing managers. Many major brands have their headquarters on the western rim of North America, from Vancouver to San Francisco and to Los Angeles. While they provide new opportunities for suppliers to meet customers, these events add new dates to the industry's already busy show calendar.