Industry players combine to develop a new range of insulation materials
06/09/2019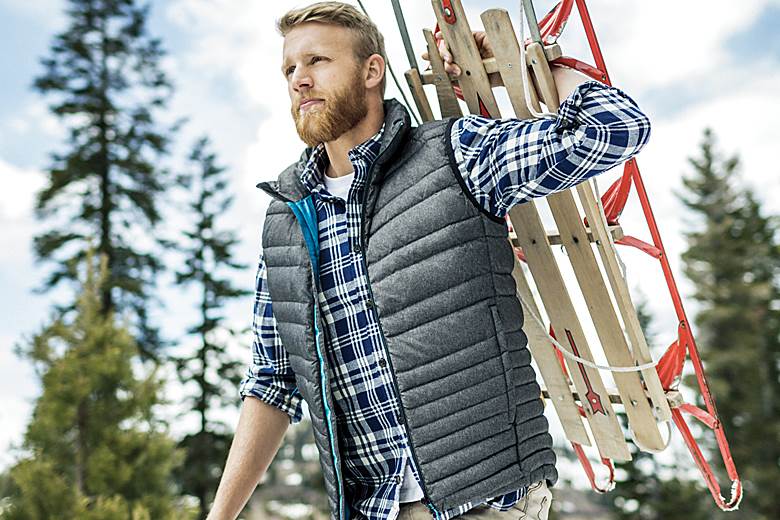 Key industry players have combined forces to develop a new range of insulation materials called ECOLoft eco-elite. Three versions are available, each with a different fibre-mix to emphasise different characteristics, with softness, warmth and lightness for ease of movement at the top of the list.
NEWCOMERS: ECOLoft eco-Elite
Anew range of insulation products from South Korean manufacturer Youngone Corporation, which uses a fusion of DuPont's Sorona bio-based fibre and Unifi's Repreve recycled polyester, was on display at this year's Outdoor Retailer Summer Market in Denver. The products, to be marketed under the name ECOLoft eco-elite, combine the benefits of both fibres to create what the companies have described as high-performance, sustainable insulation for cold-weather garments.
DuPont describes its Sorona fibres as being able to "enhance the environmental story" of apparel brands who choose to use them. The polymers it uses to make the fibre are 37%-derived from annually renewable plant-based ingredients and, compared to nylon 6, Sorona uses 30% less energy and emits 63% fewer greenhouse gas emissions, according to DuPont.
For its part, Repreve is a recycled performance fibre, derived from waste plastic bottles. Recycled bottles are sorted cleaned and chopped into bottle flakes. These flakes are melted and extruded into chips, which are then spun into Repreve performance recycled fibre.
Three options
There are three products in the ECOLoft eco-elite collection, Active, Flex and Air, which contain different quantities of Repreve and Sorona depending on their intended application. The companies have said all three "provide lightweight breathable warmth with unique softness and shape retention". These three products have Sorona-Repreve-polyester staple fibre percentage combinations of 35-55-10; 60-35-5 and 60-40-0 respectively.
"This ECOLoft collection will elevate sustainable, high-performance insulation solutions for the outdoor market and offer brands a versatile option for cold-weather products," says Renee Henze, global marketing director for DuPont Biomaterials.
Laps and gaps
From Youngone's point of view, it believes its existing expertise in producing multi-layer insulation materials with vertical lap and ball fibre technology is enhanced in the new products by the flexibility, high resilience and volume-to-weight ratio of Sorona and Repreve.
Performance attributes
Improved vapour management while maintaining warmth, as well as compressibility and softness, are the qualities that stand out in the Active version. The warmth and padding volume has a comparable fill power to 700 FP natural down, the companies claim, saying this makes the ECOLoft product 58% bulkier and 32% warmer than standard synthetic polyester fill material. This enables brands to produce garments that feel like they contain down but with the benefit, the companies claim, of added breathability, meaning sweat vapour "can always escape".
As well as breathability, freedom of movement is a key quality of the Flex version. The flexibility, stretch and comfort this insulation material can offer should make it ideal for garments for the casual market. It has an irregular high- and low-density structure that gives it what Youngone and DuPont refer to as "a special, continuous cluster-like performance". The high-density areas are made of Sorona fibres and increase both volume and recovery, while the low-density areas are made of Repreve to allow for "maximum movement". The balance of high- and low-density areas also helps to provide good levels of comfort, the manufacturers claim, because it helps the wearer release heat from the body to the outside environment.
Air is where the ball fibre technology comes in. Youngone uses "low-cohesion spheres with high void structure" to allow breathability while keeping warmth in. Puffer jackets and other cold-weather garments are ideal applications.
Airflow
"This is all about trapping air and letting air flow," says Laurie Kronenberg, a member of DuPont's global marketing team for Sorona. "Youngone has the capability to put our fibres together in these vertically lapped structures. Within each lap, the air is trapped between the fibres. There are also channels between the different laps and these channels allow air to escape."
She explains that, while only Youngone is making the insulation materials that bear the name ECOLoft, other supply chain partners are free to work with combinations of Repreve and Sorona. However, she makes it clear that other supply chain partners capable of combining them in exactly the same way as Youngone is in the ECOLoft collection have not yet come to light.
There has been no shortage of announcements about new insulation products in the last year or two, possibly suggesting that brands and consumers are still looking for something extra, that there is still a requirement that clothing companies and their suppliers have not yet been able to meet.
Laurie Kronenberg explains: "People are looking for softer, warmer, and lighter down-like alternatives. Our view is that polyester is popular as an insulation fibre, but people are looking closely at sustainability; there is a need to look at this full-circle now. We have a product here that offers recycled fibre in Repreve, plant-based fibre in Sorona, plus softness, loft, durability and resilience. It's why the collection was developed."