High-performance fabrics with a low environmental impact
19/07/2019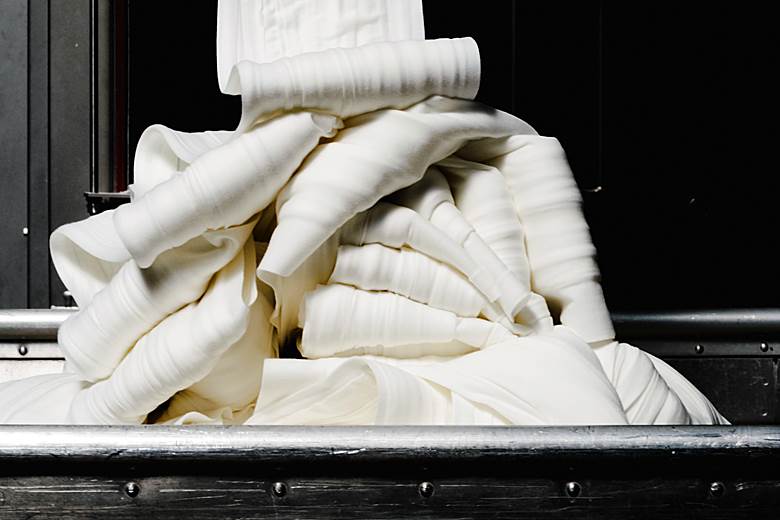 Looking to make high-performance fabrics with a low environmental impact, Tintex has, since its founding in 1998, carved out a unique niche in the market.
"Our desire is to show the way forward, to be an example for other companies," declared Mário Jorge Silva, Tintex founder and CEO as he opened a series of presentations and debates commemorating an innovation award that the company received recently from Portugal's Instituto de Apoio às Pequenas e Médias Empresas e à Inovação (IAPMEI). Every year, this organisation, linked to the ministry of the economy, rewards small- or medium-sized companies from all business sectors. More than 300 people, members of the Portuguese government and textile industry attended the event in April at the Tintex factory in Vila Nova de Cerveira, in the north of Portugal.
Tintex began operating as a dyeing and finishing facility in 1998. Twenty-one years later its production capacity has reached 120 tonnes per month and it rang in sales of €11.3 million in 2018. A sister facility dedicated to knitting was set up in 2002. To expand its presence in outerwear, accessories and furniture markets, a coating unit was added in 2015 using water-based processes without harmful solvents. The company's activities remain surprisingly local, 85% of its fabrics are delivered to local garment manufacturers and 15% are exported.
From the start the company has focused on developing sustainable processes and materials. It began processing lyocell in 2000, a notoriously challenging fibre to stabilise. Experimentation with Ingeo, a biosourced PLA fibre, was launched in 2005. Energy resources were progressively shifted to greener solutions, with natural gas in 2009 and solar panels in 2015. These now provide 25% of its energy needs, the company says.
Natural colours
Its efforts were also recognised at the 2019 edition of Techtextil which gave the company a sustainability award for its Picasso colouring process that dyes fabrics using agricultural residues, various herbs and mushrooms. The state-funded project is a collaboration between the Portuguese Centre for Nanotechnology and Smart Materials (CeNTI), the CITEVE textile technology cluster, spice and herb producer Ervital and biotech company Bioinvitro Biotecnologia.
Research into natural dyes began in 2013 with a project called Algo Natur, says Pedro Magalhães, the company's head of innovation. This led to the creation of the Colorau process in which natural dyestuffs produced variations on beige tones using enzymes as a binder. It was followed, in 2016, by the three-year Picasso project, that already boasts ten different shades that can be used to dye 100% cotton knits and wool. Other substrates are being investigated, including fleece, blends of lyocell and wool and recycled nylon fabrics. "We are experimenting with a wide array of substances, herbs and mushrooms," says Ana Silva, head of sustainability. "The substances are all non-edible raw materials and the binding process patented, but consistency and colour fastness are a big challenge," Mr Magalhães tells WSA. He adds that the company also seeks to take advantage of Portugal's rich biodiversity and favours European sourcing to reduce its carbon footprint. The scaling up of the process has brought its own series of challenges. "We are gaining more knowledge as we continue to test different options, but scaling up has, at times, an impact on the colour," he says.
The search for more sustainable processes using natural substances is a core strategy for the company and concerns not only dyeing but also finishing processes and possible applications on bio-sourced fibres. The recently launched bio-polish known as Naturally Clean was created for lyocell and cotton fabrics. It is said to help the fabric keep a clean aspect for longer and gives it a smoother, softer hand and sheen. "This process replaces conventional mercerising," says Ms Silva.
Clean biotech
The company is also engaged in two other research projects. Working again with CITEVE and CeNTI, Texbion is a three-year programme to develop a biosourced polymer and is an evolution of previous research into PLA. Tintex is involved as the plan is to find a method to dye it using natural ingredients. Testing is now beginning on the spinning phase, according to Mr Magalhães.
Texboost, the second ongoing research project, seeks to find an alternative to leather using agricultural waste or by-products, including sawdust and cork. A first industrial-scale prototype has been successfully manufactured. Tintex has been making progress on its cork-based coatings, and the latest are finer and more supple.
Sustainable practices
Over the past three years, Tintex has gradually phased out conventional cotton in favour of organic and BCI cotton, which the company says have become its 'conventional' cotton. It also knits fabrics in recycled cotton using Eco-Tec yarns made from post-industrial waste by Italian spinner Marchi & Fildi. Tintex is bluesign-certified and engaged in Oekotex's STeP certification system, and is also a partner of Creativity Lifestyle and Sustainable Synergy (C.L.A.S.S.) headed by Giusy Bettoni who seeks to promote eco-values in fashion and home textiles.
A member of the Ellen MacArthur Foundation initiative to Make Fashion Circular, the company has recently joined the United Nations Global Compact, a voluntary platform for the development, implementation and disclosure of responsible business practices. Mário Jorge Silva stressed the importance of "differentiation through innovation to stay ahead" at the Open Day event, indicating that the company sees its future in sustainable practices.