How to unlock the blockchain
20/03/2020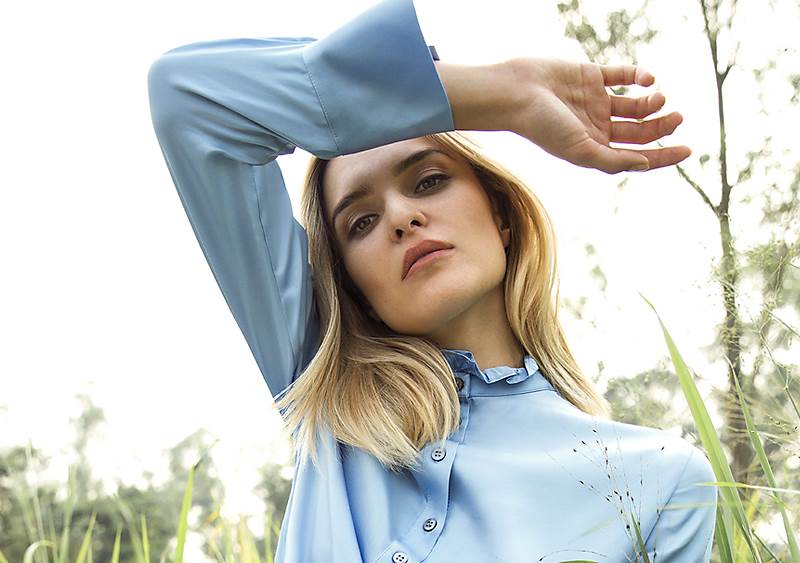 There are hopes and expectations that blockchain can build trust in the apparel industry's long, fragmented and opaque supply chain. It could also be one of the best tools to certify sustainability claims. But applying blockchain-based and technology protocols requires digitising all physical transactions, implying a complete overhaul of how the industry operates today.
NEWCOMERS: BLOCKCHAIN
Sourcing materials for garment manufacturing is a messy business. A single performance sports jacket may rely on dozens of suppliers. A minor delay at one factory can throw a whole production line off course. The current coronavirus context has brought its fragility to light with unprecedented sharpness. There will be no simple solution to this issue, and the blockchain will most certainly not provide any relief. But its underlying purpose, which is to shift all industry transactions from a paper chain, the current dominant system, to a digitised, cloud-based, blockchain-certified process, promises to automate and authenticate some of the weaker links in the industry, ultimately making it less messy, and possibly even cleaner.
As one of the most hyped new technologies, it has drawn widespread media attention, both positive and negative. Among the innumerable companies developing blockchain-based traceability and transparency services for brands and retailers across all markets, few in fact address the specific needs of the textile industry.
The companies building these systems are quick to point out what the blockchain is not. "It is not a silver bullet," says Hrishikesh Rajan, founder and CSO of TrusTrace, "and it will require a lot of effort on the part of the textile industry." It is not an end-all technology, Amit Gautam, CEO and founder of Textile Genesis, tells WSA, noting that "people get too hung up on the technology itself." These two companies are, however, among the few that seek to apply blockchain technologies to the textile value chain. They are, let it be said, far removed from anything connected to cryptocurrencies or the dark web.
On the contrary, the goal of these blockchain-based tracking systems is to make internet interactions and transactions safe, immutable and unfalsifiable. The decentralised structure and interoperability of this online platform is actually designed to simplify authentication and build trust. It is viewed as possibly the ideal solution to certify sustainability claims and make the textile and apparel supply chain more transparent.
Backing sustainability claims
As companies commit to buying more sustainable materials, the need for an independent, decentralised and unfalsifiable network to validate these claims becomes a pressing issue. "Many high-profile brands have announced very ambitious programmes to shift their material sourcing to fully sustainable materials by a given date. But very few of these companies have the ability to trace the materials back to the fibres they are made of. There is a big disconnect here, and this is what we are trying to solve," says Mr Gautam, a former Lenzing executive, who founded Textile Genesis, based in Hong Kong and Bangalore, India. The Austrian manmade cellulose fibre producer is one of the company's first clients for its Fibercoin-based system.
Proving a sustainable supply chain back to the initial farm or producer is far from easy. Mr Gautam says it is impossible to distinguish whether a wood cellulose fibre has been made from sustainably managed forests, or to identify whether a polyester yarn is made from virgin or recycled PET, "as they are chemically the same". A physical tagging system for the raw material, throughout its transformation, backed by third-party certification, is needed to guarantee provenance. Textile Genesis believes that instead of accumulating paper certificates, the blockchain creates a reliable digital trace that, once distributed on the network or ledger, cannot be modified nor deleted in any way.
Automating compliance is considered one of the key features of the technology. TrusTrace, a company based in Stockholm, traces certification at each stage of a material's transformation, from gin to spinner to fabric, and from garment manufacturer to brand or retailer. Each company involved in the value chain will need to confirm the information on the blockchain. "This increases confidence," says Mr Rajan, "but it is not fool-proof as the information may not be authentic." The digital trace, or double, or twin as it is also called, must therefore rely on the presence of a physical tag to link the real material with its certificates.
The shift from analogue to digital
Creating a digital double for all the processes involved in textiles is where the industry will need to upgrade its operations before implementing any type of cloud-based tracing system. "The textile supply chain is analogue: companies rely on a paper chain to record their transactions and interactions, not a digital one," concedes Pierre Nicolas Hurstel, CEO and co-founder of Arianee. This company, founded in 2017 and based in Paris, is a consortium-modelled non-profit that creates digital identities for high-value products, mostly for anti-counterfeiting purposes. It has formed a partnership with GS1, also a non-profit, whose global information-sharing tools are essential building-blocks to future digital traceability. Arianee's blockchain-based identification system targets luxury goods, such as watches, and is not designed for textiles.
For the textile value chain to be made transparent, each transaction would need to be digitised and physically tagged. "Only when all of the elements of a supply chain are tagged and digitised, can they be connected via blockchain," says Mr Hurstel. He suggests that brands and suppliers begin digitising their processes now to be prepared to address future demand for more or better-quality information from their direct customers or end consumers.
One of the first tasks that Textile Genesis had to accomplish before launching its system was to create a specific data-set suited to tracing textiles. It had to evaluate all the data needed to characterise a yarn (such as composition and count), a greige fabric (again its composition, weight etc.). This was an operation it had to repeat at each stage of the value chain. "The parameters taken into account are based on volume, not value," says Mr Gautam, to make it more representative of the physical materials traced.
The industry lacks such a fully digital tracking system, admits Mr Rahan at TrusTrace. Applying blockchain technologies, he says, implies that companies change the way they work. TrusTrace is providing help by automating some of the operations, with an email bot and the possibility of taking a "fairly good quality" photo of a paper certificate, from which the system will extract the information. He foresees that it will take 15 to 20 years for the textile industry to shift from a paper chain to a digital blockchain.
Photo call?
In its quest to certify the provenance if its fabrics made from recycled ocean plastics, Dutch organisation Waste2Wear has opted for a blockchain-based system and backs its operations up with photos. "At each stage of our process, when the fishermen deliver the plastics they have collected and weigh them, a photo is taken, and the data store in a blockchain," Niccy Kol, brand and marketing director, tells WSA. "Even the lock on the truck that carries the plastics to the factory is photographed," she says. This process can be done with any smartphone she points out, as the system is designed to be easy to use. But each stage must be "signed, sealed, photographed and delivered".
When 30 tonnes of ocean plastics have been collected, Waste2Wear can then put them into yarn production, guaranteeing that no other materials are being added. "This ensures that the yarn is truly made with ocean plastics," says Ms Kol. Each lot can be traced back to where it was collected. At the end of the process, consumers can scan a QR code on the garment or product to find out exactly where the plastics come from.
The need to set up traceability and transparency systems that consumers can access is driving innovation in this field with new solutions tying real-life and online data together, as seen at Allied Feather & Down. The supplier of responsibly sourced down has partnered with iMirror, a maker of a smart mirror for retailers, to enable consumers to access information about the down instore. Allied applies a food-grade reflective coating on the down. The smart mirror sends an infrared signal that goes through the outer fabric and can then display the exact quality and specifications of the down used by the brand.
Allied is also in the process of building a blockchain-based traceability system for its production. But the down supply chain poses its own set of challenges. "Geese and duck tend to be raised on remote farms by families that have been doing so for generations. There is almost nothing modern about even the largest of these farms. Many times, these farms are so rural, even the internet infrastructure to be able to build a blockchain supply chain is non-existent," says Matthew Betcher, the company's creative and marketing director.
Privacy & energy issues
While cryptocurrency technologies are accused of requiring intense computer power across widely distributed ledgers, the systems that are being developed for apparel do not necessitate the same type of computer infrastructure or level of security related to financial transactions. They tend to take a lighter approach to the concept to make it easier to adopt.
The system developed by Textile Genesis is based on what is called a permissioned network that is open only to its members. The company is also hooking up its blockchain with existing information-sharing protocols, such as the well-established GS1 framework. "It doesn't sound sexy, but it is essential as the industry needs a standard language to communicate," says Mr Gautam. These permission-based protocols do not necessarily call on data-miners to validate the data, as they are in effect peer-to-peer based systems. "Peers become auditors for each other; this makes the incentive to lie go down drastically," says Mr Rajan, at TrusTrace.
Making brands collaborate on a shared protocol is another way blockchain specialists seek to make it more accessible. TrusTrace is in discussion with the European Outdoor Group (EOG) to apply its system within the organisation's members. "There is a 60% to 70% overlap of suppliers among EOG companies," says Mr Rajan. The consortium will allow brands to use standardised templates, access more information from lower-tier suppliers and validate data across common suppliers, the EOG has stated in a newsletter. TrusTrace is working with many brands including Houdini, Icebug, Zalando and Filippa K, and securing digital data from some 1,500 suppliers. Not all information needs to be secured in a blockchain. "It is used only to record the elements that need to be unfalsifiable, mainly the certifications, that require stronger proof," says Mr Rajan.
Textile Genesis is currently working with the Textile Exchange to apply a blockchain tracing system to viscose and wool supply chains. This circles back to the connection between the blockchain and sustainability. At a very basic level, a blockchain is nothing more than a sophisticated and immutable database. As such, it is "a natural solution for chain-of-custody transactions, as it connects input and output," says Mr Gautam, who sees it as a natural solution for sustainable materials.
In time, it is believed that the fashion and textile industry will embrace the blockchain. "It is like the internet, it will revolutionise the way information is shared and stored," says Mr Hurstel at Arianee. Blockchain adds value to the internet, builds trust where there is little or none.
As yet, many of the sustainability claims trumpeted by brands are too broadly or too vaguely defined and thus elude true accountability. They are also, time and again, pushed back when deemed unfeasible or impractical. A blockchain-based system could help clear the confusion. But, as we have seen, transposing this radical transparency concept to the textile and apparel industry may have real potential, even if it remains a remote prospect.