New mountains to conquer
05/03/2020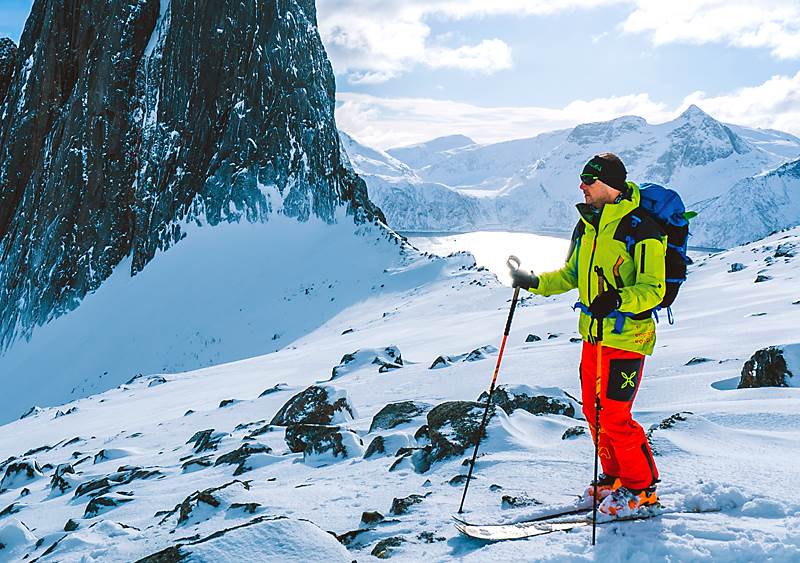 Italian outdoor brand Montura is one of the best known names in mountaineering circles throughout Europe, but in North America the label is much harder to find. Mike Stepanek of M.T. Imports is planning to change that.
Early this year, M.T. Imports announced it would be introducing Italian outdoor brand Montura to the North American market. Heads of the two companies — Marco Tonazzi of M.T. Imports and Roberto Giordani of Montura — are good friends; the two had recently met up in Italy and decided the time was right.
Montura is among Europe's top names for apparel in technical mountaineering and other outdoor pursuits. The brand, established in 1987, is a beloved part of Italy's outdoor industry. It has its own manufacturing facility and more than 25 Montura "Alpstation" stores across the country, aswell as dozens of retailers across the continent.
Collections include apparel for alpine and backcountry skiing, climbing, mountaineering, ice climbing, snowsports, nordic skiing, running, cycling, sailing and watersports, along with some work/safety wear. The brand's ambassadors often make the news for their impressive feats. Last year, for example, 18-year-old Italian Laura Rogora climbed a new route at Cueva di Collepardo, a crag near Rome; the line will now bear the name she gave it ("Rèveille-toi", which is French for "wake up").
The name Montura appears as a partner or sponsor in countless events and initiatives in Italy and throughout Europe, ranging from alpine endurance pursuits and golf tournaments to youth orchestras and film festivals. Name recognition and respect for the brand is strong.
Across the ocean in the United States and Canada, however, Montura is not nearly as well known and thus the need for an introduction.
This is a key reason Mr Tonazzi brought in Mike Stepanek, a 25-year veteran of the outdoor and snowsports apparel space, in charge of orchestrating the Italian brand's entry to the other side of the Atlantic.
This won't be the first time Mr Stepanek is responsible for shaking up the industry with a newcomer. Prior to this, he spent 18 years with the team that launched Icebreaker merino in the US.
At the time of the Icebreak launch, he tells WSA, "the US market was saturated with synthetic performance apparel. The challenge was both to introduce a brand-new brand to the market as well as a whole new performance/comfort story; [we were] introducing wool as a performance fibre." Ultimately, he adds, he helped build it into the US's "powerhouse natural fibre brand".
Montura offers some similar challenges, he says. Again, he is working with what he feels is an exceptional product. "Fit, function, quality, comfort and performance is second to none," he says. Consumers will be easily convinced once they've seen, felt or worn the brand.
"But the reality is, there is very little brand recognition in the North American market. The challenge will be introducing Montura into a market full of existing brands that are also making very cool products."
His plan? To be "aggressively patient".

Creating a niche
It's not that Montura has not yet made any appearance at all within the US and Canada — but until now, the brand's exposure has been very limited.
M.T. Imports, for example, owns a high-end European-style fashion boutique in Vail, Colorado, called Valbruna, where they (prior to becoming the sole distributor) have carried the Montura brand for several years.
This resulted from seeing Montura for several years running at the ISPO show in Munich. But while the American importer chose to bring the Italian brand back to its Valbruna store, Mr Stepanek claims, very few other North American retailers have seen or bought the brand — even though the brand has proven to be very successful at retail.
Why make the jump from carrying the brand in a single boutique nestled in the ski resort town of Vail, to nurturing and growing the brand all over a new continent?
The answer is, in part, because this is what M.T. Imports are known for. Currently they are selling and distributing Parajumpers (an Italian brand that specialises in hard-wearing functional coats, which were inspired by the designer's chance meeting with parachutists from Alaska's 210th Rescue Squadron). Previously, the company, which started in 1993, has distributed other high-end ski brands including Hell is for Heroes, Napapijri, Vampire, Dolomite, Think Pink and Colmar.
The other reason is timing: the outdoor industry is at a juncture where consumers are more demanding than ever and businesses want to work with those demands — but don't know exactly how.
"Consumers are looking for useful, functional products," Mr Stepanek says, "but equally are looking for — demanding — more. Consumers want a story; they want to know where it's made, why and how it's made."
Montura, with its "many dimensions and personality traits" will thrive in this environment, he feels. "We have this iconic brand that has its own manufacturing facilities, does all product design in-house and controls all aspects of their business." He wants to bring this message and the accompanying collection of products to "a thirsty retail environment".
Doing so will require a personal, hands-on approach based on relationships with retailers and consumers. The industry's current drift toward an increasingly big online presence, though an important part of the overall picture, will not be Mr Stepanek's focus.
"Everybody sees what is happening with internet business, and savvy retailers are asking: 'How do we survive and thrive in such a landscape?'" he says.
For him, thriving means a focus on bricks and mortar locations in addition to internet business. "Online sales for our retail partners matter, of course, and we have the tools to support this aspect of their business. But we are not looking for Amazon partners."
His plans are not to open own-brand concept stores (like those Montura has in Italy), but rather to create a niche and build the business through retail partners. "We want these shops to be known as 'THE Montura Shop' in their regions." Discussions with specific accounts are already underway.
In seeking such partners, he sees retailers' need to balance their relationships with existing brands with finding and building new brands. Montura makes a compelling prospect to those retailers, he feels, because it "has proven itself to be a 'sticky' brand. By that I mean when a consumer buys their first piece, they often soon come back to get their second, third, fourth."
Customers of the Italian brand have also been known to "spread the word within their own personal community," he says. "Our initial marketing campaign will focus on getting the right people, in the right places, kitted in full Montura to create a buzz around the brand."
Initially, the company's team will focus on where it has the most experience: in the snow sports and outdoor segments of the North American market. As they continue to build a profitable, long-term, sustainable business, he says, the time will come to consider adding product segmentation.
"As an example, Montura has a very cool cycling apparel collection," he says. "Many of our team are avid cyclists and triathletes, which lends a genuine curiosity to this segment." Montura also makes hiking, mountain lifestyle and running shoes, for which Mr Stepanek has already received inquiries from retail buyers. "When and if the time comes and we consider cycling apparel, shoes, and any other segment, we will need to have the infrastructure and workforce in place to ensure success. Until then, we will focus on what we do best — and what we are prepared for — and take things one step at a time."
Getting in front of people
He wants to target what he calls "bellwether doors in key locations" — places that have a "constant appetite for something new".
In both the US and Canada, where the ski and outdoor markets are rich with high-quality brands and products, Mr Stepanek wants to position Montura as a complete and diverse brand with a new look and story. The collection, he says, is diverse enough that it will be successful in "hard-core mountaineering and backcountry doors as well as high fashion ski boutiques."
It's biggest challenge, he says, is a perception that the brand is solely technical. "We have technical and the product is phenomenal," he says, but Montura "also brings the product design used in technical pieces to the mainstream mountain lifestyle pieces."
Just getting the brand in front of people is key. "We can talk to the most technical shop and we can talk to any mountain lifestyle shop," he says. "When you try on a Montura garment you feel something different. The way your everything — shoulder, elbow, knee — fits with the garment is amazing." (He adds that the price points are competitive and that they are structured to be a profitable partner.)
The first major introductory event for the brand was Outdoor Retailer's Outdoor + Snow trade show in Denver, Colorado, held in late January. Among the flagship products the M.T. Imports team had on hand were technical alpine/mountaineering apparel — though he was hearing from retailers that "high-end technical outerwear is soft this season". Buyers, he says, were drawn to these products but initially hesitant about buying.
Mr Stepanek welcomed their hesitation. "This was a good starting point for us," he says, which offered a window to "share the brand heritage and history in technical clothing and move them into our more versatile, fun mid-layers and mountain lifestyle pieces."
These kinds of conversations are part of how Mr Stepanek intends to grow the Montura name in the US and Canada, and he is prepared to take his time with them. "We have a blank slate in front of us," he says. "The plan is to move forward in that aggressively patient manner. We are not in a hurry and want to learn from the Italian mothership just how they built such an iconic brand."