Textiles for travel and wellness
05/05/2020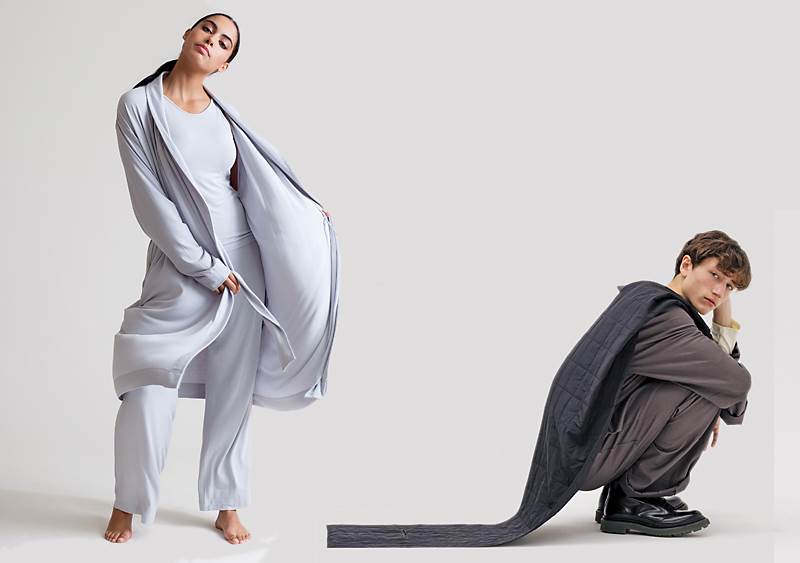 As we face an unknown post-Covid-19 world, notions of health and wellness are taking on new significance. Novel textile solutions are emerging that claim to deliver a variety of therapeutic or comfort-enhancing properties, from light compression to skin moisturising, designed for travel, for sports, and even for staying at home.
The wellness and travel wear trend has been quietly building up over the past few years. The current context may in fact be creating a favourable environment for innovation in textiles and clothing designed to offer enhanced comfort and wellbeing. Odour control, moisture management and thermoregulation are some of the properties that can make clothes cruise smoothly through long haul flights and train trips, or working from home.
New brands on this market, such as Dutch label senscommon, California-based wellness brand Wone and Seattle-based Buki, have been launched by designers seeking to offer more than just a new item of clothing but to address issues of sustainability and overproduction in the apparel industry. In the process, they are pushing the boundaries of clothing design and fibre engineering.
Laura Šilinska, a designer based in Amsterdam, launched senscommon in 2017 as a studio for innovation in fabric and garment design with a focus on wellbeing. "I believe that there are enough jeans, hoodies and t-shirts on this planet already. It is not by making the same product in a 'better material' that will improve our industry or satisfy customer needs," she says. Her haute couture training, she adds, allows her to think out of the box to create products that are lacking in our wardrobes and she combines this approach with specially developed fibres.
Senscommon's on-journey wear collection, designed specifically for travel, is the result of a collaboration with Japanese fibre producer Uchino and features an activated ubame oak charcoal-based fibre that is said to self-purify, eliminate odour, moisture, bacteria and even chemicals. Outfitted with functional details, roomy pocketing and activewear-inspired flatlock seaming, the clothes have been naturally greyed by the charcoal and have thus not been dyed.
A minimal palette
Sustainability is an important part of her outlook, which translates into a limited selection of materials, mainly wool and Tencel, and a palette of a few colours. "It is necessary to offer a choice of colours, but these generate excess stock, and can go out of fashion," the designer says. Inspired by a talk by trend guru Lidewij Edelkoort on how surfaces influence the way we see colour, Ms Šilinska has chosen to favour mélange blends of black and dark grey. "Mélange completely changes the perception of colour and evokes notions of cosiness, depth, comfort, variety," the designer believes.
Kristin Hildebrand, a former designer for Nike, RVCA and contemporary ready-to-wear brands, launched her own brand, Wone, in 2018. Applying minimalist Taoism principles to her designs, she is also seeking to map out a new fashion system. "Wone is the culmination of everything I have done in the industry distilled into its simplest form," she says. Eluding classic categories, Wone is not a yogawear brand per se, nor does it target any specific use. "People don't function that way. I don't believe in creating garments designed for a single purpose. I want to make it easy for people to get dressed," she says.
Ms Hildebrand does, however, apply her experience in performance fabrics to her designs. When a measure of compression is applied, it is not to boost recovery but rather for enhanced proprioception and allowing the wearer to feel secure. "The performance construct is shifting," she says. "Wone leggings don't look like sports leggings, they look like finely tailored skinny pants."
Like senscommon, Wone takes a minimalistic approach to colour, reduced to a single shade of black. "An all-black collection allows us to avoid overproduction and discounting," says Ms Hildebrand who also works with carefully selected suppliers; these include French companies Payen and Sofileta, and branded fabrics such as Polartec's. "These companies have a clear sense of sustainability and have been in operation for years," the Wone founder says. "The fabrics they make can withstand 50,000 washes, hold colour, won't pill and the garments will thus last as long as possible." This is another way she seeks to refrain from adding short-lived fashions to the market.
Buki, launched by Joey Rodolfo and Stacy Bennett in 2017, is another example of innovation in wellness and sustainability. Its name, which is said to mean "defend and protect" in Japanese, underlies the brand's mantra to "create a premium luxury wardrobe made in fabrics that defend and protect you from the elements," says Mr Rodolfo. His industry experience as founder of golfwear brand Cutter & Buck and a ten-year stint at Tommy Bahama brought him to work with Japanese textiles suppliers. "They are among the few that invest in R&D, in 'future world' technologies for textiles," he says.
The ten or so fabrics developed for Buki are based on manmade cellulosics or synthetics and offer combined properties including thermo- regulation, moisture management, wrinkle resistance, stretch and recovery, and machine washability.
Skincare solutions
Buki introduced its Collagen collection offering skincare properties along with UV protection and odour neutralisation in 2018. The yarn supplier, a Japanese company, takes fish scales from food industry waste that are ground into powder and incorporated into a cellulosic fibre. The peptides in the fish scales are said to provide a skin moisturising effect. The fabric has a naturally cool touch, says Mr Rodolfo who insists these properties won't wash out and will work for the life of the garment. The company is now planning to introduce a thermoregulating micro-polyester fibre. "It actually opens up when it's warm and closes when temperatures drop or in an air-conditioned environment," he says.
Madrid-based textile start-up Pyrates Smart Textiles has focused, since its launch in 2014, on bringing innovation and sustainability in health and wellness to fabrics for fashion and sportswear. It uses Tencel, Seacell, recycled polyester and cotton, and even a biosourced and biodegradable PLA, "fibres that won't shed microplastics," says brand and communication manager, Pilar Tejada López. The company is considering using recycled elastane in its ranges. The fabrics are knitted by an industrial partner in Italy.
Light compression, improved blood flow, muscle relaxation, warmth, UV protection, anti-odour and antioxidant properties are some of the wellness effects the company's Pyratex range of fabrics offer. Clients include UK luxury sports brand Vaara and innovative streetwear label Pangaia, but Pyrates has also created a sustainable yogawear collection with Asics. The Japanese sports brand invested in the company last autumn.
In addition to health and skincare-related actives, Textile-Based Delivery Inc, based in Conover, North Carolina, includes pain-relief properties in its Nufabrx branded smart fabrics. Its capsaicin-embedded products are being used by the US military, CEO and founder, Jordan Schindler, tells WSA. With its team of drug-delivery experts, the company has developed and patented a process that embeds actives in yarns and delivers them in constant doses. "Moisture, heat and skin contact in general trigger the release of 1 mg per hour over the entire surface of the garment," he says, something not possible via microencapsulation. The actives can be embedded in polyamide or polyester yarns, and these need only make up 15% of a finished product. "The yarn is plated to the inside of a knit, and placed only where needed, at the ankle and toes for socks for instance," he says.
The company has recently announced a partnership with US brand CopperGel to embed copper into clothing, and with Founder's Hemp, also based in the US, to launch CBD-infused knee and arm sleeves. "We believe clothing will start to care for your body in entirely new ways. We see the day when wellbeing is simply part of our everyday outfits. Rather than applying a cream, taking a pill or using a patch, you'll only need to get dressed," Mr Schindler declares.
Green chemistry
Belgian chemicals company Devan has been investing in wellness and travel-soothing solutions for the past several years. "We see a strong uptake in interest for bringing skincare and wellness to clothing. These trends will only increase in the current context. People want to be healthy, they want feel well and reduce the effects of aging," CEO, Sven Ghyselinck, tells WSA. Devan's main skincare ranges are based on Q10 and CBD, but it also offers microencapsulated actives with menthol, eucalyptus, camphor, argan oil, echinacea and shea butter. Thyme will soon be added to its offering. "The most commercially successful products are those based on well-known ingredients," he says. Typically, the company combines several ingredients, and uses organic substances whenever possible.
Wellness is closely connected to sustainability says Mr Ghyselinck and it is a trend Devan has also been investing in. The company introduced two new bio-based solutions for its phase-change materials (Tones of Cool Bio) and antimicrobial finish (BI-OME). Post-Covid-19, he points out, antiviral and antimicrobial protection will become major issues. "It is technically feasible to make an antiviral textile for clothing. Bacteria are ideal hosts for viruses. If you get rid of the host, the virus will have difficulty surviving," he says.
The shift away from non-renewable resources in textile chemistry is also at work at Evolved By Nature. The company based in the Boston area is transforming silk cocoons unfit for yarn production into eco-friendly finishes for textiles. Founded in 2013, it attracted the attention of Chanel, which acquired a minority stake in the start-up in 2019. The Activated Silk finishes developed by Evolved By Nature enhance the moisture management and quick drying properties of polyamide fabrics and reduce pilling when applied to wool and cashmere, thus extending their lifespan.
The company is now looking to apply its silk finish to recycled fibres, with the goal of extending the usage of clothing and increasing post-consumer content. "Recycled wool yarns are shorter than virgin ones and are therefore more prone to pilling. Our Activated Silk toughens, or hardens if you will, the outer surface of the fibres. Sometimes it actually glues the fibres together," says company founder and CEO, Greg Altman. This, he says, will improve the mechanical properties of a recycled yarn and should make it possible to increase post-consumer recycled fibre content from 15% to possibly even 50% of a fabric. The company is testing this option with partners in North Carolina and in Mexico to upgrade what is known as shoddy and usually used for insulation or carpet matting, he says.
Evolved By Nature is currently breaking ground on a new 30,000 square-foot facility in Massachusetts, adding capacity to its existing production line. The silk cocoons are purified, dissolved in saltwater, and the salt then removed. The company says it can tweak the portion of silk protein for the intended application, developing different formulations for nylon, wool or even cotton.
The solutions in development at chemicals suppliers, fabric manufacturers and that innovative brands are investing in clothing with properties that make them look better for longer, resist odour and provide an array of functions that enhance comfort and offer relief from the hassles of travelling, while also addressing the need for products made from renewable resources. This new approach to fibre engineering and clothing design may prove to be all the more appealing, and necessary, in the future.