When partners push each other
21/05/2020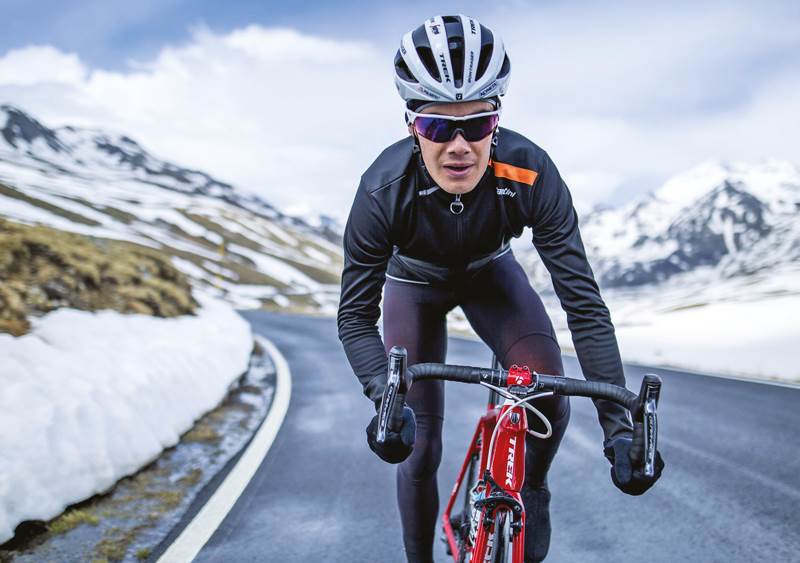 Why Italian cycling apparel brand Santini use three different Polartec fabrics in its most recent winter collection — because the quality of the technology and the relationship matter.
As 2020 began, cyclists around the world were pedalling through cold rainy mornings and sunny afternoons, clothed in pieces from the latest Santini and Polartec collaboration. This wasn't the first time the two labels had worked together and it won't be the last, as both companies clearly value the collaborative relationship that has developed between them.
We talked to Paola Santini, marketing manager of Santini Cycling Wear, and Matteo Tolio, Polartec's Italy sales and marketing manager, about not just the technology employed in this most recent collection, but why the two innovative companies are such a natural fit.
More than a business relationship
Santini, founded by company president Pietro Santini in 1965 and now led by CEO Monica Santini, is a well-known name in the cycling world. The range of technical apparel and accessories are handmade in Italy for both amateur and professional cyclists.
Polartec manufactures specialty technical fabrics which, as Mr Tolio says, are particularly suited to cycling. "Cycling is one of the toughest sports out there," he says. His company responds to the sport's need for textile technologies because it is an "ingredient brand able to provide solutions that keep the rider dry, warm, cool and safe".
Ms Santini says this is initially why her company connected with Polartec. "We think Polartec fabrics have high technological features for cycling clothes, so we started using them for some of our garments." It was quickly apparent, though, that the relationship was about more than simply sourcing fabric.
"The partnership with Polartec is ideal for us," Ms Santini tells WSA. "Their team is very collaborative and supportive."
Santini's collaboration with Polartec began with the autumn/winter 2018/2019 collection, she says, when they chose two Polartec materials to create the Vega Xtreme jacket for extreme weather. Windbloc for the outer layer protected from wind, rain and damp, and Alpha on the inside of the collar was used to keep that "delicate area" warm while still allowing sweat evaporation.
What followed — the current collaboration for the autumn/winter 2019/2020 collection — is what Mr Tolio calls "the natural evolution of a great partnership".
"Santini came to us with a brief centred around a clothing collection that could 'weather the storm' so to speak," he tells WSA. "The real challenge many cycle apparel brands face is to keep cyclists pedalling through all weathers when the temperature drops. Once Santini told us what they were looking for, we were able to suggest different fabrics for various end goals. From the first design sketches through to the marketing and communication we worked side-by-side with the Santini creative team."
The current collection includes bib-tights, a sleeveless base layer, a technical jacket and under-gloves. The Santini Adapt bib-tights incorporate Polartec's Power Wool, a bi-component knit fabric that brings together natural and synthetic fibres without blending them. The fabric helps to thermoregulate the body, by being both breathable and insulating.
Santini's base layer and under-gloves use Alpha Active Insulation, which was invented for US Special Forces to use in the extreme temperatures of mountainous regions. Lofted knit fibres are connected to a solid mesh core, and hydrophobic yarns help the insulation repel moisture and dry quickly. ("The weather can change fast during autumn and spring, so it's important to wear clothes which help regulate body temperature," Ms Santini says of the bib-tights.)
The Vega Multi jacket uses Power Shield Pro, which Polartec says is its most versatile adaptation of the original soft-shell technology. The three-layer fabric protects against winds, precipitation and abrasive surfaces, while a microporous membrane releases heat and moisture.
Like their other collaborations, the collection has been very well received. "The consumers love these products. What they appreciate the most is the technology behind them," Ms Santini says. "They are quite expensive, but they last a lifetime and really work for the purpose they are built for."
Reaching this point is a true joint effort, both companies agree.
"Santini is a great example of what we consider to be an ideal partner," says Mr Tolio. "Yes, it's a business relationship where we sell them fabrics and they make amazing products but there's a lot more to it than that. Santini is involved in the product development process, right from the start."
Ms Santini agrees. "With these kinds of very technical products, we always start from the fabric. The process begins by brainstorming with Polartec," she says. "We explain what features we have in mind for the product we want to make, and they come back with the fabrics that can be used for that specific product."
Once the product is designed, Santini makes a prototype and — as Mr Tolio alluded to — they test it. "Sometimes we get it right at the first prototype," Ms Santini says. "Sometimes it takes a few more attempts."
Mr Tolio appreciates that about Santini, saying the testing helps to keep it "a constantly evolving process". He adds: "What's more, Santini keeps challenging us with new product requests, constantly pushing the envelope so that together we can stay ahead of the game."
Weathering a different kind of storm
At the moment, both companies are adapting to the Covid-19 global pandemic that is uprooting life for businesses and consumers alike.
For Polartec, headquartered in Andover, Massachusetts, this means following the guidance of local governments and other experts while making adjustments to the workforce and its priorities. Mr Tolio says that employees who can work remotely are doing so ("and getting very good at video conferencing!"), and the company is continuing to deliver orders and invent its performance fabrics.
In response to the pandemic, Polartec's owner, Milliken & Company, increased production of its antimicrobial BioSmart fabric and "prioritised the material" in its supply chain.
"Like many of our partners around the world," Mr Tolio says, "we are also redeploying stock in order to get it to those making masks and gowns in this time of need."
For Santini, the crisis hits particularly close to home. The family-owned business is based in Lallio, Italy, which is in the province of Bergamo, the epicentre of Italy's coronavirus outbreak.
In March, the company converted its production floor to make protective face masks. The prototype for the first mask was with a fabric normally used in clothing with a water-resistant treatment. They experimented with several others, and recently passed all the tests necessary for the certification of one as a sanitary mask.
"We wanted to help and support our country," she says. "Since the beginning of this emergency, we have wondered how we could do our part. We know that in hospitals — but also in companies — there is a strong need for face masks to reduce the spread of contagion. We therefore decided, together with other companies in the Bergamo area, to create our face masks."
At the time of our interview, Santini was operating with the goal of making 50,000 per day.
What's next
Beyond the companies' respective efforts to manage this unprecedented time, both are excited about their ongoing shared projects. They have collaborated on pieces for spring/summer 2020 and autumn/winter 2021, as well as on collections for professional and amateur teams. Mr Tolio says that among these are pieces that use Power Air; the knitted construction is the brand's latest fabric technology and is said to maximise warmth and reduce microfibre shedding by more than five times that of a traditional mid-layer.
Ms Santini says she values Polartec as a partner because "We work together, from product development to marketing and communication of the products," she says. "We do it in collaboration and they are great in giving us fast feedback and content, and they work with us to find solutions."
This is a long-term, indefinite partnership, says Mr Tolio. "We are now working on other new, exciting projects — so stay tuned."