BASF's footwear investments bear fruit
07/05/2020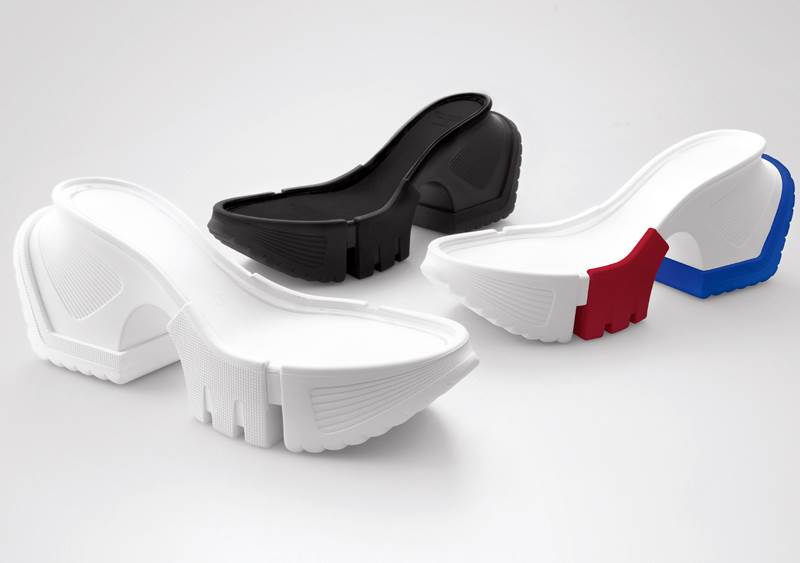 The German group is adapting Infinergy, advancing 3D options and educating shoe designers on TPU.
Standing on your feet all day in a workplace (or even at a trade fair) can be exhausting; legs and backs ache, with strain on muscles and joints, making it hard to concentrate.
Chemicals producer BASF is working on a solution: transferring the comfort of Infinergy (made famous by adidas) ) into other types of footwear. The expanded thermoplastic polyurethane (E-TPU) combines the properties of TPU with the advantages of foams, making it as elastic as rubber but lighter. From safety shoes that offer the comfort of trainers, to casual designs and, most recently, formal leather shoes, the company is partnering shoe manufacturers to offer a comfortable solution for a variety of sectors. For the BASF team at the recent SIMAC footwear technology show in Milan, wearing adidas trainers instead of the traditional formal shoes made all the difference. "I'm so pleased that we produce Infinergy!" said one.
Last summer, BASF announced 'significant' investments in footwear, which included creating new development centres in Thailand and the US, a new footwear innovation centre in Taiwan and growing its existing development centre in Italy. These investments are now bearing fruit with partnerships in the pipeline and new products to discuss with clients.
Digital-first approach
At the start of this year, BASF launched a 'limitless' shoe concept; 'limitless' as it exists in digital format only. While the materials behind the concept are real, the virtual presentation allows for a faster dissemination of ideas. "This approach is ideal to visualise new approaches and material innovations and to share it instantly with different stakeholder groups," Patrick Bolze, leader of technical development for footwear, sports and leisure in Europe at BASF, tells us.
For now, the Limitless concept is aimed at the safety and work shoe market. The latest design is laceless to minimise trips with an upper knitted from Freeflex fibre (spun from TPU) and a protective overlay made from Haptex, BASF's solvent-free artificial substitute for leather. Freeflex bands add stability and enhanced abrasion resistance. The shoe also includes its first transparent toe cap, which offers new design possibilities and a lighter wearing experience. The midsole, made with Infinergy, is lightweight and offers resilience and durability. The use of Infinergy will also help to promote the product to the wider work shoes sector, where BASF is keen to push its inclusion, alongside in that of outdoor shoes.
"We can work with different thicknesses of Infinergy that weren't possible before," Felix Willenbrink, BASF's marketing manager for footwear, tells WSA. "This material offers perfect cushioning. Runners might need the cushioning for one hour, for example; but in safety or work shoes it is eight hours, continuously changing, so it's not the same high performance but you still need support, comfort and elasticity. So, for running, we concentrate on rebound which gives energy return; for other shoes we use different approaches."
Two recent advances are coloured Infingery and smaller bubbles (mini particles), which are about half the original size. The former offers greater design flexibility, the latter means it can be used in other sports settings – for instance, in bike saddles, that need to have cushioning and be easily moulded into thin shapes. "Like every development, we work with customers to refine our products," explains Mr Willenbrink. "To achieve colours, we worked with colleagues from the coating division. It's not just the surface that's coloured but the bead itself. We had to research how it influenced the properties."
Printing prowess
In 2017, sensing 3D printing would become increasingly important, BASF set up a 3D printing and additive materials company that collaborates with engineers and clients across multiple sectors. BASF promoted the Forward AM division at SIMAC in February for the first time, as part of a push to create more tie-ups with footwear manufacturers.
To demonstrate its flexibility, the company made 50 pairs of shoes with soles printed with TPU. Its Ultrasint material offers shock absorption, energy return and flexibility and can be tuned by design through the additive-based manufacturing. "The shoes are not just prototypes, they are completely wearable: functional and comfortable," explains Mr Willenbrink.
The CAD system it uses was developed by the automotive industry. Adapted for the footwear sector, this means speeding up the design process with faster prototypes but also pushing further into custom designs. "We could make custom 3D printed insoles or soles. It's an opportunity we are developing. We have materials that are traditionally for mass production but can also support the path to customisation."
Dr Florian Fischer, business development manager for Forward AM, says speaking with footwear companies offers a fresh perspective, as the company usually presents at 3D printing and technology fairs. "We are getting great feedback," he says. "We can improve time to market and help with faster design. The industry is evolving a lot. Every year there are new materials to work with, and more advanced printers."
Capturing youth
As a material for shoes, TPU only has about an 8% market share globally, perhaps rising to around 20% in Europe, partly because some designers are not aware of its properties, according to BASF. To help rectify this, its Italian division has been working with Politecnico Calzaturiero, one of the world's leading shoe design schools, to promote the material to students though a design competition and through lectures led by BASF technicians. The area is central to Italy's footwear makers and is home to more than 100 shoe companies.
Each year, students create designs around a brief, adapting a TPU sole with their choice of upper materials, and are judged on flair, commitment and their presentations. For the past three years, Italian shoe designer Roberto Guzzonato has lent his weight, designing the sole for the students to base their creations on.
"Usually with a design, we focus on the aesthetic and then the properties of the material, but this is the opposite approach," he tells WSA. "I wanted a high shoe, and usually that would be heavy because of the volume. We needed a material that was soft and light but had a degree of elasticity, but could also bear weight, so it needed different properties throughout the sole.
In the end, the sole was made with five moulded parts - three TPU, one PU and one reinforced TPU – to achieve the desired properties. Mr Guzzonato worked with local companies to create the moulds, which took months to produce, as the specifications were so exacting. "There is a synergy between the designer, bringing fashion, BASF for the material and the technical experts making the mould," adds Mr Guzzonato.
A jury comprising footwear experts and lecturers deemed the winner, Raissa Sbroggio, to have created a perfect balance of technical skill, fashion and elegance.