The war on waste will continue
28/05/2020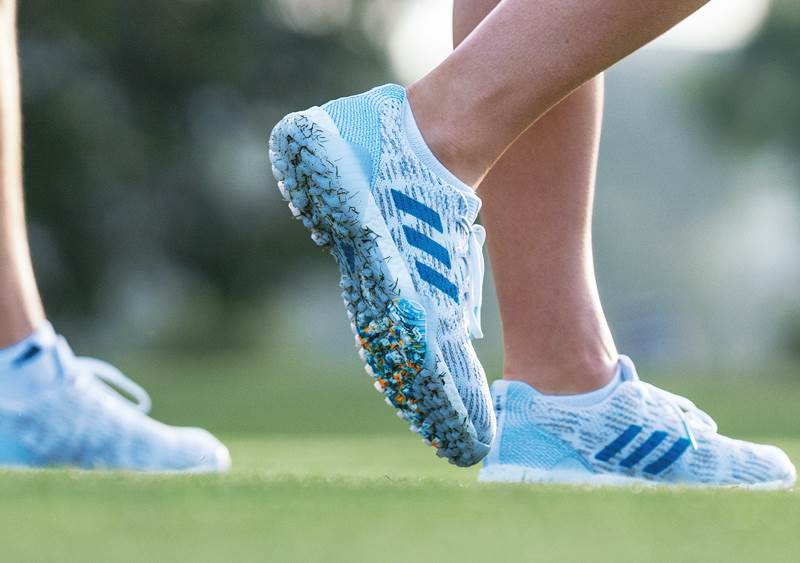 Developers of specialist materials and production systems seem more intent than ever on helping footwear companies eliminate waste from their manufacturing set-ups.
Programmes to reduce and even eliminate waste are well advanced at a number of major athletic footwear brands; many of their suppliers are making important contributions to this through their own ideas and initiatives.
Shoe components manufacturer Milspeed says it has seen "great enthusiasm" for a new toe puff and counter range, Milguard Ocean, which it makes from a blend of nylon 6, repurposed from end-of-life fishing nets. Working with suppliers in the UK and Spain, Milspeed encourages responsible disposal by giving the nets a reuse value. The nets are shipped to its UK facility to be cut and shredded, and then mixed with other polymers to make material for the new, waste-consuming components. As well as for toe puffs and counters, Milguard Ocean pellets can be used for injection-moulded parts such as heel counters and logos for the outside of shoes.
Win-win for footwear
This results in a win-win situation, according to Milspeed director Ian Milhench, as it offers a sustainable story for footwear brands to share with consumers, while boosting the performance of their shoes. "We are giving the fishermen a way of disposing of the nets and getting a high-performance material that adds strength," he says. The material it gets from the nets was initially difficult to work with. The fishing nets need to be chopped up, washed and put through metal detectors before shredding, although Milspeed says it has now refined this process. "Certain polymers, when mixed together, add beneficial properties. It's important to get the combination right," adds Mr Milhench.
Milspeed, which supplies a number of leading brands, believes it has a strong sustainability story stretching back decades; for example, it has been repurposing waste from its own materials from footwear factories in Asia for almost 20 years. Offcuts are shipped back to the UK to be melted down, added to a smaller percentage of virgin polymer, and extruded again. "Because we do it in-house, we keep all the technical properties of the polymers, so the reprocessed material is just the same as the virgin material," explains Mr Milhench. Using offcuts means the carbon cost of the product is low; most of the carbon footprint is generated during the manufacturing of the raw materials.
A use for single-use plastic
The same company has also been working to find a solution for reducing single-use plastics. One project turned crisp packets (excluded from many domestic waste recycling programmes) into pellets that have been used to make chairs. "We have been reprocessing for 20 years, and all of a sudden the wind is blowing in our direction, which is nice, because everybody wants a sustainability angle," adds Mr Milhench. "We are lucky that we don't need to greenwash. We have been doing this [waste recycling] for a long time."
Some buyers have begun to ask about products such as bioplastics (which have their own challenges) and biodegradable products, which may not always work inside shoes, but he insists the best solution is to reuse "in a circular economy, closed-loop system" the materials we already have.
Waste must not go to waste
Joint managing-director of soling technology provider Desma, Klaus Freese, says he is confident athletic footwear brands can meet their commitments to use larger volumes of recycled material in their shoes and insists he can see great potential for using waste in this way. "This is not new," he says, agreeing with Milspeed. "We worked out how to use regenerated material about ten years ago, but it meant charging a slightly higher price and no one was prepared to accept that. This is changing now and if the market is there, the industry will keep finding solutions."
Echoing another point, the one about material quality, he says no one should doubt that the shoes would be good enough. He explains that Desma's work on this, so far, shows that using around 3% to 5% granulated waste material in the mix for some of its soling solutions can even offer advantages, better cushioning, for example.
"Shoe manufacturers need to move their own production towards zero-waste," Mr Freese says, pointing out that they need to find ways of regenerating all the material they can from their own production processes. "There is always waste," he says. "Shoe companies need to take that waste and regenerate it right away so that it can go back into production without leaving the factory. There would be no need to move that material to anywhere else. There would be no logistics involved."
Zero footprint
For its part, materials supplier Texon has already unveiled an ambition to become practically a zero-waste organisation by 2025. It says these plans reinforce an existing commitment to develop sustainable footwear components, materials for consumer accessories and performance fabrics. Specific targets for the next five years include reducing its carbon footprint by 50%, reducing the use of virgin materials by 50%, ensuring 90% of waste is recyclable or reusable, and reducing water usage and water waste by 20%.
There are already examples of sustainable practices across the business, says chief executive, Jelle Tolsma. "When it comes to raw materials, we're reducing our use of virgin cellulose," he explains. "Where we do use water, we make sure we recycle and return it back to nature even cleaner than when it came out so it can be reused." All these steps will fall under a banner Texon has called 'Zero Footprint', which, Mr Tolsma says, "will serve as a constant reminder to us, and to our customers, that there is always more that companies can do".
A look beyond lockdown
By the start of April, measures to contain the spread of the covid-19 pandemic had put more than one-third of the global population into some form of lockdown and factories on all continents found there was little they could do for the time being because of hold-ups in supply, stoppages to production and a downturn in demand. But the fight against waste in the footwear sector will go on, Milspeed's project manager for Milguard Ocean, Philip Gill, insists.
"This will have an impact on all of us and on how we live our lives," he says of the restrictions. "Working from home, for example, may become more prevalent when this is all over, and so will taking care of the environment." He has no fears about enthusiasm dwindling in the industry for the battle against waste as other priorities command everyone's attention. Measures such as the sudden reappearance, owing to concerns about hygiene, of single-use plastic bags in supermarkets will only be temporary, Mr Gill believes. "Single-use is so pressing," he says. "Too many institutions are working so hard to improve in waste and recycling that I can only see this as being short-term. Our customers are determined to get back on track as soon as possible, and with a harder push than ever."
Something that will not creep back in when business and life return to normal, the Milspeed project manager insists, is greenwashing. He says "serious companies", which includes, in his book, the major footwear brands who have spoken publicly about their commitment to tackling waste, carry out due diligence when engaging with materials manufacturers and all suppliers. "They are also looking for transparency," he says. "It's become increasingly difficult for those who engage in greenwashing to keep it going."