Break down the blends
07/07/2020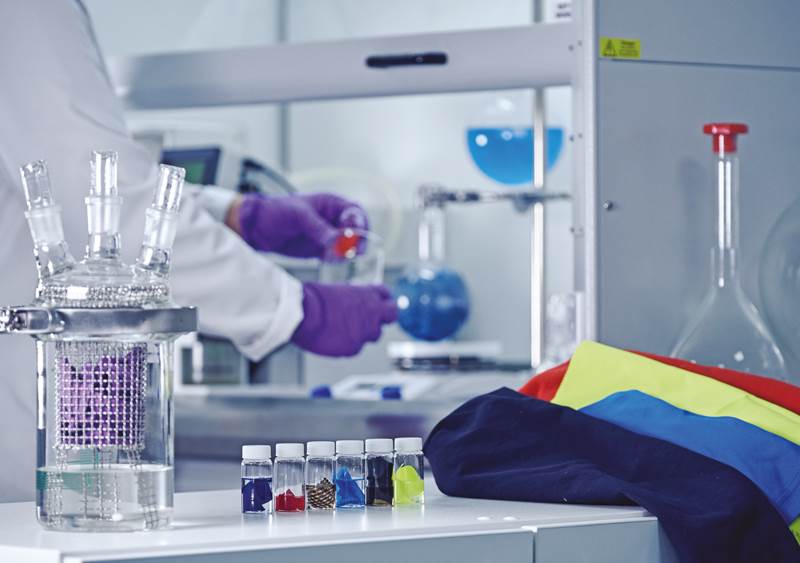 Most of the clothes we wear every day are made from a blend of fibres, a high percentage of which will be some mixture of cotton and polyester. Recycling these materials is challenging; the solutions in development will not necessarily be closed-loop, but they will contribute to keeping existing resources in circulation.
The problem is well-known, and the numbers staggering: 87% of total fibre input used for clothing is estimated to end in landfills or incinerators. Clothing underutilisation and a lack of recycling represent a loss of value of more than $500 billion annually, as calculated by the Ellen MacArthur Foundation and Circular Fibres Initiative for A new textiles economy: Redesigning fashion's future (2017). When the economy came to a halt during the lockdown to halt the spread of Covid-19, an untold mass of unsold garments has been left stranded in stores, warehouses, ships and factories.
A high percentage of these garments will be made in cotton, polyester or polycotton fabrics. Polyester makes up 51.5% of all fibres used globally and cotton 24.4%, according to Textile Exchange, totalling 75.9% of the textile market in 2018-2019. Research conducted by the UK's Waste and Resources Action Programme (WRAP) indicates that 75% of post-consumer recycling grades contain polycotton blends, as reported in January 2019 in Fibre to fibre recycling: An economic & financial sustainability assessment. As opposed to the depolymerising technologies in development for polyester (see Infinite regeneration of polyester in this issue of WSA), blends pose a specific challenge and can only be efficiently reused if the different components are separated out, namely extracting PET from the polyester and recovering cellulose from the cotton. Several companies are working on technologies designed to do just this in order to divert these common, but quite-difficult -to-recycle, textiles from landfill and incineration.
UK-based Worn Again Technologies has been working on a solution since 2012 and, at the start of this year, launched a pilot R&D facility located at CPI, a technology and innovation centre in Redcar in the north-east of England. "This facility allows us to take input through the entire process to optimise each processing step as well as validate the products or outputs. It will provide data to enable the next steps in scaling up our technology and design our demo plant," says Worn Again Technologies founder, Cyndi Rhoades. The company's vision is for a world in which non-reusable textile resources are "kept in circulation by recapturing raw materials and replacing the use of virgin resources", and this means that the Worn Again Technologies' "bucket" will accept end-of-use textiles ranging from pure polyester to polycotton and poly-cellulose blends. "While our process can take up to 10% 'other', such as nylon, wool, elastane, the higher the polyester, cotton and cellulose content, the lower the waste and the higher the yield in terms of outputs, which supports the economic viability of the system", she says. The company is developing a method based on selective dissolving that 'recaptures' a virgin equivalent of PET and cellulose. It is the result of research conducted by the company's CSO, Dr Adam Walker.
Solutions and solvents
In Worn Again's process, used textiles and clothing are dissolved in a series of stages. The first of these removes various soluble impurities. "This turns a multicoloured heap of clothes into a uniform white mass," says Dr Walker, a step he deems one of the most important in the entire system. Further procedures separate the PET (liquid) from the cotton (solid), and are followed by filtering, retrieving the solvent in a closed loop, and isolating the PET polymer. "Our technology allows us to obtain a high degree of chemical purity. We can also tune the PET to the required viscosity value, like a standard petrochemical polymer," he explains. He believes that existing chemical plants could "rather easily" be converted to operate the process.
The Worn Again technology dissolves the cotton into cellulose powder, which can be used in many markets, including being spun into a cellulosic man-made fibre. "The most viable short-term product is cellulose pulp suitable for viscose production," says Ms Rhoades. Trials at the pilot plant are currently focusing on stringing the various steps together.
The method in development at BlockTexx, a company based near Sydney, New South Wales, is also using a chemical dissolving process to recycle polycotton fabrics. A winner of Fashion for Good's South Asia Innovation Programme in January this year, it was founded in 2018 by fashion industry veterans Graham Ross and Adrian Jones. S.O.F.T. Technology (for Separation of Fibre Technology), its official name, "unlocks the cotton from the polyester", recovering about 95% of the input material, it claims. The PET can be made into rPET plastic pellets and polyester fibre suitable for use in textiles, packaging and building products and cellulose powder can be used to strengthen concrete, in adhesives, cosmetics or as a food thickener, says Mr Ross.
A demonstration plant has been in operation for 12 months and is being used for further R&D, to optimise the different stages, and conduct trials for customers. "We are shovel-ready for a full-scale industrial plant," he says.
Keeping track
PurFi, based in Tulsa, Oklahoma, has developed a series of recycling solutions for synthetic and cellulosic textiles. It says it can upcycle end-of-life textiles into higher-value products as its 'regenerated' fibres are longer and stronger than virgin. "We use organic chemicals along with mechanical manipulation to process fabric waste into fibres that are equal to or superior to virgin fibres," says Joy Nunn, company founder and CEO. These technologies have been in operation for over 20 years, and they are more energy-efficient and cost-effective than depolymerising methods, she says.
PurFi does not however recycle any heap of assorted end-of-life clothes. It relies rather on a fully traceable supply chain and says this is best suited to workwear. It has patented a waste classification system that traces raw materials from their origin to the end product. This enables the company to treat only materials of known provenance. "PurFi is not a shoddy company, but one that delivers high-quality materials that should never have been treated as waste," says Ms Nunn.
The company works with various partners to keep track of materials. "We have located collection centres which segregate raw materials by colour, composition and fabric finish and train our associates to make sure the materials are as free as possible of foreign contaminants such as metal pieces, pattern paper, plastic, trash and so on," says Ms Nunn. The system includes machinery that detects contaminants, including bacteria, and eliminates them as the materials move through the process. Depending on the requirements of its clients, PurFi tunes these to desired parameters using various 'recipes'.
Feedstock conversion
The elaborate tracing network set up by PurFi brings to light the importance of identifying materials in used clothing and the need for solutions to streamline feedstock conversion, the term used to describe the sorting of used clothing by composition, colour and so on, the removal of non-textile components and shredding.
The Accelerating Circularity Project (ACP), a non-profit launched in January, is focusing specifically on these initial stages in textile recycling. The collaborative project is funded by Walmart, Gap, Target and VF Corporation, and is supported by many textile companies, including Lenzing and Unifi. One of its tasks is to collect data to set up a circular economy for textiles on the East Coast of the US, founder Karla Magruder tells WSA. But its broader goal is to identify gaps. "There are missing links at waste collection, sorting and feedstock conversion," she says. ACP is investigating all projects related to automated sorting, traceability, down to brand takeback programmes and promoting design that lends itself to recycling.
"We need a better infrastructure for collection, sorting and preparing end-of-use garments, and we are working with key players in this area, including ACP, which is working specifically on that facet of the circular economy," says Ms Rhoades. "Textile resources need to be processed close to where they are generated using automated methods to sort high volumes by fibre breakdown. Textiles are heavy and costly to transport so it makes sense to remove the low value, non-rewearable fractions before exporting to reuse markets. It is easier to ship PET pellets and cellulose powder."
Keeping it local
The European Union funds many research and innovation programmes into textile recycling and the building of a circular economy for textiles in Europe. The Fibersort, an automated identification system for used textiles, is one such programme, supported by the European Regional Development Fund. CircTex, is another. This project, between the UK, France, Belgium and the Netherlands, is examining the potential of a microwavable yarn developed by Wear2 that would facilitate garment disassembly. RETEX, also an EU-funded research programme, has focused on mechanical recycling techniques for post-industrial and post-consumer textiles made in polyester and cotton. Its highly focused perameter takes into account the materials available and industrial expertise of the textile and apparel companies located in the north of France and in Belgium.
Wear2Wear, a programme set up by Sympatex with a group of European textile companies is investigating all facets of designing for recycling, including using a yarn that dissolves at 100°C and equipping clothes with an RFID tag. "Clothing design needs to be rethought, but we also need to develop the technologies to make circularity possible," says Dr Rüdiger Fox, CEO of Sympatex.
"The clothing industry is worth $1.3 trillion; dedicating just 1% or 2% of this would be enough to develop the new technologies we need," says Mr Ross, at Blocktexx. "Recycling bottles into polyester is not the best solution. The fashion industry needs to recover resources from used fibres."
As we have seen, there is no lack of research into new technologies. As there is no lack of materials to treat, especially with unsold goods piling up in the wake of Covid-19. "We get calls every day from brands looking for solutions for their excess stock," says Mr Ross.