Race for protection gathers speed
14/07/2020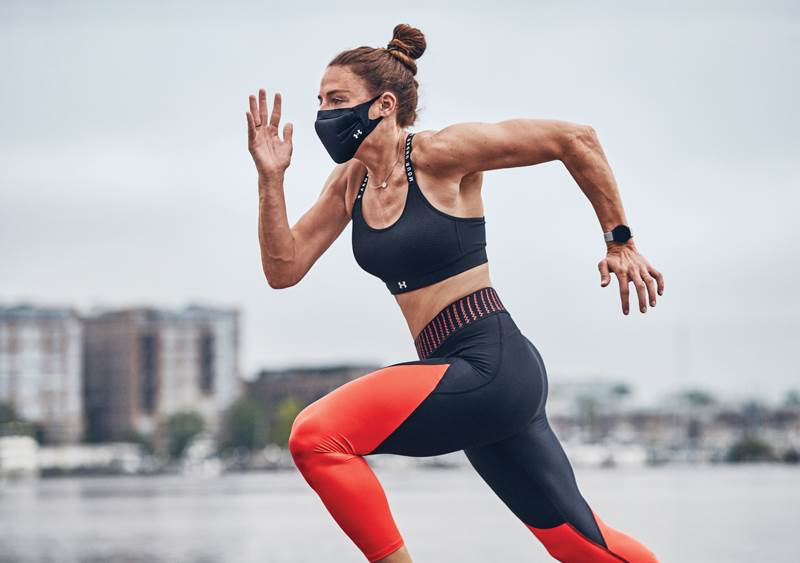 In a departure from the usual format, this issue's Rise to the Challenge looks at how companies are answering the call to meet the rocketing demand for protective clothing and how some are combining knowhow to create speedier supply chains.
If any single positive has come out of the Covid-19 pandemic, it has been that people all over the world have shown how they can come together to help each other in times of adversity. Hundreds of thousands have volunteered their time at food banks, donated to charity, looked after vulnerable people and set up support groups. Companies have offered funding for hospitals, and factories have altered their processes to create visors, hand wash or other products, often offering goods for free. The spotlight has also fallen on textiles; the speed at which the virus travelled meant many countries were unprepared in terms of personal protective equipment (PPE) of all kinds. From the largest factories to single people at home with sewing machines, armies responded to the call for masks, scrubs and gowns. The range of PPE and its demands are large – from disposable gloves, to cotton masks and scrubs, to the high-grade gowns and masks that need to protect hospital workers. In a WSA article later this year, technical editor Sophie Bramel will look at developments in antimicrobials, so this time we will look at how companies have formed partnerships and stepped up to the challenge of demand.
Medical grade v non-medical grade
While we hear of many companies switching production, there is an important distinction to be made between the medical PPE and products that are suitable for other key workers and the rest of the population. N95 respirators and surgical masks are generally a sandwich of nonwoven layers: spunbond layers that provide shape combined with a layer of meltblown material that captures microscopic particles including viruses and bacteria. Almost all meltblown fabrics are made from polypropylene and electrostatically charged, which means they cannot be reused, laundered or re-sterilised.
The speed and volume at which these products were needed has created problems. Their manufacture is specialised and many of the main producers (such as Taiwan) closed their factories to exports at the start of the pandemic to make sure they could service domestic needs. While exports have restarted, this left gaps in production as countries scrambled to meet need and created an overreliance on China. There are also very few companies that produce spunbond, meltblown fabrics and masks in one place, adding to the supply chain issues.
Some worked on solutions: in Taiwan, Far Eastern New Century, a big supplier to sportswear companies, anticipated the meltblown non-woven shortage and created a new microfibre with a multilayer structure based on close to nanoscale fibres that it says is of similar standard to that of N95 masks but which can be washed and reused. It is currently developing the product in collaboration with manufacturers and says it could produce 20 million masks per day.
In the US, the Nonwovens Institute (NWI) created a new spunbond material that it says serves as an effective filter without the need for a meltblown filtration layer, and which can also be washed in peroxide or alcohol. Behnam Pourdeyhimi, executive director of NC State university's NWI, said: "Because these materials are strong, unlike classical meltblown filters, they can also be cut and sewn by traditional techniques."
Describing the materials as "desperately needed", the university is providing large amounts of nonwoven material to Brooks Brothers and other US manufacturers that have 'pivoted' to making masks at their factories. Other partners include ExxonMobil, which has donated polymer at no cost, and NatureWorks, which has supplied enough Ingeo biopolymer to make at least 10 million masks.
Reshoring
With supply chains stalling, many countries are now looking at routes to reshore so they are not exposed to backlogs or reliant on shipments from other countries as the pandemic progresses, and for the future. Textiles manufacturer Merrow Manufacturing has teamed up with DuPont and nascent outdoor brand Forloh to create a new medical division and claims to be the largest producer of US-sourced PPE. The family-owned company projects it will be producing 700,000 gowns per week by this July, as well as four million medical gowns and coveralls over the next several months, and creating 900 jobs.
PPE has not seen much innovation in the last decade or so, according to Merrow co-owner and CEO Charlie Merrow. "As manufacturing left the US over the past 20 years it effectively reduced the effectiveness of feedback and product evolution," he tells WSA. "With a single focus to reduce cost, product changes were not driven by performance but margin."
Building medical-grade products requires attention to each step of the design, production and packaging process, following Food and Drug Administration guidelines [in the US, and other standards elsewhere]. Forloh's US-produced ballistics-grade nylon — initially earmarked for tents, packs and accessories — makes the equipment extremely durable. "These fabrics had been refined and tested for months to outperform other outdoor products," explains Mr Merrow. "When we experimented with them in the medical categories, they exceeded everyone's expectations, and created an opportunity to innovate in the medical space."
Merrow is also collaborating with DuPont Personal Protection for single-use isolation gowns made from Tyvek. While it is the first time the companies have worked directly, Merrow has been 'pivotal' to DuPont as it invented the overlock stitching machine that Tyvek protective apparel is made on.
Since January, DuPont increased global production of the most requested garments but said it is still not enough to meet the unprecedented crisis. It developed a new Tyvek Covid-19 response fabric and modified equipment to increase the amount of fabric available for PPE. The group also developed simplified designs for a gown plus a coverall and a manufacturing spec package and video. "We have seen that many textile companies made the transition to making PPE very rapidly to support the needs for the frontline responders," David Domnisch, global business leader for DuPont Personal Protection, tells us. "These industry partnerships have enabled us to ramp up the supply of gowns made of Tyvek to the market quickly through local converters with cut and sew capacity."
Single-use waste
One of the issues of using PPE only once is it creates a glut of product that must be thrown into landfill or burnt and which does not degrade easily. Most hospital scrubs are made from cotton- polyester blends that can be laundered, supplies of which are being boosted by volunteer armies at their sewing machines in many countries. In the UK, for instance, Facebook group For the Love of Scrubs had more than 50,000 individual machinists by June. However, the National Health Service is researching buying material for the higher-end gowns that can also be laundered rather than thrown away, and is undergoing trials with manufacturers to test this 'performance'.
The single-use issue was one Italian fabric maker Kinetech Lab, the sports division of Tessitura Taiana Virgilio, sought to address with its new "anti-virus" material. FYC is a four-way stretch woven fabric which filters air-droplets but is breathable and is bacteriostatic. The high number of very light yarns per square centimetre means it filters 99.8% of particulates with a size of 4-5 microns. It includes a silver yarn and a treatment used for medical applications, originally developed in response to SARS, and can be used for medical clothing, sportswear and other garments.
"Thanks to its bacteriostatic and antiviral properties, FYC does not need to be wasted or washed daily like a normal protective device or item of clothing," Matteo Taiana, the group's CEO and head of R&D, tells WSA. "Longer washing operations are possible which can reach up to a week of 10 hours a day of normal use without compromising the safety and freshness of the fabric."
Allied Feather + Down, a US-based supplier to the outdoor industry, said it "recognised immediately that a reusable mask would have far-reaching environmental advantages". It has converted its Los Angeles, Montreal, Czech Republic and Asian production facilities from down products to masks, and from an initial run of 15,000 per day is now producing millions for key workers. Allied has also partnered with Fuze Biotech to treat masks with a fibre infusion that creates a protective barrier, working in much the same way as a traditional anti-microbial, it says, but without using the less-stable ionic silver.
"While we understand the critical need to use face masks, we fear disposable masks are already becoming the new cigarette butt," says Allied CEO Steve Uretsky, pointing out that masks have been washed up on beaches in Hong Kong. "By repurposing existing fabrics and creating a product that remains effective through washing, we can help minimise the use of disposable masks that are already starting to become a blot on the landscape."
Masks as accessories
At the start of the pandemic, most consumer-facing companies that produced face masks did so without any branding, often using material they were not sure of selling, but there's a question now to be asked as to whether they will begin to sell them with their logos. Some observers suggest brands might not want to be associated with something negative such as a pandemic or, worse, profiteering from it, but others, such as textiles and fashion consultant Idrish Munshi, managing director of Aizome Ltd, says masks will become ubiquitous over coming months. "It will become a wardrobe staple," he says, "and the brands that are selling them are demonstrating a social conscious."
One of the first sportswear brands to release a branded design is adidas, which offered packs of three for £12.95, with £2 going to Save The Children's Global Coronavirus Response Fund. The masks sold out online in one day – a pack then sold on eBay for $90 – an indication of distorted supply and demand.
As lockdowns ease, more countries will request that people wear masks when on public transport or in shops. On June 6, the World Health Organisation stated masks should be worn in public where social distancing is not possible and that those over 60 and with underlying health conditions should wear medical-grade masks.
Antimicrobial demand
In a similar way, there is a sentiment that consumers will be more aware of germs and will be keen to see fabric and clothing with protection. Manufacturers and brands are rushing to discover antimicrobials, antivirus applications and wellness options. For fabric companies such as Taiana, as well as antimicrobial suppliers like HeiQ and Polygiene, this should prove an interesting segment.
"The user will want to buy a safe garment and not a risky one. Moreover, an antiviral garment can be stored in a shop and tried on by many people without any risk of transmission of virus," adds Mr Taiana. Technology companies such as Tonello and Jeanologia have also quickly created machines that use ozone to sanitise clothes at store level or in factories, so customers feel safer.
As the infection levels tail off in many countries, companies will emerge from the lockdown, blinking in the sunlight, trying to quickly fathom what the consumer landscape — and their businesses — will look like 'post-covid'. For brands and their supply chains, those that can be flexible and adapt, and those that have helped towards the relief efforts, could prove strongest. The reverberations will be felt for months, if not years, to come.