More time for Olympic innovation
16/07/2020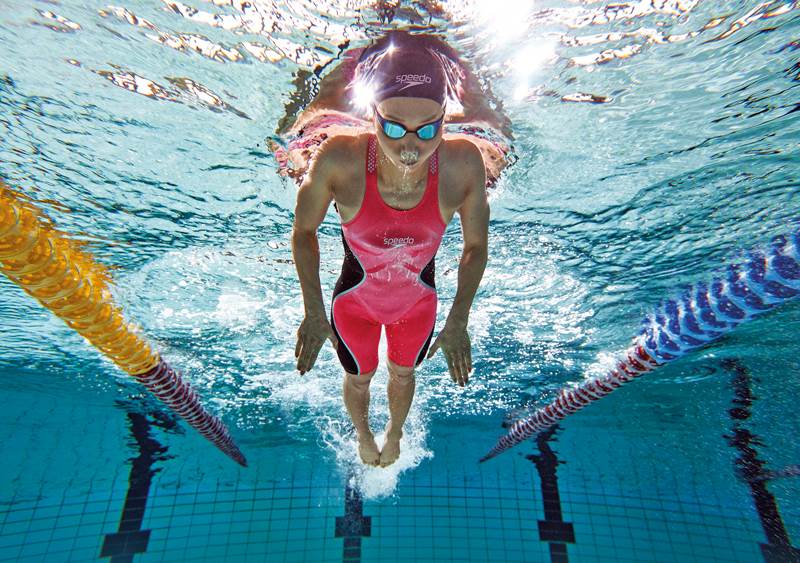 The postponement of Tokyo 2020 is a disappointment for all sports fans, but it may give technical textile developers extra time in which to bring genuine innovation into the swimsuits, shirts, shorts and shoes that Olympians will wear to compete when the Games go ahead next year.
As late as mid-March, with countries around the world in lockdown, or preparing to ask their citizens to stay at home to slow the spread of Covid-19, the International Olympic Committee (IOC) insisted the 2020 Olympic Games in Tokyo would go ahead as planned. One week later, with the approval of the government of Japan and in the face of threats of withdrawal by Canada, Australia and Great Britain, it announced that Tokyo 2020 would be postponed. Soon afterwards, the IOC confirmed that the new dates will be July 23 to August 8, 2021.
At the time of the announcement, most of us had more important things on our minds, such as the health emergency and loss of life that was affecting almost every country in the world. Then there was the economic fall-out to face. The news about Tokyo 2020 (which remains the official name for the XXXII Olympiad) was far from unexpected. But, if you love sport, as the WSA team and readers do, it was impossible not to feel a touch of disappointment too.
The games are always a high point in the calendar of an Olympic year and preparing for them is the peak of four years' preparation for the thousands of athletes who qualify, through talent and hard work, to take part and perform in front of a global audience of billions. The Olympics are also the pinnacle of years of research and development work that sports apparel and footwear brands and their material suppliers undertake in an attempt to make it as easy and comfortable as possible, within the rules of course, for athletes to run faster, go higher and be stronger.
Following scandals over claims of textile products or shoes providing an unfair advantage (in swimming at Beijing 2008 and in marathon running more recently) there now are clear rules governing these innovations. For many of the highest-profile sports on the programme, clothing and footwear suppliers will now only have a few months before an Olympics to bring to market the products they hope will make an impact. Those products must have been on the open market for months before any athlete puts them on to compete at the games. With the one-year postponement, developers now have extra time to perfect their new ideas. Perhaps, then, some good could come from the delay.
Track and field finds
In February this year, with July 24, when the Tokyo games should have begun, just around the corner, announcements about athletics apparel and footwear began rolling out as major brands revealed their uniform ideas for the 2020 Olympics.
Nike's unveiling of uniforms for Olympic and Paralympic athletes marked the debut of a new material, Dri-FIT Aeroswift, which it says will help athletes stay comfortable by managing sweat and minimising seams and layers. Dri-FIT has long been one of Nike's signature technologies, and the Aeroswift version brings an "updated lenticular design that reimagines colour" by "turning static shades into dynamic hues that shift and change while the body is in motion". The material uses a mesh made with knitted structures and subtle ridges, the company said, resulting in a garment that is breathable and has 25% more stretch than previous kits.
A couple of weeks later, Asics debuted its official sportswear for Japan's Olympic and Paralympic team. Rather than trumpeting the kits' new technology, the brand celebrated the fact that the line was made from recycled clothes donated by Japanese citizens. The collection is the result of an initiative called the Reborn Wear Project. the company described the project as a way the people of Japan could cheer on their team's competitors by gathering sportswear that is "rich with memories from people across the country and giving it new life".
Reborn Wear was introduced in January 2019, when the company put out a call for clothes — from any brand — that were associated with "precious memories" from school teams, sports days and marathons. Citizens were encouraged to put such apparel into collection boxes set up at stores and sports events. The project ran until its target of 30,000 pieces was met, at which point polyester materials were recycled into the collection and other materials were reused as fuel or other related purposes. Resulting pieces blend what the brand calls the "traditional Japanese sense of beauty" with the brand's latest technology. As for the technology itself, the brand said the combined line brought together the aforementioned sustainability with high breath- ability, movability and slip-on features, as well as what it calls its "universal design".
In early March, adidas debuted Ready, a multi-sport collection of responsive fabrics designed to accommodate a range of weather conditions. The brand said the technology would be featured in national kits for the Olympic teams from Great Britain, Germany, Ethiopia and Hungary, as well as in kits for individual athletes and other sponsored teams. Four differing technologies can be layered, allowing athletes to build modular sports outfits for different weather conditions. The system prevents bulking by avoiding the overlap of seams.
One type of Ready fabric is for hot weather, which uses ventilation zones, Aqua-X yarns and lightweight fabrics. The cold weather system has targeted insulation and absorbent, wicking yarns that are also water repellent. Pieces with Windweave comprise gradient-like materials with different densities to keep out wind. Pieces designed to withstand rain have an adaptable material, performance membrane and waterproof tape said to keep the wearer dry and cool.
Shoes in the news
One of the most interesting developments in the athletics realm of the 2020 Olympics sprang from footwear. As discussed in the last issue of WSA, late 2019 saw a string of new world records set by runners wearing versions of Nike's Vaporfly trainers — shoes with carbon fibre plates said to increase running economy by between 4% and 7%.
In January, in an effort to "preserve the integrity of elite competition by ensuring that the shoes worn by elite athletes in competition do not offer any unfair assistance or advantage", World Athletics set out new guidelines for approved footwear. Now, the sole of shoes can be no thicker than 40mm; the shoe cannot contain more than one rigid embedded plate or blade of any material; and, for shoes with spikes, the sole cannot be thicker than 30mm. Notably, Nike's Vaporfly fits these parameters, though the brand stands to be more affected by World Athletics' other ruling: from 30 April 2020, any shoe must be available on the open retail market for four months before it can be used in competition.
This means that, while we cannot yet predict what shoes will be seen on the track of next summer's Olympics, we wil at least know the options by early March 2021. In other words, there is no prospect of cutting-edge prototype shoes only being revealed to the public when an elite athlete wears them to the finish line first and claim Olympic gold.
Straightforward for cycling
With a total of 22 medal events, cycling will feature more prominently at Tokyo 2020 next year than at any previous Olympics. Road cycling, mountain biking and BMX will all feature, BMX freestyle for the first time (BMX racing has been an Olympic event since Beijing 2008), but 12 of the 22 events will take place on the track at the Izu velodrome, 125 kilometres south-west of the Japan's capital city.
In terms of what cyclists can and must wear to compete at these events, the International Olympic Committee, as it often does, defers to the regulations that the Union Cycliste Internationale (UCI), its governing body, has in place. Cyclists wear their national team apparel at the Olympics and teams have until December 1 of the year before the competition to submit their kit for approval. The requirements are straightforward: for the track and the road, cyclists must wear a jersey with sleeves and a pair of shorts, or a one-piece skinsuit. Shorts should stop above the knee. BMX and mountain bikers can wear full-length bottoms for extra protection.
Items of clothing "may not modify the morphology of the rider" and any non-essential element or device, of which the purpose is not exclusively that of clothing or protection, is forbidden. Modifications to the surface roughness of clothing are authorised, but may only be the result of threading, weaving or assembling of the fabric. All clothing must maintain the original texture of the fabric.
Brands making cycling apparel for teams at Tokyo 2020 have told us that they are still working on their Olympic ranges, now that they have some extra months, but have said that major changes from what cyclists would have worn had their races gone ahead as planned this summer are unlikely. "Kits will remain much the same," one major brand told us.
Innovation – within the rules
In the pool, too, brands have kept tight-lipped on developments. While there have been some novel launches over the past few years, brands and manufacturers seem to have been scarred by the memory of the hydrofoil suits, versions of which were launched around the time of the Beijing Olympics in 2008.
Speedo's high-tech LZR Racer Suit, described at the time as the "world's fastest swimsuit", was worn by a number of top swimmers in Beijing including Michael Phelps, who won the most gold medals in a single Olympics at the event. An incredible 94% of swimming races were won by competitors wearing the suit. In total, 23 of the 25 world records broken were achieved by swimmers competing in the LZR.
Shortly after, president of USA Swimming, Jim Wood, spoke out against the suits, saying they gave competitors an unfair advantage, and when swimmers wearing an adidas version, the Hydrofoil, also began to smash records, FINA, the International Swimming Federation, took a closer look. After originally approving the suits, it revised the rules and banned some styles. New regulations stated only waist-to-knee suits, known as 'jammers', for men and shoulder-to-knee suits for women would be allowed. They must also be made of 'textile' rather than polyurethane or materials that can act as buoyancy aids, and the low-drag panels were removed from the LZR. The furore caused ripples throughout the sport; Speedo claimed the move could "take the sport back two decades" adding that "technology – properly monitored and adhering to guidelines – does have a place in all sport".
Innovation has slowly recovered. US swimmer Michael Phelps teamed up with Italy's Aquasphere in 2015 to launch his MP range of compression suits, combining its Exo-Foil and Aqua-Core fabrics for compression and flexibility. A former US Olympic team-mate, Chase Kalisz, recently signed up as the product's first global ambassador.
TYR Sport's Venzo was designed in collaboration with Olympic athletes, and uses Surface Lift Technology, which prevents water from permeating its fabric, resulting in a higher body position in the water. The Endo Compression Cage provides support for the abdominals, obliques and quadricep while the Seamless Exo Shell is geared towards streamlining the body position. "The most important thing for us as a brand is to help athletes achieve their goals, so it's critical for us to work with them on what they need leading into Tokyo," said TYR Sport's CEO, Matt DiLorenzo, at the time of the suit's launch. "This process has been all about pushing the limits in accordance with regulations and bringing that to market."
Brands such as US-based Finis have branched out and, in March, launched an app that records swims and offers data and analytics, made in collaboration with artificial intelligence company Aspiricx. It can also analyse existing footage, which it says is useful to athletes who have not been able to get into the pool because of the pandemic lockdowns. "We recognise in our immediate climate, it may be difficult for swimmers to train," says Kannan Dorairaj, CEO of Aspiricx. "Our solution can help swimmers stay focused on their sport and find ways to train even in unexpected downtime."
Finis' tech suit, the Rival, uses a one-way stretch fabric, with a smooth surface to reduce drag, on the inner legs where compression is needed and a two-way stretch fabric applied to curved areas of the body. This has a textured surface, which means water can move freely without breaking flow.
HeiQ partnership
Speedo also launched two suits for the Tokyo Olympics that it describes as its most advanced yet and which show they are "taking it very seriously". Fastskin LZR Pure Intent and Fastskin LZR Pure Valor combine fabrics that have been modified at a microscopic level to reduce drag, developed in partnership with textiles specialist HeiQ.
The LZR Pure Intent uses a fusion of three fabrics, allowing for additional compression in targeted areas to streamline and increase power. The companies claim this creates speed for the sprinter. The LZR Pure Valor is designed to be light and flexible to allow racers to increase their power. HeiQ says the fabric gives the racer a greater range of motion and core stability to help swimmers feel lifted in the water and stay strong in the finishes. "We are proud to combine our in-depth knowledge in textiles with Speedo's expertise in swimwear," says Carlo Centonze, HeiQ's CEO. "This is the outcome of the close collaboration between Speedo and HeiQ's research hubs in Australia and Switzerland."
It took the team at Speedo's global R&D facility, the Aqualab in the UK, three years to test and refine the suits, in a development programme that involved 330 swimmers. Rob Hicking, Speedo's brand director says: "This suit is a statement to the rest of the competitive swimming community – we're taking this very seriously."