Cotton farmers fight back against GM
21/07/2020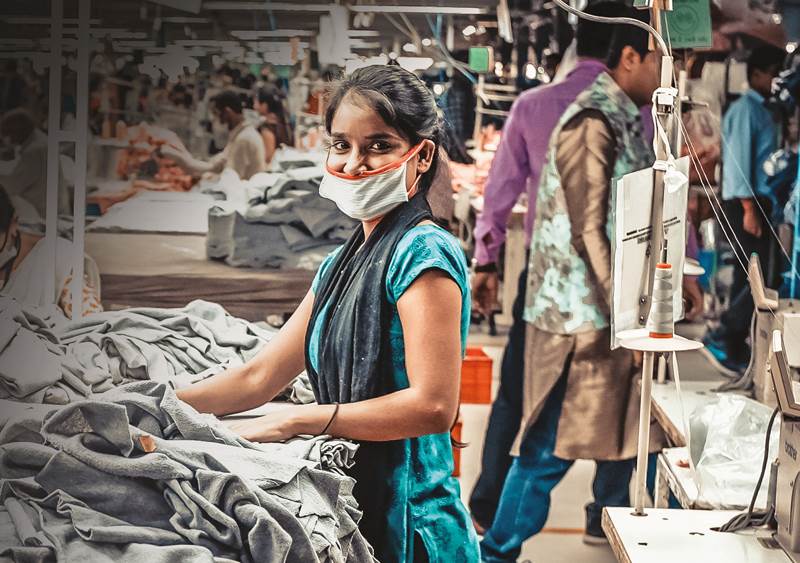 The Fairtrade Foundation says almost two-thirds of all the cotton produced worldwide now is from genetically modified (GM) seeds but the debate over the use of GM cotton is far from settled. A new programme backed by a major textile manufacturer in India and by charity partners is aiming to make it easier for farmers there to choose non-GM cotton seeds if they want to, opening up possibilities for themselves in the fairtrade and organic cotton market while achieving environmental and health benefits at the same time.
As part of its work to empower disadvant­aged producers of a wide range of consumer goods and to tackle injustice in conventional trade, not-for-profit body The Fairtrade Foundation has launched a three-year programme in India to help cotton farmers. Its aim is to help farmers move away from genetically-modified seeds and grow instead crops that they will be able to sell under organic and fairtrade labels, earning a better return. The Fairtrade Foundation argues, at the same time, a non-GM crop will help the local environ- ment and deliver health benefits to farmers and their families.
Knitted fabric manufacturer Pratibha Syntex and TRAID, a UK-based charity that works to tackle the problems caused by making, consuming and wasting clothes, are supporting the programme. They say the project is developing new non-GM cotton hybrids that have the exact cotton fibre parameters that the fashion and textile industry needs. The resulting seeds are being commercially produced and made available to farmers, allowing them to have more choice over how they farm, the partners say.
Aggressive marketing
According to the foundation, nearly two-thirds of all the cotton farmers around the world are producing today is grown from GM seeds. TRAID's chief executive, Maria Chenoweth, says the rise and rise of GM is "a textbook case of successful aggressive marketing". She explains that, since 2002, chemical companies such as Monsanto, which is now part of Bayer, have been promoting across India Bt (Bacillus thuringiensis) cotton, a genetically modified, pest-resistant variety of the plant. "This has meant that a single agrochemical company's tight grip on the market has made it difficult, and in some cases impossible, for farmers to access organic cotton seeds," she says.
In response, the project her organisation has supported with Pratibha Syntex and The Fairtrade Foundation will give farmers access to non-GM seeds, which will give them new opportunities in supplying cotton that their customers can then market as fairtrade and organic. In the in-demand fairtrade and organic cotton segments of the market, avoiding GM is essential.
An initial pilot project produced strong results. Around 1,500 cotton farmers were given thousands of packets of organic seed to try out. Several seasons on and star members of the collective, having trialled the seeds on their own farms, are now producing and selling packets of seeds for other farmers to use. The seeds from the project are on sale at a price that is 30% cheaper than it costs for farmers buy GM seeds. The non-GM seeds have also been bred to be pest-resistant, drought-tolerant and to grow plants that will be easy to harvest.
Short-lived benefits
Ms Chenoweth argues that, in India, the initial promised benefits of GM cotton, such as a reduction in the need to use pesticide and better resistance to pests like boll worm, have proved to be short-lived. Farmers who sow these seeds now find that they are having to use substantial quantities of synthetic fertilisers and pesticides, as well as water for irrigation. Intensive use of chemicals has presented communities with health problems; the senior cotton and textiles lead at The Fairtrade Foundation, Subindu Garkhel, has stated that this has included deaths.
Farmers from the Vasudha Cooperative (Vasudha means 'Mother Earth'), a project that Pratibha Syntex has set up in its home state, Madhya Pradesh in central India, have spoken up about their success. They have told TRAID that the new seeds have stood up more robustly to crop disease and weather events than the seeds they sourced previously on the general market. "This has made us more independent," says Kailash Pratidar, one of the farmers in the cooperative.
Another farmer, Chetan Jatt, says that the members of the cooperative have been impressed by the quality of the seeds and by the length of the fibres they produce. Fellow farmer, Chandrakant Ptija, makes an important follow-up point: use of the non-GM seeds is allowing his farm to produce other crops successfully, too, resulting in enough home-grown food to feed his family. "I no longer have to go to the market to buy food," he says. "I grow my own independently and can grow enough to feed my animals too. We couldn't feed them with the old crops because they would get sick. Now they don't get sick and the milk production is a lot better. Through this project farmers can become independent very quickly."
Crop diversification
Other farmers using the non-GM seeds already have the capacity to scale up their production of other crops to the extent that they are not dependent on cotton alone. Maria Chenoweth argues that this could be a crucially important extra benefit from the project as the world in general and the apparel industry in particular reel and in time, we all hope, recover from the covid-19 pandemic.
The truth is that the apparel industry was already facing far-reaching change before Covid-19. Controversies that range from microplastics in the oceans to campaign group Extinction Rebellion's call for a year-long boycott of fashion and for people to develop "a radical new relationship with clothing" have not gone away. On the face of it, this ought to put renewable, circular materials such as organic and fairtrade cotton at an advantage, but driving home that advantage may be far less easy now as consumers, retailers and clothing brands shift their focus to shorter-term priorities, at least for now. Nevertheless, TRAID says it is looking ahead with "cautious optimism".
"We anticipate that cotton farmers globally will be impacted by falling cotton prices in the aftermath of the pandemic," Ms Chenoweth explains, "which will inevitably have a detrimental impact on many vulnerable producers worldwide. When it comes to the organic and fairtrade projects TRAID supports, however, we exercise cautious optimism due to the resilience which is built into the work."
She says many of the organic cotton farmers that are part of the Vasudha Cooperative do not rely on cotton as their main source of income. It has been a similar story at other projects in Benin and Ethiopia that TRAID supports with a partner called Pesticide Action Network (PAN). These, too, have supported farmers' efforts in crop diversification, food security and alternative income generation. This resilience goes some way towards managing risk by helping to insulate farmers from the worst impacts of disasters, the TRAID chief executive says, including disasters such as Coronavirus