Wisdom of the crowd
23/07/2020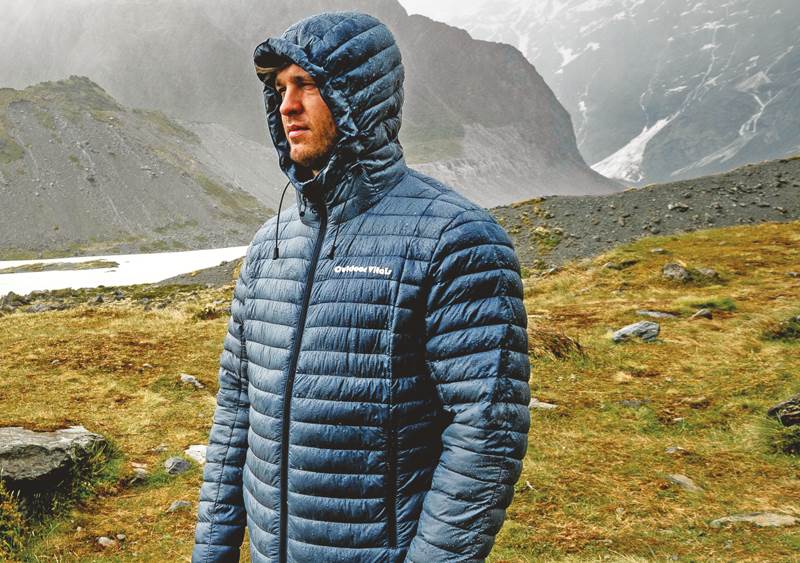 More and more outdoor brands are discovering that crowdfunding is about more than just getting funds.
Fruits of crowdfunding are everywhere, though it is easy to overlook that some of last decade's most interesting and recognisable products started this way. The Oculus virtual reality headset, Pebble wearables, and even the key-finding marvel that is the Tile locator began as somebody's pet project in need of a financial boost from strangers.
Crowdfunding — that is, financing a business, product or idea by getting relatively small amounts of money from large numbers of people — can be peer-to-peer loan-based, equity-based, charitable donations-based, and rewards-based.
Rewards-based crowdfunding websites, such as leading platforms Kickstarter and Indiegogo, are packed with innovations in performance apparel (and in countless other industries) and their popularity is only increasing. In mid-June 2020, Kickstarter reported over $5 billion dollars had been pledged to projects since its launch in 2009; this includes 183,242 successfully-funded projects, 18,034,045 backers (around six million of which were repeat backers) and nearly 63 million pledges.
For many inventive individuals, crowdfunding is a first step, a way into a market that might otherwise be impenetrable to those who lack money and visibility.
But, for a growing number of brands, crowdfunding is becoming part of a business model. Companies are learning that an effectively-run campaign built around a truly innovative product can be a way to not only secure funding, but to connect with consumers, gauge interest, manage inventory, and build buzz around the next big idea.
Why crowdfund?
Crowdfunding is, by definition, foremost about money.
Before Oros was Oros, founders Rithvik Venna and Michael Markesbery built a prototype jacket that pioneered a usable form of aerogel insulation. They needed the inventory financing, so they presented the jacket to the crowdfunding community and closed their campaign with $360,000 — three times their original target.
Two years ago, Utah-based Outdoor Vitals crowdfunded the LoftTek jacket, introducing the world to its synthetic imitation down capable of keeping the wearer warm in wet conditions. The campaign raised over a million dollars.
But neither brand stopped after its first campaign. Today, Oros is a successful outdoor technical brand developing consumer apparel and managing contracts with the likes of the US Department of Defense; yet, the company has several pieces available on Indiegogo.
"Crowdfunding is a great tool to learn and aggregate data on new styles and collections. Not sure if a new style will be successful?" Mr Markesbery says. "Why buy the inventory, when you can see how the market responds first by running a crowdfunding campaign?" (However, he also cautions that "leaning too much into the data can also be harmful — your crowdfunding consumer is likely different from your traditional consumer.")
Similarly Outdoor Vitals is currently crowdfunding Satu Adventure Pants, which are water- and odour-resistant performance trousers developed in partnership with Toray. Founder Tayson Whittaker says money from crowdfunding campaigns helps to fund the growth of the new product and "we get to see what kind of demand the product has to help us order the right amount of inventory for after the crowdfunded inventory is shipped."
Outdoor apparel and accessories brand Coalatree has had nine crowdfunding projects on Indiegogo. It recently raised more than $600,000 in a crowdfunding campaign for the Evolution Hoodie, a lightweight, moisture-wicking jacket made from recycled coffee grounds and plastic bottles.
For these companies, the rewards-based crowdfunding model is working.
A product worthy of crowdfunding
Deciding to crowdfund is not a no brainer. There are processing and administrative costs and, on some platforms, if a goal is not reached, all pledged cash is returned.
"Crowdfunding is very complicated to do right and takes lots of resources," says Mr Whittaker. "Our team can only handle one-to-two projects a year at the moment. You have to invest quite a bit in upfront costs and test marketing, and that won't get paid back until after the campaign is over — if it is successful."
Another major challenge is unpredictable time scales.
Oliver Chesher says production schedules can be very hard to meet, "especially to a new company that's not experienced and doesn't have clout with manufacturers and distributors".
Mr Chesher's company Galibier PR is the partner PR agency for the UK's FinTech North — an organisation for forums, conferences and other events surrounding the world of financial technology. (Kickstarter and Indiegogo are examples of fintech.) He's also an outdoor enthusiast, so he is familiar with this world both as a strategist and as a consumer.
"Brand owners need to be mindful that when you're bringing a new, innovative, sexy product to market by the crowdfunding route, you're establishing demand right there — but you're also establishing a long delivery time scale," he says. "Consumers are impatient."
He considers this time lapse to be one of the riskiest aspects of crowdfunding. "An increasingly impatient world of consumers is being asked to wait longer than ever before for the thing that they covet," he says.
"As a consumer, I've seen a product and thought: 'Oh I like the look of that.' But then I realise it's going to be next summer before I'll get it, so I might just buy something similar right now that already exists."
This is why Mr Chesher believes crowdfunding should only be considered for products that are genuinely disruptive to their respective industry. "It must be something never seen before," he says. "Consumers need to feel they can't get it anywhere else."
In those cases, crowdfunding is an effective way to whip up awareness and demand, to seize market position, he says. "But unless you are completely unique, those impatient consumers are going to go buy the next best thing they can have right now."
Mr Whittaker of Vital Outdoors takes such factors into consideration in deciding on a product to build a campaign around. "Crowdfunding is all about having something you can't get anywhere else," he says. "Otherwise, why would they buy it and wait months for it to ship?" The LoftTek jacket successfully brought in over a million dollars, he believes, because the insulation technology made it unique.
Coalatree's director of brand development, JM Fabrizi, says his company only considers crowdfunding what they call "hero" products. Such products, he says, have been conceptualised and created through extensive R&D, with many iterations, testing and improvement. Additionally, they are items that will last beyond the seasonality of so many soft goods.
"For us to crowdfund a product," Mr Fabrizi says, it must "exceed our expectations and the perceived expectations of our customers. Functionality, durability, sustainability and quality design must all be performing at a high level on samples of potential 'hero' products prior to us even considering them."
If a product ticks the right boxes (and, he says, "intuition and gut feeling play a role as well"), Coalatree schedules a tentative launch date and begins to build out a campaign.
He says crowdfunding campaigns allow the company to cultivate more meaningful relationships with customers, as they provide "an open channel for brand advocates and customers to communicate thoughts, ideas, feelings and questions." Campaigns have led to innovations and improvements not only in terms of their products, but also in the way that Coalatree operates and serves customers.
What if it doesn't work?
Having an exceptional product is nott enough to ensure success. Mr Chesher says intense promotion of a campaign is essential.
"They call them campaigns for a reason," he tells WSA. "If you've got 30 days to raise that money then you need to not eat or sleep for 30 days."
"Campaigns only work if they are vigorously marketed and promoted. A lot of the failures happen because brand owners expect money to flood in organically, when actually a hell of a lot of hand cranking is involved," he says. "You have to personally hit the phone to everyone you know. 'We're doing this campaign. Can you help? If you can't put money in, please share this with everyone you know.' You've got to do your own PR hard."
However, even the most well-publicised campaigns built around completely innovative products are not always successful. If the goal fails to met the deadline, the 'target not met' sign goes up, and the campaign closes down. (There are exceptions; some campaigns state up front that the product will be made whether or not the target is reached.)
"Crowdfunding can have set-backs," says Oros' Mr Markesbery. "Running a failed campaign can be embarrassing and consume essential time and marketing dollars."
However, there are ways to mitigate the damage and keep a product's development on track. Preparation is key.
"The imperative is on the brand owners to make sure their PR campaigns have that contingency plan built in," says Mr Chesher. "If you've conducted your campaign properly and still don't hit target, then you've got to assume that everyone and their dog knows you were crowdfunding; so you have to acknowledge that you're moving past the campaign."
Crowdfunding sites, he points out, typically do not have a mechanism for explaining why a campaign missed its target or how a consumer can stay connected with a brand or product.
He gives an example of a recent campaign for a piece of outdoor equipment that ultimately did not reach its target. "The product's website sent me to Kickstarter, where the message said 'target not met'. I'd hit a dead end," he says.
Because Mr Chesher knew he would be talking to WSA for this article, he investigated a little further and eventually found that the person behind the product was still on Instagram, promoting it. "He is still working on getting his product to market, but I only knew that because I did some sleuthing. He hasn't given up, but from a PR perspective, the consumer believes he has."
To keep this from happening, says Mr Chesher, "All of a brand's channels should be full of prepared, reassuring messages they can deploy at a moment's notice if needed. It's difficult to hold your hands up and say it didn't work, but there are ways of articulating that this was just one means of raising funds. You can say 'last month we were raising funds for this; we reached a lot of people, raised a lot of awareness'. Then pivot to what's today's developmental milestone."
But, he reiterates, the most important factor in crowdfunding is the exceptionalism of the product. The message to consumers should be: "We've created something so amazing that it doesn't exist yet," he says. "We're giving you a sneak preview of something that won't be available to mankind for another six months."